With our last week of Epic Quests in Season 5, we're tasked with some of the easiest challenges to date. Most of them focus on making us interact with NPCs in some way. In this guide, we will cover all the NPCs you can with whom you duel.
How to Duel a Character | Fortnite | Week 15 Epic Quests
With this Legendary challenge, it awards you 55,000 XP for completing the first stage and 22,000 XP for the other four. It increments by five for each stage, so you'll be awarded points at 5, 10, 15, 20, and 25 Duels. Below, we have listed all the locations of NPCs that are willing to Duel. This means that no matter where you land, you can easily progress this quest by going to the NPC closest to you. We'd like to thank Fortnite GG for the map drawing functionality!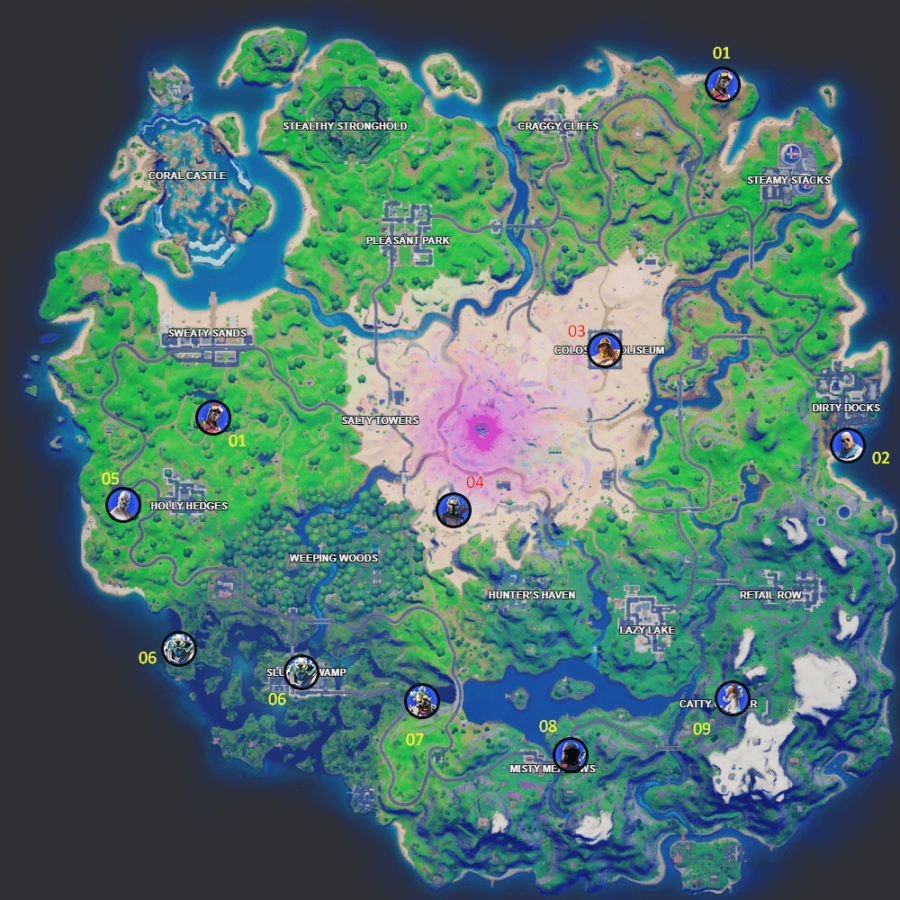 The image above shows you every NPC location that is willing to duel. Unfortunately, they tend to wander so we can pin-point precisely where they'll be.
Related: How to Upgrade a Weapon in Chapter 2 Season 5 | Fortnite | Week 15 Epic Quests - Pro Game Guides
Here are the locations of each NPC that will upgrade your weapons. Once you have found one,simply interact with them to open the radial and select the option to Duel.
You do not need to win for it to register on your challenge list. As soon as you select the option to Duel, it adds it to your tally. Easy-peasy!
Blaze

Pristine Point, northwest of Steamy Stacks.
South of the lake that is south of Sweaty Sands.

Brutus

Southern tip of Dirty Docks.

Menace

Colossal Coliseum, usually on the western side.

Mandalorian

Kit's Cantina (the Star Wars Bar), west-by-southwest of the Butter Barn.

Ragnarok

Viking Vessel, west of Holly Hedges.

Big Chuggus

Northern warehouse of Slurpy Swamp.
Shanty Town, southwestern corner of the map.

Ruckus

Hydro 16, directly West of Loot Lake.

Kondor

Eastern side of Misty Meadows.

Kit

Northern half of Catty Corner
Did you know we have the entire list of all the challenges for Chapter 2 Season 5? It even includes guides for the tougher ones! You can check out the full list here.