As a part of the Fortnite Chapter 3 Season 3 Weekly quest, you need to pick weeds around the Reality Saplings. Unlike previous challenges where you were required to collect fruits from your own Reality Sapling, you can gather the weeds of any anonymous players to finish the challenge. To pick weeds, jump at the Reality Falls landmark and look for Reality Saplings.
Where to find Reality Saplings in Fortnite
You can find the Reality Saplings in the Reality Falls POI at the western edge of the map. Use the image below for a pictorial representation of the landmark.
Related: Where to find the Grapple Glove in Fortnite Chapter 3 Season 3?
You can identify a Reality Sapling with its light blue appearance and the hanging golden fruit.
How to pick weeds around Reality Saplings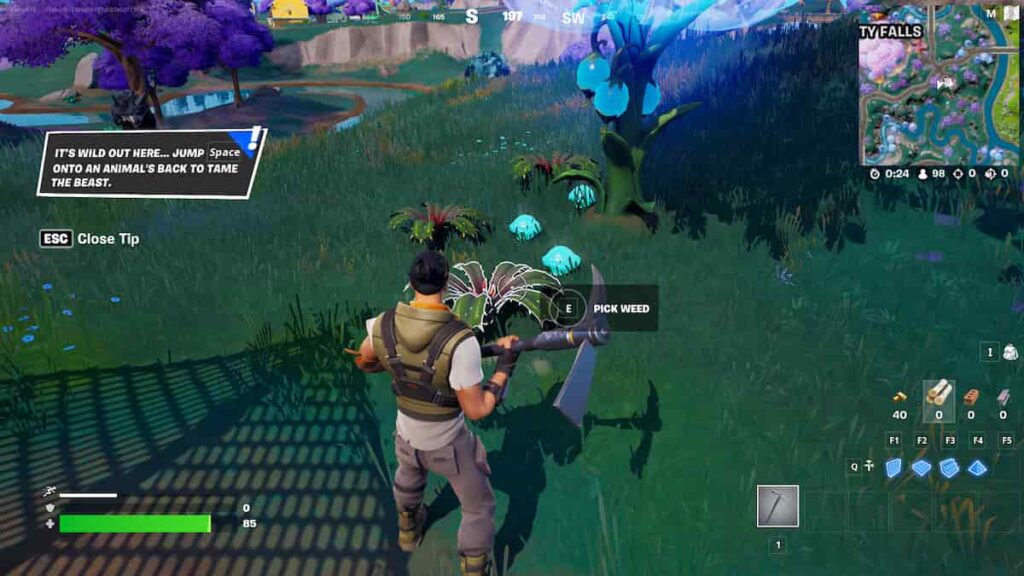 Once you have identified Reality Saplings, it is time to collect weeds around them. Not every Reality Sapling in the landmark will have weeds around them. You will need to scout from one plant to another until you find one with weeds. The weeds should be present adjacent to the Reality Saplings. After locating a Reality Saplings with weed, use your interaction button (E for mouse and keyboard) to collect weed. The challenge will be over once you have collected at least five weeds from the area.
For more on Fortnite, check out How to get the Indiana Jones secret battle pass skin in Fortnite or All POIs and Locations in Fortnite Chapter 3 Season 3 on Pro Game Guides.