Animals Race is a new Creative Map added in Fortnite, and this death-run mini-game features Wolves and Board. Players will get to ride these animals and race across the map to unlock achievements and bonuses. The Animals Race map was created by @choupala26, and players can find it in Fortnite's Creative Mode. Here's how players can find the Map and play Animals Race in Fortnite.
Fortnite Animals Race Creative Map Code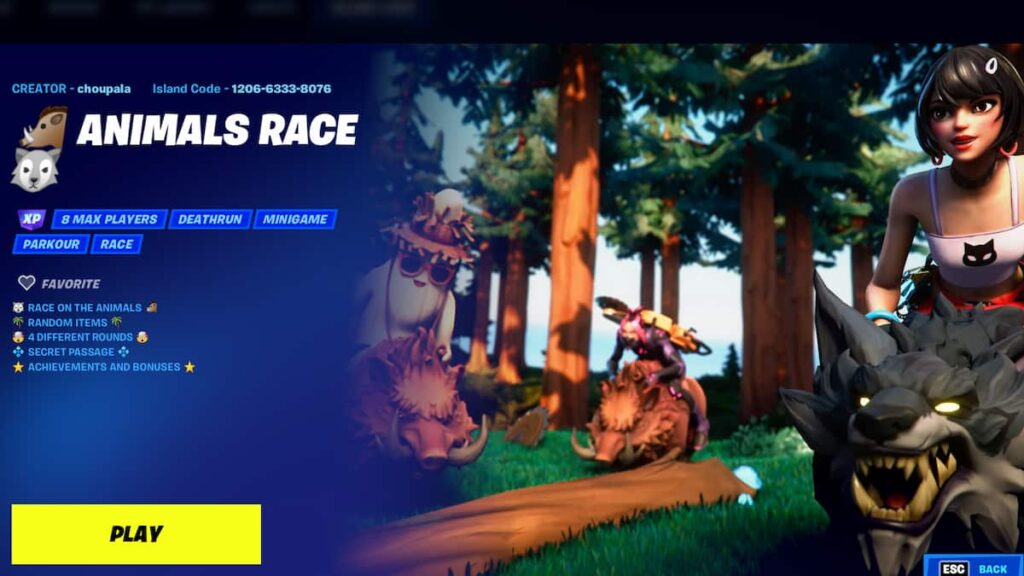 To play the Animals Race Creative Map, players will first need to change the game mode. Click on the Game Modes option and click on Island Code. Write down the following code and press Enter to load the Animals Race Map: 1206-6333-8076. Click on Play to queue in a match, and you can change the fill option between Public and Private. This Creative Map revolves around players traversing the race course over multiple laps, and you will get to ride an animal before the race starts.
Related: Fortnite How to Split Screen
You will have to parkour to various spots while mounted on the animal, and falling results in restarting the race from the last checkpoint. Animals Race features a maximum of eight players with four different rounds. Players will find various random items along the way, which allows them to get an advantage over the enemies. Make sure to be careful while traversing through tricky areas, as there are Crash Pads that can be used to bounce ahead.
Fortnite Chapter 3 Season 3 has several challenges that players can complete from the Week 9 Quests. While some of the Quests are straightforward, there are a few tricky challenges, like emoting while gaining shields. Complete these Quests quickly to earn Battle Stars that can be used to unlock cosmetics from the Battle Pass.
Wondering which how to add to the Marvel skins collection? Check out How to get the Wolverine Zero Skin in Fortnite on Pro Game Guides!