In this guide, we're taking a look at the Fortnite Star Wars event! We've got the date and time of when it starts, as well as information on how-to watch it. If you play Fortnite and like Star Wars, then you'll for sure want to tune in to this event that will earn you a shiny new Glider!
Fortnite Star Wars Date & Time
The Fortnite Star Wars Event is on Saturday, December 14th 2019 at 2pm ET! Here's a look at more time zones, you can also check out this link.
PT: 11:00am
GMT/UTC: 7:00pm
If you're having trouble logging into the event, you can always watch it on Twitch! Even if you can't login, everyone will receive the free Glider due to the issues with the event.
How-to Watch the Event
This is an in-game event, so you will need to be logged in and in a game to enjoy the event. This has sometimes been difficult to do in the past, because with queue times and the game crashing due to so many people logged in you can sometimes get disconnected. Make sure to be logged into the game at least 30 minutes prior to when it goes live. There will usually be a specific event mode you can enter into, you'll want to join up about 10 minutes or so prior to it starting. If you join too early, the game could end prior to the event starting (hopefully they've fixed this issue).
Once you are in-game, you will want to head to Risky Reels on the map: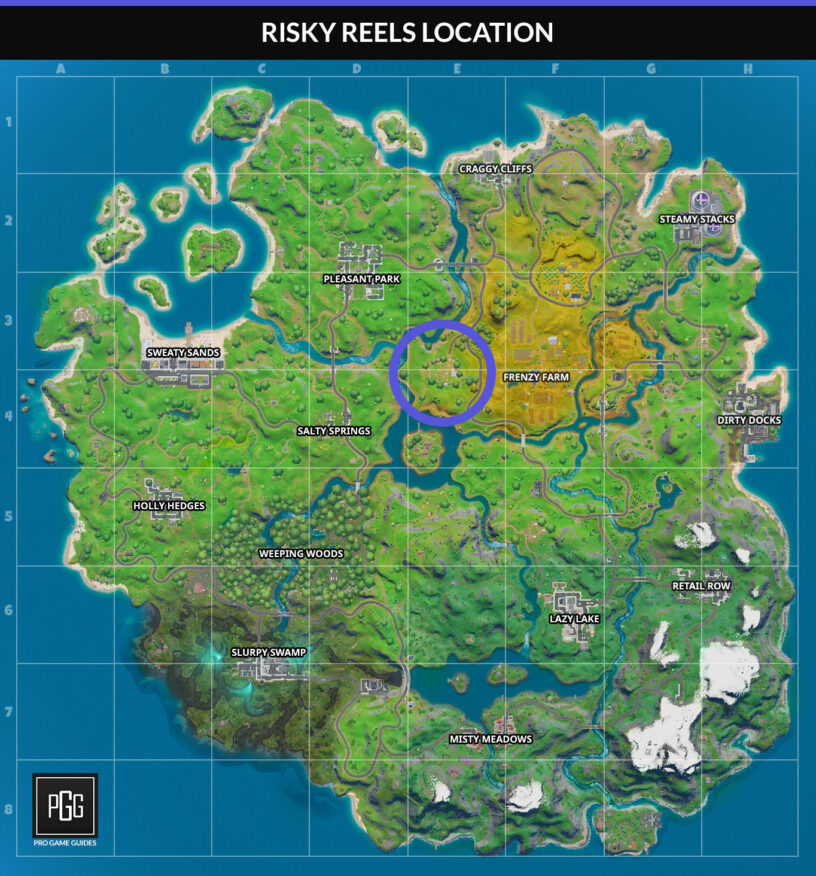 It isn't labeled, but it's just west of Frenzy Farm and can be found in the circled area of the map above!
Free Tie Whisper Glider
Attending this event will get you a free Tie Whisper Glider! This is a pretty sweet Star Wars based glider that looks really awesome in-game. Check it out in this video:
What's Going to Happen in the Event?
This event will premiere exclusive, never-before-seen Star Wars: The Rise of Skywalker footage in-game during the event! If you're a big Star Wars fan, you'll want to make sure to tune in and catch a sneak peek on what's to come in the final part of the Skywalker Trilogy!
Star Wars Skins
A bunch of sweet Star Wars skins have been released recently. It looks like there's going to be even more stuff, as we have found a couple of emotes that haven't been released yet in the files. There's also talk of many encrypted files still, so it's possible we end up seeing some more stuff very soon.