Fortnite Chapter 2 Season 7 seems to have completely changed the way Legendary Quests work. In previous seasons, Legendary Quests were accolades that required us to grind through different tiers of one specific goal. In this new season, Legendary Quests are more akin to suped up Epic Quests that reward higher XP.
The first tier of the Week 1 Legendary Quests requires us to interact with three of the five NPCs: Sunny, Abstrakt, Dreamflower, Riot, or Bushranger. This is a fairly simple quest and doesn't require heavy planning. You can see where you'll find each of the NPCs in the map below.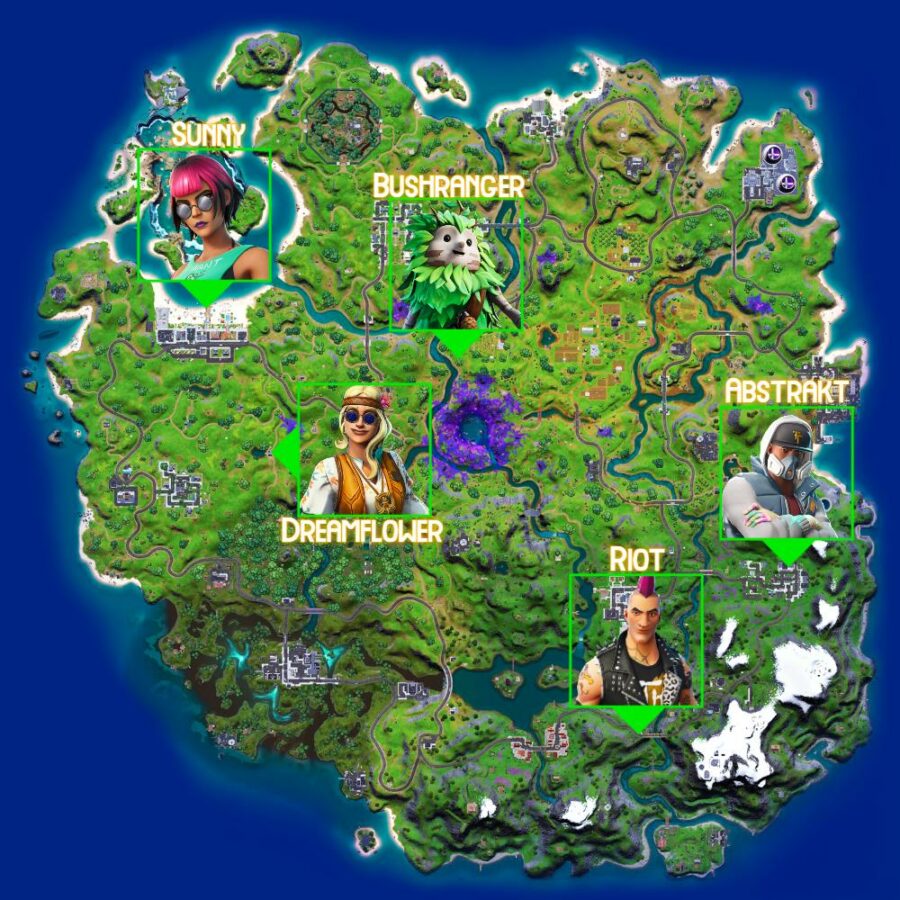 For more detailed information on where to find these characters, follow the instructions below.
https://progameguides.com/fortnite/how-to-get-a-pulse-rifle-in-fortnite/
Sunny: Sunny can be found walking on the boardwalk on the north half of Believer Beach (formerly Sweaty Sands).
Dreamflower: Dreamflower is living at Flopper Pond, which is east of Holly Hedges and southeast of Believer Beach.
Riot: Riot is a hostile NPC that you can only interact with once you defeat him. He is on the west side of Yellow Steel Bridge, which is east of Misty Meadows.
Abstrakt: Abstrakt can usually be found in our behind the buildings in the northeastern corner of Retail Row.
Bushranger: Bushranger is usually walking along the river north of The Aftermath (the purple center of the map).
When you find the NPCs listed above, you can approach them (except for Riot) and interact with them to pull up the conversation radial. The option to converse with them will be available. Once you have done this with at least three of them, the quest is complete!
Video Guide
If you'd like to use a video guide to complete this quest, use the embedded video below!
Don't forget to check out our full Fortnite Chapter 2 Season 7 Guide, which covers all updates, mechanics, and features of Season 7!