Fortnite is one of the best battle royale games because of its constant updates and new content that they deliver month after month. There are continuous goodies for players to enjoy and discover, from new skins to challenges and events. They also have exciting collaborations, like Skywalker Week. Skywalker Week means new unique, and unvaulted cosmetics in the Shop and Star Wars-themed weapons and items to discover on the Island, including Blasters and Lightsabers. Here's how to find them and utilize them to your advantage.
How to get Star Wars Weapons in Fortnite
You can find Star Wars weapons in a few various areas around the map. Although you may come across some randomly spawned as ground loot, there are other ways that can guarantee immediate loot, such as Star Wars chests or Stormtroopers.
All Star Wars Chest Locations in Fortnite
Blasters and Lightsabers can most commonly be found in particular key areas with Star Wars chests around the map. These areas are Stormtrooper checkpoints and usually have at least one chest nearby, except for Darth Vader's, which has multiple.
These are all the locations of Stormtrooper checkpoints and where you can usually find chests:
Road between Grim Gables and Chrome Crossroads
Road west from Tilted Towers
Road east of Greasy Grove
Southeast of Greasy Grove
How to buy Blasters from Stormtroopers in Fortnite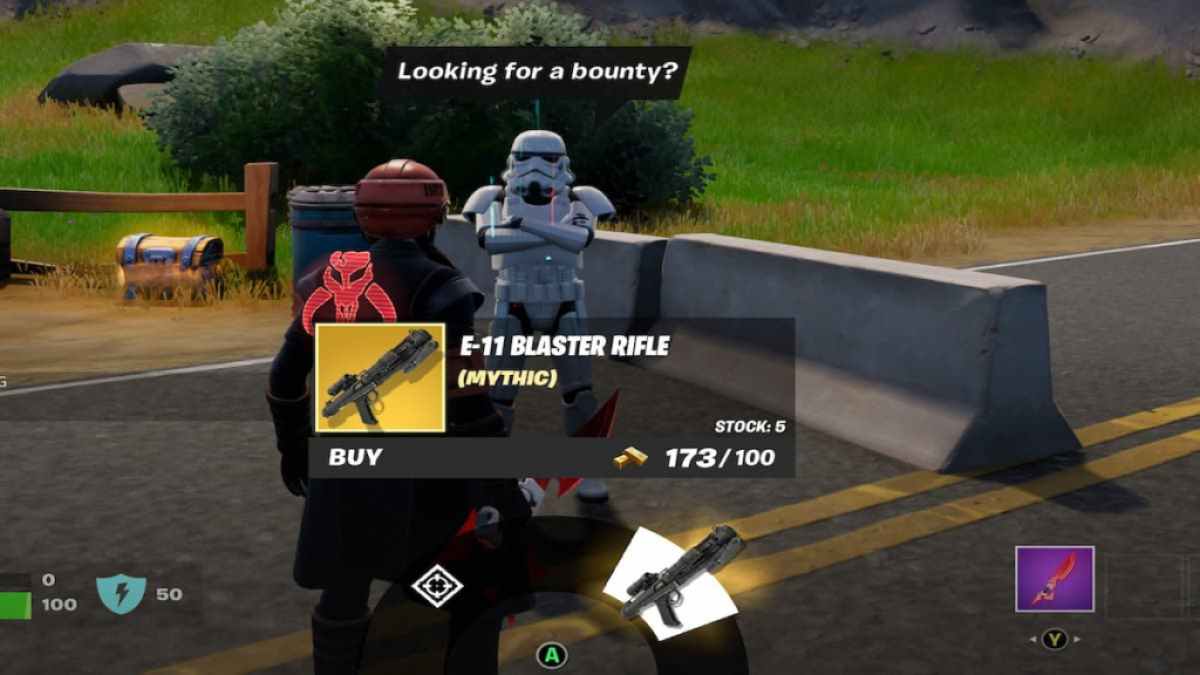 If you can't find any chests nearby or they have already been looted, don't worry. You can also purchase Blasters from Stormtroopers at the same checkpoints shown in the map above. To buy a Blaster, talk to any Stormtrooper and choose the Buy E-11 Blaster Rifle option. This will cost you 100 Gold Bars for each purchase.
Related: How to complete all Skywalker Week Quests in Fortnite
How to block hits with a Lightsaber in Fortnite
These Star Wars weapons are well worth looting during your match for your challenges but also for their unique abilities. Lightsabers are capable of deflecting shots and blocking incoming attacks. As an opponent is firing at you, make sure you are facing them directly and then press and hold the block button:
Left-Trigger on Console
M2 on PC
If they are firing multiple quick-paced shots, they are able to break through your block eventually, so be sure to dodge once or twice in between. You can even occasionally deflect their bullets back at them with timed blocks.
Enjoy this Star Wars event by using the powerful weapons to your advantage and completing the quests for extra XP toward your Battle Pass rewards. Don't forget to check out the bundles and items available in the Shop for a limited time.
Looking for more Pro Game Guides Fortnite content? Check out our guides on How to get R2-D2 in Fortnite or How to get Millennium Falcon Back Bling in Fortnite!