Updated: Jan. 14, 2:27 pm CT
Epic is having a lot of trouble with quests registering at the moment. However, with this quest, people seem to be doing it in multiple ways. If this method doesn't work, try entering every house in Shanty Town.
If that doesn't work, then sadly, you're going to have to wait for a small bug fix, so the quests start working again!
---
This one is by far the easiest quest of Week 7, and luckily enough, you can do a few quests all in one location; that's right, Slurpy Swamp!
Where to Visit Houses in Slurpy Swamp in One Match
To complete this quest in Fortnite, you need to visit three houses in Slurpy Swamp, so of course, this is where you need to go. Ignore the POI Slurpy Swamps and head to the west into the swamp itself. All you need to do is visit three different houses in this area to complete this quest.
You only need to visit three houses, no more, no less, you don't have to do anything specific, you only have to enter the location, and the job is done.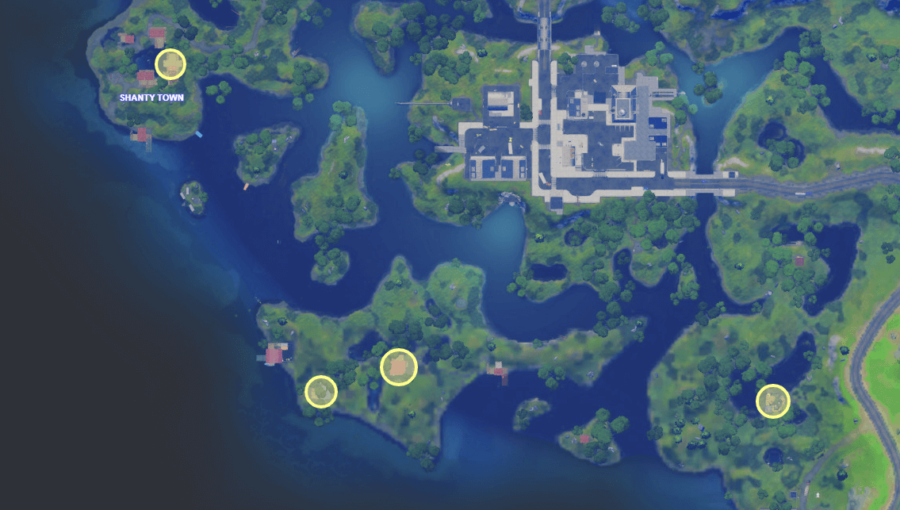 Slurpy Swamp

House #1

Go to Shanty Town, which is to the east of Slurpy Swamps, and the east most house is the house you want to enter.

House #2

Go southeast of Shanty Town, and you'll see a decent sizes shack. Ignore this place and keep going southeast, and you'll find a pretty run-down house. That is the house you want to visit.

House #3

Head east of the second house, and you'll come across the third in no time at all.

House #4

This house is pretty far from the rest. You need to head east a ways from House #3. It's to the north of Flush Factory.
Remember, you need to head to three of these houses in a single match!
While you are in this location, you might as well do a few more quests when you are here. The other ones you can accomplish are destroying Slurp Barrels and searching chests in Slurpy Swamp. However, many of the quests for this week revolve around Slurpy Swamp; it will be a hot zone of action, so prepare for many shoot outs!
The full list of challenges - we have information on - is available here, at our Fortnite Chapter 2: Season 5 Guide – Challenges & Information article!