Genshin Impact : Eula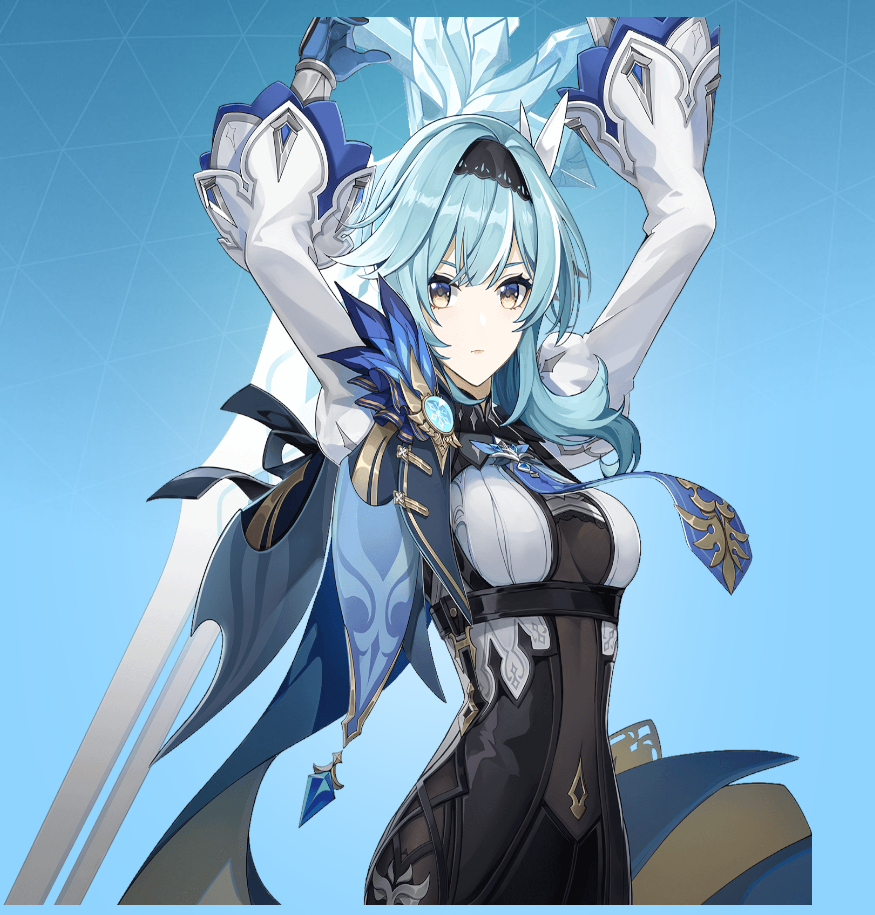 The Spindrift Knight, a scion of old aristocracy, and the Captain of the Knights of Favonius Reconnaissance Company. The reason for which a descendant of the ancient nobles might join the Knights remains a great mystery in Mondstadt to this very day.
Details
Rarity:
Role: Main DPS
Element: Cryo
Weapon: Claymore
Tier: S
Gender: Female
Voice Actor:

Suzie Yeung (English)
SATO Rina (Japanese)
Strength & Weaknesses:
| | |
| --- | --- |
| Exploration | C |
| Bosses | S |
| Abyss | S |
| Support | B |
Skills Talent:
Favonius Bladework – Edel
Favonius Bladework – Edel (Normal Attack)
Perform up to five consecutive strikes.
Favonius Bladework – Edel (Charged Attack)
Drains Stamina over time to perform a continuous spinning attack against all nearby opponents. A power slash occurs after you release the attack.
Favonius Bladework – Edel (Plunging Attack)
Plunges from mid-air to strike the ground below, damaging enemies with an Area of Effect impact.
Elemental Skill
Icetide Vortex
Eula coats her blade in ice to make it sharp but as swift as any Anemo blade.
Press
Eula slashes swiftly, dealing Cyro Damage
When an opponent is hit, Eula gains a stack of a buff called Grimheart, which can stack twice.
These stacks can be gained once every 0.3 seconds.
Grimheart
Grimheart increases Defense and Resistance to interruption.
Hold
Wielding her frost blade, Eula slashes forward, dealing Area of Effect Cryo damage to opponents in front of her, consuming all stacks of Grimheart.
Each stack of Grimheart converts into an Icewhirl Brand that deals Cryo Damage to nearby opponents, decreasing their Physical Resistance and Cyro Resistance.
Multiple hits will not cause these debuffs to stack but will extend the duration of the effect.
Elemental Burst
Glacial Illumination
Eula brandishes her greatsword, dealing Cyro Damage to nearby opponents, and creates a Lightfall Sword that follows her around for a certain time.
When attacking with Normal Attacks, Elemental Skill, and Elemental Burst upon dealing Damage, this will charge up the Lightfall Sword, which gains an Energy Stack every 0.1 seconds.
Once the Lightfall Sword's duration has ended, it will explode, dealing Physical Damage to all nearby opponents.
The Damage the explosion deals scales on the number of Energy Stacks the Lightfall Sword has accumulated.
If Eula dies or leaves the battlefield, the Lightfall Sword will immediately explode.
Passive Talents:
Aristocratic Introspection | Unlocked Automatically
When Eula crafts Character Talent Materials, she has a 10 percent to receive double.
Roiling Rime | Unlocked at Ascension 1
If two stacks of Grimheartare consuming upon unleashing the Holding Mode of Icetide Vortex, a Lightfall Sword Remnant will be created and will detonate instantly.
This explosion will deal 50 percent of the Physical Damage dealt by Glacial Illumination Lightfall Sword explosion.
Wellspring of War-Lust | Unlocked at Ascension 4
When Eula's Normal Attacks score Critical Hits, Icetide Vortex's Cooldown will be decreased by 0.3 seconds. This effect can occur once every 0.1 seconds.
Constellations:
Each Constellation activation requires a Stella Fortuna.
Tidal Illusion | Constellation Lv. 1
Eula's Physical Damage Bonus is increased by 30 percent after Icetide Vortex's Grimheart effect are consumed.
Each stack of Grimheart consumed will extend the duration of this effect by six seconds, up to a maximum of 18 seconds.
Lady of Seafoam  | Constellation Lv. 2
The Cooldown time of Icetide Vortex's hold mode is reduced to the same amount of time as the press mode.
Lawrence Pedigree | Constellation Lv. 3
Increases the Level of Glacial Illumination by three. Maximum upgrade level is 15.
The Obstinacy of One's Inferiors | Constellation Lv. 4
Lightfall Swords deal 25 percent more damage against opponents with less than 50 percent Health.
Chivalric Quality | Constellation Lv. 5
Increases the Level of Icetide Vortex by three. Maximum upgrade level is 15.
Noble Obligation | Constellation Lv. 6
Lightfall Swords created by Glacial Illumination start with five stacks of energy. Normal attacks, Elemental Skills, and Elemental Bursts have a 50 percent chance to grant the Lightfall Sword an additional stack of Energy.
Ascension:
Click on the pictures to take you to more item information

Get to Level 20 and Adventure Rank 15 to make your first Ascension.
Ascension Phase 1
Adventure Rank 15 | Level 20>40

Ascension Phase 2
Adventure Rank 25 | Level 40>50
Ascension Phase 3
Adventure Rank 30 | Level 50>60
Ascension Phase 4
Adventure Rank 35 | Level 60>70
Ascension Phase 5
Adventure Rank 40 |  Level 70>80
Ascension Phase 6
Adventure Rank 45 | Level 80>90
Talent Upgrade:
Click on the pictures to take you to more item information

Talent Level Ascension requires your character to be at Ascension Phase 2
Talent Level 1>2
Talent Level 2>3
Talent Level 3>4
Talent Level 4>5
Talent Level 5>6
Talent Level 6>7
Talent Level 7>8
Talent Level 8>9
Talent Level 9>10
More Details:
Recent Genshin Impact Guides