Genshin Impact has taken the world by storm, and now with three significant updates under their belt, fans are already eagerly awaiting update 1.4. MiHoYo is getting ready to keep the content flowing and the hype increasing. Update 1.4 comes with new characters entering the fray, along with new events and maybe a new region.
These are unofficial Genshin Impact 1.4 patch notes! We've compiled all of the known and leaked information from a variety of sources. Right now, we're pretty confident that the majority of this is right, but somethings may change by the time the update is released. But as always, take everything with a pinch of salt.
A thank you to Zeniet, AE Entropy, Nep Nep, Genshin Intel, and also a big thank you to the Genshin Community and Honey Impact!
Genshin Impact 1.4 Release Date
Genshin Impact version 1.4 update is scheduled for March. 17 2021. This is subject to change, but from miHoYo's own official post from the production team, they are trying to organize a consistent update schedule every six weeks.
This is our road map of when the updates should be released. However, anything after 1.3 is purely guesswork based on the six week update period. MiHoYo should release a new roadmap after 1.3 is released, but whether they will or not is hearsay.
Version Update 1.4 - Scheduled for March. 17, 2021. Inazuma was meant to be here; however, leakers and users are speculating that a new area called the Chasm will be released. This is a rumor.
Version Update 1.5 - Scheduled for April. 28, 2021.
Version Update 1.6 - Schedule for June. 9, 2021. This update is rumored to be when Electro region Inazuma is coming.
MiHoYo has already started the Version 1.4 beta in China. So remember, everything here will be taken from the beta, and things are likely to change.
Inazuma is a region many users have been hearing even before the first major update to Genshin Impact 1.1. There were rumors circulation that 1.4 would be the time it would drop. However, this has recently been changed to 1.6, which is more realistic, as it's a new nation, exactly like Mondstadt and Liyue.
Instead, a new region very much like Dragonspine is meant to appear called the Chasm. Not much is known about this new region, but until we have official confirmation from miHoYo, keep all updates of new areas with a pinch of salt.
Developer Discussions
1.4 Developer Summary - Increase Condensed Resin cap - Fix Resin notify in Domains - Max AR 60, further AR EXP = Mora - Change World Level anytime - QoL to Weapon Upgrade System - Parametric Transformer in coop - Favoriting Mail - Rechallenge button for Spiral Abyss - Co-op QoL
This information comes directly from mihoYo with their traditional Developer Discussions, where they answer questions asked by the Genshin Impact community. This is 100% official! Here is a small summary of the Q&A session!
Condensed Resin is getting an increased cap.
Notifications fixed for Resin when entering Domains.
Max Adventure Rank is 60. Any Aventure Experience over that is converted into Mora.
World Level change is coming in 1.4.
Quality of Life coming to the Weapon Upgrade System.
Using Crafting Benches in Coop is coming in the future.
You can save Favorite Mail in 1.4.
Rechallenge option for Spiral Abyss.
Quality of Life Coop Tweaks/Functionality.
The full information can be found here: Developers' Discussion - 03/02 — Q&A hot off the press!
Leaks
New Characters
Currently, not much is know about who the new characters will be in 1.4. The only character who's not in the game but was in the beta is Ayaka, and there are rumors she will make an appearance.
It's rumored that Rosaria will also make an appearance; however, she is currently only a Four Star character. Remember, this was taken from the beta. She might have been bumped up to a Five Star.
On the mention of rumors, a new character called Mimi, a 4 Star Hydro user, is also a contender for being an added new character. Due to recent update banners, they have only been releasing two new characters per update, with 1.1 being the exception.
This means that it's entirely doubtful that we'll be seeing Ayaka, Rosaria, and Mimi in 1.4.
Ayaka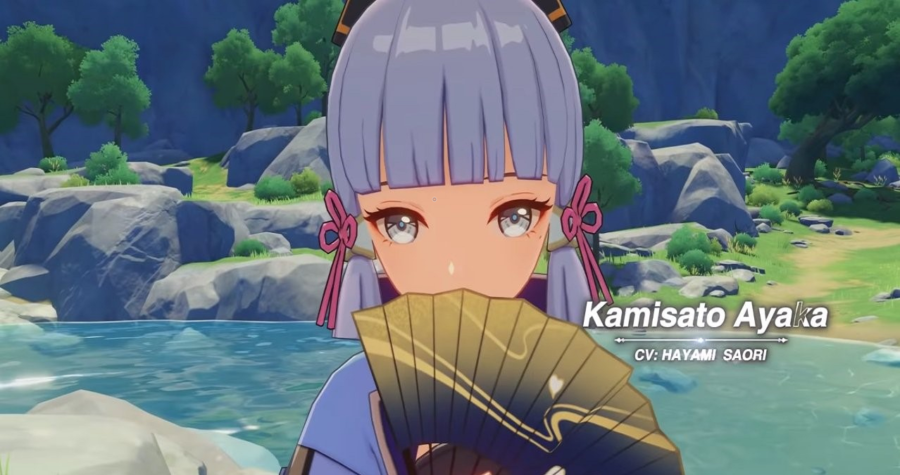 Ayaka is a Five Star Cryo user who wields a sword.
Ayaka is a female of slightly below average height. She keeps her long white-blue hair tied in a high ponytail by an armored headdress. Her bangs are straight-cut, with two frontal pieces of her hair on the sides separated by pink 3-petaled flower knots. Her light blue-gray eyes are accompanied with thick lashes, and a mole underneath her left eye.
Rosaria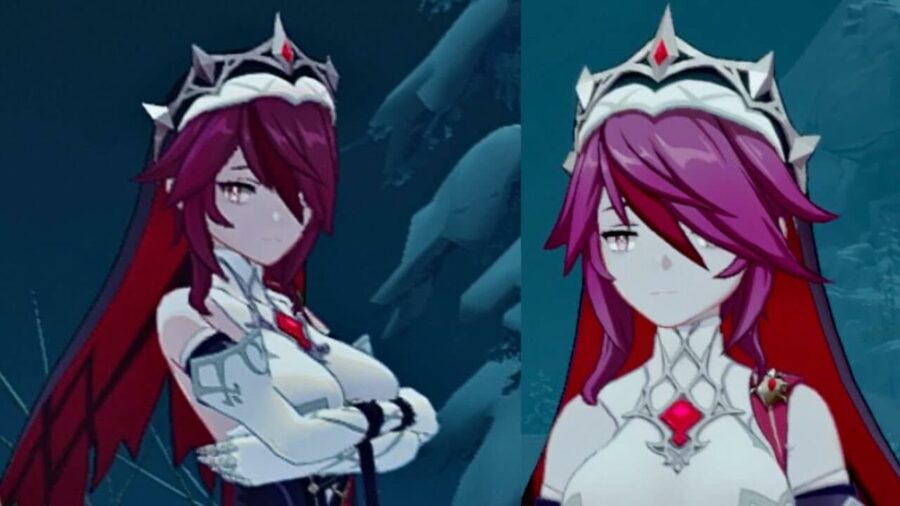 Rosaria is a Four Star Cyro user who wields a polearm.
Rosaria is a 4 Star Cryo user who uses Polearm as a weapon. She is a member of the Church of Favonius in Mondstadt. She is deeply suspicious of everyone.
Rosaria v1.4 pic.twitter.com/kswnYhkzZP

— Zeniet (@Zeniiet) February 4, 2021
Events
1.4 Windbloom Festival
This event has three stages that must be completed to finish it, and they are all revolved around mini-games.
Fall Guys-Esque Mini Games
This will be either a small event or maybe even part of the events below. Where each round a wheel will spin to choose the game that will be played. And the games will involve obstacle courses, dodging projectiles, and walking in the dark, a memory floor game you have to memorize.
After the three rounds are over, the scores will be turned into buffs, where you have to fight a Pyro Regisvine. The higher your score, the easier this fight will become.
Bullseye Ballon
The first one is called Bullseye Balloons. In this mini-game, you have to pop the correct balloons within the time limit. Don't worry; you do not need to have a high-level Bow character for this mini-game. You can also compete with others in Co-Op.
Music Notes
In this mini-game, we don't have many details so far, but it might be a sort of rhythm memory game, as you need to hit the music notes.
Cliff Diving
This minigame involves diving off cliffs and into rings that you have to glide into. You'll have to use a mixture of both gliding and falling to get all of the rings on your journey down.
Features
Condensed Resin
Condensed Resin is getting an increase, and you will be able to hold a total of five. This is great for players who do not have the time to play daily. This means they can store up more of their resin and use it to get double rewards, to cut down on a lot of the grind.
Lower World Level
This is an interesting feature that in 1.4, you may be able to lower the World Level. This will help you find more common materials when fighting monsters, and they will be an awful lot easier to boot.
This will be incredibly handy for wanting to level new characters, or even getting mid-tier materials and then using Alchemy to turn them into the highest-tier possible.
However, this only lasts for 24 hours; then it will return to normal. We do not have any idea; if there is a limit on how many times you can do this or if there will be a cost to doing this.
When we hear more information, we will update this section.
Unknown Content
New Gadgets
New Gadgets are always a given in every new update that miHoYo creates. We've already had an assortment of them, from Geo|Anemo-Resonance Stones to a Portable Cooking Pot, to a Warming Bottle. We have no idea what the new updates will entail, but they are generally catered to what the update is about.
If the Chasm is correct, then we suspect to see some Geo gadgets being made available. Or at least some quality of life gadgets.
Feeding Artifacts
This one is fascinating, according to Nep Nep, a well-known Genshin Impact leaker. You'll be able to feed new materials into Artifacts. We are not sure if this means new materials to level them up. Or materials to make them stronger.
We suspect that if this is true, then Artifacts will not be the only thing that these new materials will be able to go into; weapons will also be upgraded in this way.
Artifact Level up
It seems according to leakers that materials are coming to 1.4 that can level up your artifacts. These come in four different types,
Sanctifying Droplet— One Star

Ascends an Artifact by One Phase

Sanctifying Water—Two Star

Ascends an Artifact by Two Phases

Sanctifying Spring— Three Star

Ascends an Artifact by Three Phases

Sanctifying Essence— Four Star

Ascends an Artifact by Four Phase
According to Nep Nep, it seems that these will come from as rewards from a Battle Tendency challenge
Oceacid Event
A new event revolved around the Elite boss Oceanic may come to 1.4. This is rumored to be like the Hypostatic Symphony event, where you could have an assortment of buffs or debuffs, which would affect your overall score. Then if you scored high enough, you could earn rewards.
We know that Oceanid is not a well-loved boss, so it will be interesting how fans react to this one.
With this event, you must find Pure Water Hearts and then use the hearts you have gathered to face against an empowered Oceanid... However, if you manage to defeat the boss and score high enough, you might walk away with a new pet.
Here's AE Entropy talking about it:
Bit more on the Oceanid event in 1.4
Meet Yandola. Follow the hints to find the Pure Water Hearts, use the Hearts to face off against the empowered Oceanid, and at the end of the day you might just walk away with it as a new pet. pic.twitter.com/AOuBr5D8oB

— AE Entropy (@AeEntropy) February 9, 2021
And there is a picture from Nep Nep of the pet you can win from this event.
Leaks 1.4: I present to you the brand new "Pet Oceanid Seelie" accompanied by the magnificent Rosaria ☺️

You can unlock it during a special Oceanid event on update 1.4 !!#GenshinImpact #原神 pic.twitter.com/lhdittkVMl

— NEP NEP 💫 (@nep_impact) February 12, 2021
Once again, take all information will a pinch of salt, as things are subject to change.
Stay up to date with the upcoming banners, and keep an eye on our Genshin Impact codes to get some free goodies!