Genshin Impact has taken the world by storm, and now with three significant updates under their belt, fans are already eagerly awaiting update 1.4. MiHoYo is getting ready to keep the content flowing and the hype increasing. Update 1.4 comes with new characters entering the fray, along with new events and maybe a new region.
These are unofficial Genshin Impact 1.4 patch notes! We've compiled all of the known and leaked information from a variety of sources. Right now, we're pretty confident that the majority of this is right, but somethings may change by the time the update is released. But as always, take everything with a pinch of salt.
A thank you to Zeniet, AE Entropy, Nep Nep, Genshin Intel, and also a big thank you to the Genshin Community and Honey Impact!
Genshin Impact 1.4 Release Date
Genshin Impact version 1.4 update is scheduled for March. 17 2021. This is subject to change, but from miHoYo's own official post from the production team, they are trying to organize a consistent update schedule every six weeks.
This is our road map of when the updates should be released. However, anything after 1.3 is purely guesswork based on the six week update period. MiHoYo should release a new roadmap after 1.3 is released, but whether they will or not is hearsay.
Version Update 1.4 - Scheduled for March. 17, 2021.
Version Update 1.5 - Scheduled for April. 28, 2021.
Version Update 1.6 - Schedule for June. 9, 2021. This update is rumored to be when Electro region Inazuma is coming.
MiHoYo has already started the Version 1.4 beta in China. So remember, everything here will be taken from the beta, and things are likely to change.
Inazuma is a region many users have been hearing even before the first major update to Genshin Impact 1.1. There were rumors circulation that 1.4 would be the time it would drop. However, this has recently been changed to 1.6, which is more realistic, as it's a new nation, exactly like Mondstadt and Liyue.
Instead, a new region very much like Dragonspine is meant to appear called the Chasm. Not much is known about this new region, but until we have official confirmation from miHoYo, keep all updates of new areas with a pinch of salt.
Genshin Impact 1.4 Invitation of Windblume Trailer
Here is the first trailer for 1.4 trailer for Genshin Impact!
New Character | Rosaria
One new character is coming to 1.4 and that is Four-Star Cyo Polearm user Rosaria! Due to her being a Four-Star she is being featured in both the Banners of 1.4. For more information, we've got you covered!
Windbloom Festival
All players who have reached Adventure Rank 20 or above and completed the "Song of the Dragon and Freedom" questline are cordially invited to join the citizens of Mondstadt in their annual celebration of freedom and love as dandelion seeds flutter in the warm spring breeze.
This festival is the main focal point of 1.4. A festival in the heart of Mondstadt, where you can your friends can play some mini-games to earn two exclusive festival rewards— the Windblume Festival Commemorative Balloon and the Windsong Lyre, as well as a new 4-star weapon, Windblume Ode.
With the Windsong Lyre you can freely create your own music, and co-op too!
This event has three stages that must be completed to finish it, and they are all revolved around mini-games. Plus take part in all of the Windbloom Festival and get 1000 Primogems!
Bullseye Ballon
The first one is called Bullseye Balloons. In this mini-game, you have to pop the correct balloons within the time limit. Don't worry; you do not need to have a high-level Bow character for this mini-game. You can also compete with others in Co-Op.
Some balloons will award points and others will deduct point
Ballads of Breeze
You play the Lyre and you have to press keyboard prompts, in a rhythm mini-game.
Floral Freefall
This minigame involves diving off cliffs and glide into Green Orbs that you have to glide into. You'll have to use a mixture of both gliding and falling to get all of the rings on your journey down. Get enough to get a high score!
Peculiar Wonderland
In this event, you get three random minigames you play. After the three rounds are over, the scores will be turned into buffs, where you have to fight a Pyro Regisvine. The higher your score, the easier this fight will become.
The games will involve obstacle courses, dodging projectiles, and walking in the dark, a memory floor game you have to memorize.
Get enough tickets and you can get yourself the Windblume Ode!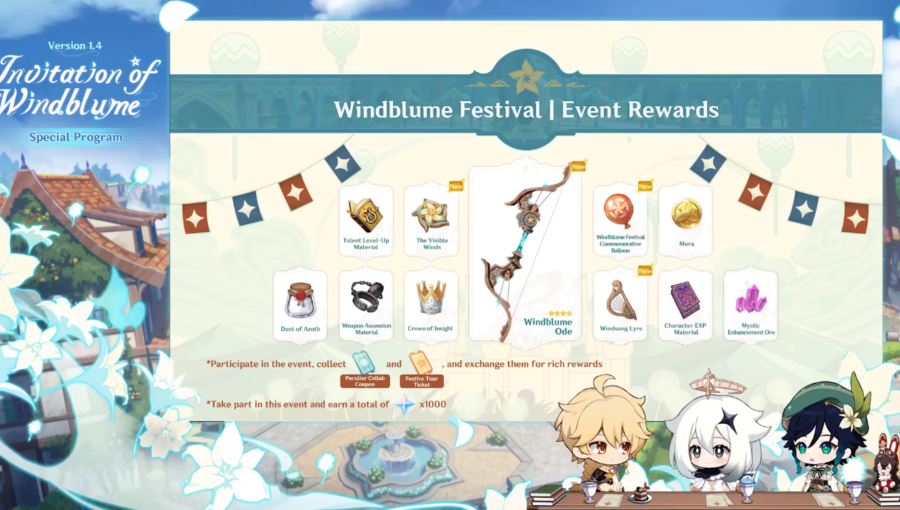 Story Quests
Abyss Herald
A new boss is coming with 1.4! This new enemy is called Herald and is part of the story quest associated with Dainslief. This is a very heavy story-driven, quest, as in the trailer we get a sneak preview of the Travelers Twin! This is not a new boss, this enemy is only available as part of the story. So at the moment, it's a one-and-done type enemy.
In Version 1.4, more details about the Abyss Order and the fate of the Traveler's long-lost sibling will be revealed. Travelers who continue their investigation with "Bough Keeper" Dainsleif will finally come face to face with the formidable Abyss Herald and learn some surprising secrets about the world's first Ruin Guard at Stormterror's Lair.
Hangout Events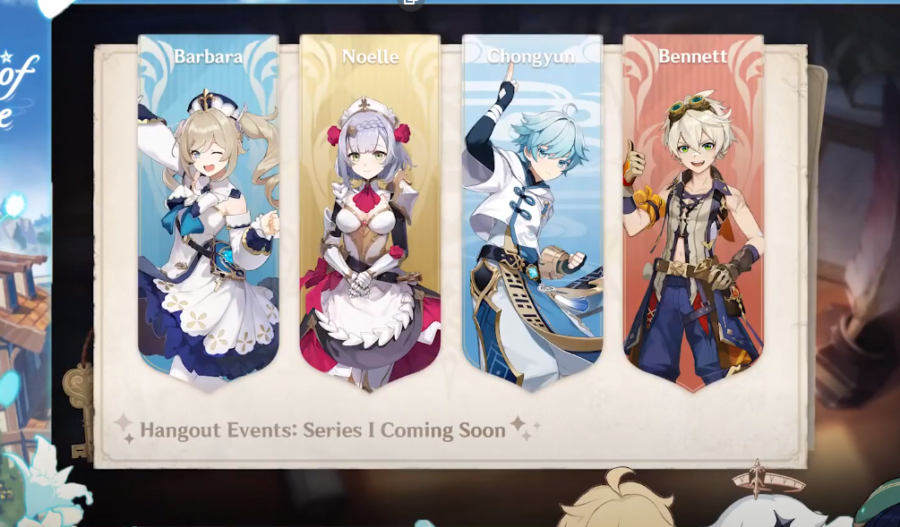 Then we have a sort of Dating Sim-Esque quests with multiple endings, plus rewards with Four-Star characters. The four characters you can do this with are:
Barbara
Bennett
Chongyun
Noelle
You have to choose dialogue choices and you choose and see what ending you get. Sometimes if it goes poorly you might get a bad ending or no ending at all! Don't fret, as you can get unlimited tries to get all the endings, and the more endings you get the more rewards you can obtain!
Plus you get a Hangout Memory picture of the hangout events, for your collection. Hangout Events are the first of many!
Events
Wishful Drops
In this event, you are partnered with a Mini-Oceanid to help you in this quest. Upon completion, it will evolve into a pet called Endora!
Rhodeia's Rage challenge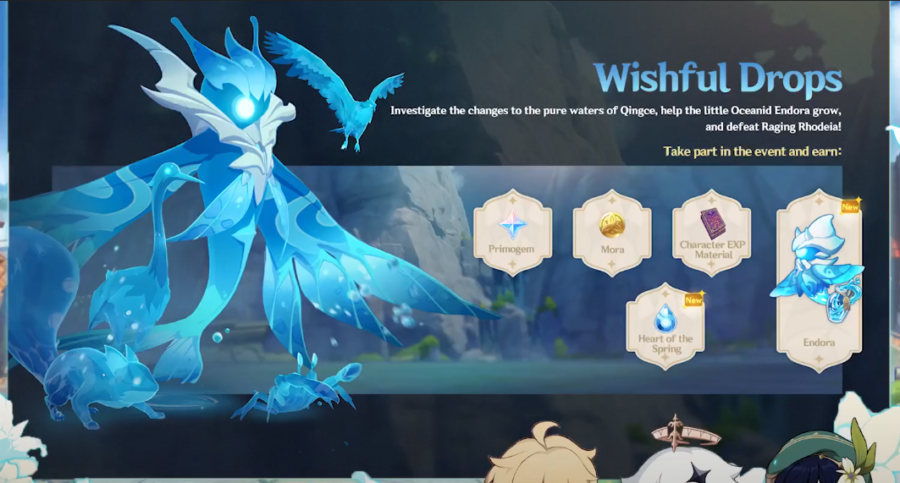 A new event revolved around the Elite boss Oceanid may come to 1.4. Oceanid has new mechanics and moves to make this boss even more difficult, also you can play it in Co-op!
With this event, you must find Heart of the Springs, there are five to collect, to unlock rewards for this event!
Contending tides
This is a new event where you face off against waves of Churls, Slimes, and even Ruin Hunters, with rewards to be won! Added daily a new challenge appears, with three difficulty options. If you complete the hardest one, all ones below it will be completed.
However, each challenge will have specific requirements that have to be fulfilled to complete it. Complete them to get rewards!
New Weapons
Four new Weapons have been shown off on the Genshin Impact 1.4 preview. One new Five-Star, and three new Four-Stars!
Five Star
Four Star

The Alley Flash (Sword)
Alley Hunter (Bow)
Wine and Song (Catalyst)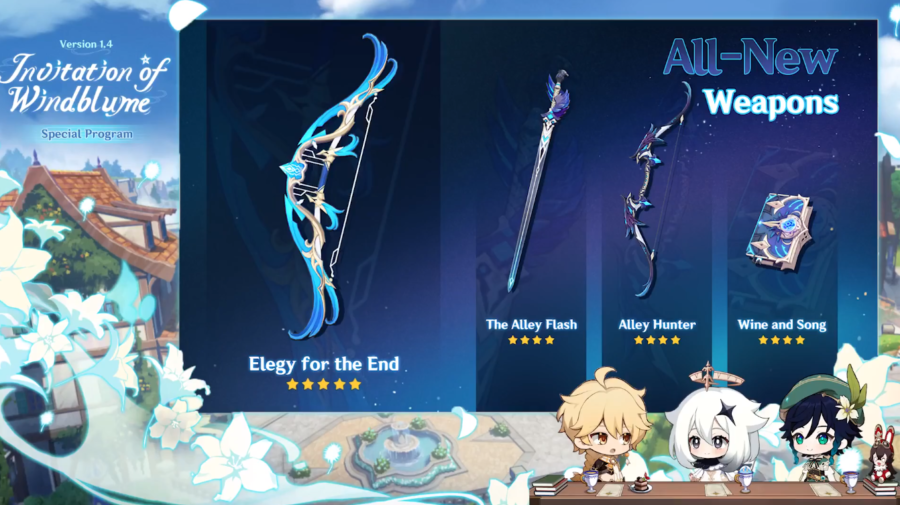 Quality of Life Changes
Condensed Resin
Condensed Resin is getting an increase, and you will be able to hold a total of five. This is great for players who do not have the time to play daily. This means they can store up more of their resin and use it to get double rewards, to cut down on a lot of the grind.
Lower World Level
This is an interesting feature that in 1.4, you may be able to lower the World Level. This will help you find more common materials when fighting monsters, and they will be an awful lot easier to boot. You can only do this at World Level 5.
It also means you can play with friends who are at a lower WL than you. However, you can only lower your WL by one, but you cannot alter this again within 24 hours.
This will be incredibly handy for wanting to level new characters, or even getting mid-tier materials and then using Alchemy to turn them into the highest-tier possible.
Developer Discussions
This information comes directly from mihoYo with their traditional Developer Discussions, where they answer questions asked by the Genshin Impact community. This is 100% official! Here is a small summary of the Q&A session!
Condensed Resin is getting an increased cap.
Notifications fixed for Resin when entering Domains.
Max Adventure Rank is 60. Any Aventure Experience over that is converted into Mora.
World Level change is coming in 1.4.
Quality of Life changes coming to the Weapon Upgrade System.
Using Crafting Benches in Coop is coming in the future.
You can save Favorite Mail in 1.4.
Rechallenge option for Spiral Abyss.
Quality of Life Coop Tweaks/Functionality.
The full information can be found here: Developers' Discussion - 03/02 — Q&A hot off the press!
Stay up to date with the upcoming banners, and keep an eye on our Genshin Impact codes to get some free goodies!