Genshin Impact's development team continues to expand Teyvat with new areas, characters, and exciting events and stories, one update at a time. While the massive Version 2.8 update featuring the Golden Apple Archipelago is underway, there's more to be excited about in the upcoming Version 3.0 update, which will feature the long-awaited Sumeru region!
Check out this compilation of leaked content that's expected to drop in the next update. But remember: take leaks with a grain of salt and know that changes between the beta server and actual release aren't uncommon.
A huge thank you to Project Celestia, Ubatcha1, hxg_diluc, genshinBLANK, @Genshin_Intel, @timing1337, kestrel_centurion, @SusAmongusLeaks, YelanLover, mrquik17, keitaro_gg, @merlin_impact, and the Genshin Impact community for providing information.
Genshin Impact Version 3.0 release date
Genshin Impact will jump from Version 2.8 to 3.0, hence why Version 2.9 is not part of our roadmap. Below are the speculated update dates for Version 2.8 and beyond, but keep in mind that anything beyond 2.8 is purely guesswork based on the game's six-week update period.
Version Update 2.8—Scheduled for July 13, 2022, and will run until Aug. 24, 2022.
Version Update 3.0—Scheduled for Aug. 25, 2022, and will run until Oct. 6, 2022.
Version Update 3.1—Scheduled for Oct. 7, 2022, and will run until Nov. 18, 2022.
Genshin Impact Version 3.0 Sumeru leaks & more
New characters
There are plenty of characters rumored to be coming within Sumeru's run, but the characters below have been officially announced by HoYoverse on their social media channels.
Tighnari - five-star Dendro bow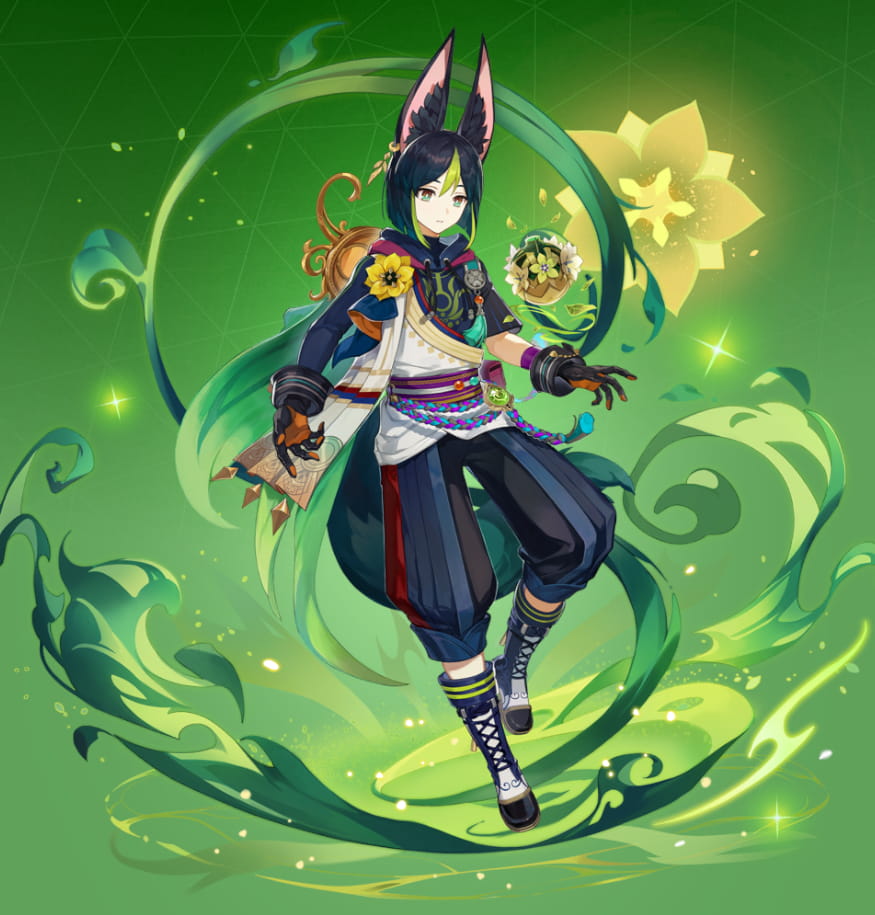 Tighnari is a five-star Dendro bow user whose kit makes him suitable to be the team's main DPS. His low Energy cost, stoic-but-friendly personality (described to be similar to Albedo), and completely new Element will bring fresh gameplay for players to enjoy.
Collei - four-star Dendro bow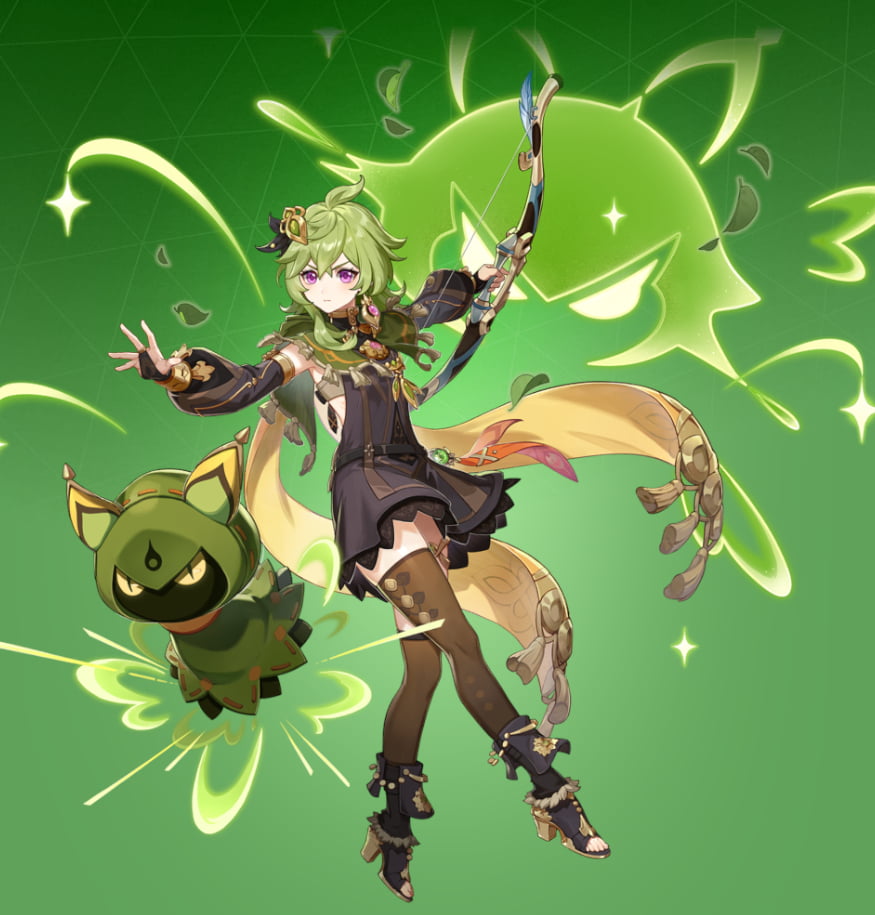 Collei made her debut in the Genshin Impact manga as a character with a tragic story, but players can meet her again in Sumeru as a four-star Dendro bow user. Based on a leaked image of her home, she seems to retain a close attachment to Amber. Collei is allegedly obtainable for free as an event reward.
Dori - four-star Electro claymore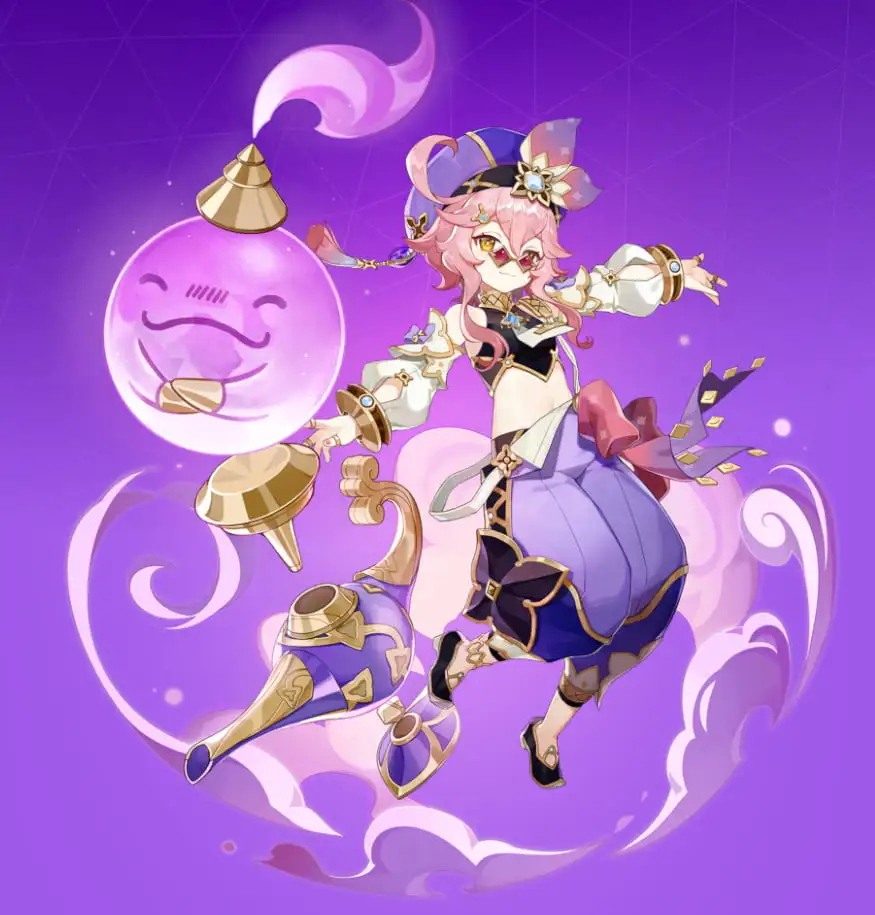 Dori is a four-star Electro claymore with an interesting playstyle, as she rides her Lamp Spirit and doesn't directly attack enemies—the Lamp Spirit does the job for her! This lazy, Mora-obsessed merchant resides in the Palace of Alcazarzaray, an area that players can visit in Sumeru.
Dendro Traveler
While not new characters, players will be able to play a Dendro-aligned Aether and Lumine in Version 3.0. It's presumed that they can gain the power of Dendro by interacting with the first Statue of The Seven in the region.
Related: Genshin Impact leak teases a possible TCG coming in the Sumeru update
Version 3.0 Banner Information
According to leaker @SpendYourPrimos, Version 3.0 will have two banners with the following featured characters.
First Half—Zhongli, Tighnari
Second Half—Ganyu, Kokomi
The placements of four-stars Dori and Collei—as well as other four-stars—are currently unknown, although the latter is rumored to be a free character in the first Sumeru event (more on that below).
New area: Sumeru
The most exciting part about Version 3.0 is the confirmed release of Sumeru, which has been officially teased at the end of the Version 2.8 livestream. The map above was posted by popular leaker @Ubatcha1 on the WFP Discord server, crossposted on r/Genshin_Impact_Leaks. Sumeru is known to be divided into rainforests and deserts, with the rainforest area expected to arrive first. Based on the map above, as well as existing lore, The Chasm may be the path that leads to Sumeru.
Meanwhile, Reddit user u/Substantial_Fan posted their speculation of the size of the desert area based on out-of-boundaries object coordinates, which could be even larger than Sumeru's rainforest area and Liyue combined. The third official Sumeru teaser revealed snippets of the upcoming desert area, but it's not expected to drop in Version 3.0. As a result, an area called Old Vanarana, which is the small brown patch to the left of Vissudha Field, is leaked to be inaccessible as well.
New Element: Dendro
While Dendro has existed since the beginning of the game, it was never integrated into playable characters—but HoYoverse has officially confirmed that Dendro is just around the corner. Dendro will bring a plethora of new Reactions, primarily with Electro, Hydro, and Pyro.
These Reactions are also a little more complicated than previous combinations, slightly increasing the difficulty for experienced players who've made it to Sumeru. In particular, players will be able to unlock a second layer of Reactions that requires a careful team rotation to ensure that the correct Elements are being applied in a specific order.
New weapons
Not much information has been leaked about new weapons coming in Version 3.0. However, the names of the below craftable weapons were leaked by @genshinBLANK and crossposted on r/Genshin_Impact_Leaks by u/hydro-supremicy.
Craftable weapons
Arakalari Sword
Arakalari Claymore
Arakalari Bow
Arakalari Polearm
Arakalari Catalyst
Ayus Bow
An image of the Ayus bow (plus the Arakarali weapons mentioned above) have been leaked, but its actual stats are currently unknown.
New Artifacts
Leakers revealed a new Domain called the Spire of Solitary Enlightenment, where players can farm for two Artifact sets.
Deepwood Memories

2-piece: Dendro Damage bonus +15 percent
4-piece: After Elemental Skills or Bursts hit opponents, the targets' Dendro Resistance will be decreased by 30 percent for eight seconds. This target can be triggered even if the character equipping the Artifacts is not on-field.
Gilded Dreams

2-piece: Elemental Mastery +80
4-piece: Within eight seconds of triggering an Elemental Reaction, the character equipping this set will obtain buffs based on the Elemental type of the other party members. Attack is increased by 14 percent for each party member whose Elemental Type is the same as the character equipping the Artifacts, and Elemental Mastery is increased by 50 for every party member with a different Elemental Type. Each of the aforementioned buffs will count up to three characters. This effect can be triggered once every eight seconds. The character who equips this can still trigger its effects when not on the field.
New Talent Materials & Domain schedule
Leakers revealed a new Domain called the Steeple of Ignorance, where players can farm for Talent Books.
Philosophy of Admonition (Monday, Thursday, Sunday)—required for Tighnari and Dendro Traveler
Philosophy of Ingenuity (Thursday, Friday, Sunday)—required for Dori and Dendro Traveler
Philosophy of Pravis (Wednesday, Saturday, Sunday)—required for Collei and Dendro Traveler
Version 3.0 is expected to drop on a Thursday, so you'll be able to farm for Tighnari and Dori immediately.
New major quests
Sumeru Archon Quest "The Trail of the God of Wisdom"—revealed by @genshinBLANK on DIscord.
Twitter leaker @timing1337 posted a list of the Sumeru chapters, which could possibly fall under the Archon Quest (although unconfirmed).

The Forest Book: Part I - Woodland Encounter
The Forest Book: Part II - Dream Nursery
The Forest Book: Part III - Nursery of Lost Dreams
The Forest Book: Part IV - In the End, the Forest Will Remember

Tighnari's Story Quest
Sumeru World Quest names were also leaked by @timing1337:

A Child From Beyond the Forest
The Book of Dharma
A Culinary Dream
Rain Prayer Book
Sumeru Archon Quest "The Trail of the God of Wisdom"—revealed by @genshinBLANK on Discord.
Related: Sumeru's state of affairs are dire, according to Genshin Impact leak
New enemies
Normal enemies
The Ruin Sentinel enemy type has been leaked to include even more variations, including Ruin Gargoyles that an attack from both the land and air.
But not all of Sumeru's enemies are scary! These adorable little shrooms, leaked by YelanLover, are reminiscent of the Floating Hydro Fungus from The Chasm's Underground Mines. However, less friendly mushrooms also lurk around the region. TikTok user mrquik17 revealed a slightly more menacing mushroom enemy that can run on two feet. Floating enemies seem to appear more frequently in Sumeru, as another leak by keitaro_gg on YouTube shows the existence of Dendro Specters.
Sumeru's enemy lineup is extremely diverse and seemingly a lot less generic than the previous three nations. This leak showcases the Mushroom Raptor, a dinosaur-looking enemy! In the same vein, a reptile-looking enemy called the Spinokrok has also been revealed by keitaro_gg on YouTube. Additionally, human enemies, such as the Kairagi and Treasure Hoarders, have also been leaked to appear in Sumeru. They're allegedly called Eremites who may be mercenaries lore-wise.
World Boss
Two new World Bosses (one allegedly called the Jadeplume Terrorshroom, and the other an Electro Regisvine) were leaked on the WFP Discord channel and cross-posted on r/Genshin_Impact_Leaks. Little is known about these two bosses, other than that they'll be dropping Sumeru character Ascension materials.
New wildlife
Sumeru will allegedly be home to new wildlife, including jaguar-looking animals that could possibly make great Serenitea Pot companions. The assortment includes new fishes that all Teyvat anglers will be itching to reel.
New local specialties
A new region means new local specialties to hoard so that your Sumeru characters can get from level 1 to 90 as quickly as possible! Some local specialties include, but are not limited to:
New Sumeru exploration
Dendroculus
Oculi collection will be back to haunt players. In the extra-large Sumeru, leaker @projectcelestia alleged that there would be about 271 Dendroculi to offer to the Statues of The Seven in the region. In comparison, Monstadt had 66 Anemoculi, Liyue had 131 Geoculi, and Inazuma had 181 Electroculi.
Dendro Sigils
Leaker @projectcelestia stated that the Tree of Dreams, Vanarana, a structure similar to the Sacred Sakura's Favor, will grant players rewards in exchange for 35 Dendro Sigils per level. To get to level 50, players will need to collect 1,750 Dendro Sigils, presumably from Chests and other exploration objectives.
Leaker @Genshin_Intel broke down the rewards for getting Vanarana to level 50:
Fragile Resin ×5
Acquaint Fate ×20
Intertwined Fate ×10
Midlander weapon billets (x1 each weapon type)
Crown of Insight x5
Sumeru Shrine of Depths keys ×4
Mystic Enhancement Ore ×500
Mora ×2.5 million
Seelie
Twitter leaker @timing1337 posted a video showcasing Sumeru's local Seelie, which has a beautiful Dendro color. These friends will guide players to a ton of Chests in the region!
Dendrogranum
Grana are recurring exploration items that have become more and more significant as players progress through nations. In Inazuma, Electrograna is used to solve puzzles, traverse with Thunder Spheres, and avoid Balethunder, which makes them significantly more useful than the Anemograna and Geograna that are rarely used in early exploration. While the use cases for Dendrograna are currently unknown, a leak by Tiktok user kestrel_centurion shows that they do exist in Sumeru and may be important for solving puzzles.
New NPCs
After receiving massive backlash for not including people of color among Sumeru's NPC lineup despite the nation taking inspiration from a hodgepodge of Middle Eastern and South Asian cultures, leakers revealed that the Version 3.0 beta's NPC lineup was updated to include people of color. Additionally, the lively Sumeru City is shown to be home to plenty of street performers, from dancers to musicians.
Additionally, @naevisleaks posted an image of Sumeru guards—clad in armor that's strikingly different from the past three regions.
New food
Most importantly, players will be able to see doner kebab cooking on the road! The age of Dango Milk is over—spinning meat is now the next big thing in Teyvat cuisine. Character specialty dishes have also been revealed by Reddit user u/hydro-suprimacy, showcasing mouth-watering food that looks like they're best eaten with hands.
New Sumeru Reputation Board
A new Reputation Board means new rewards to claim based on your local exploration progress and bounty-hunting. Based on the leak above, players can get two Namecards, a plethora of Gadgets, Serenitea Pot Furnishings, Recipes, and a beautiful new Glider called Wings of the Forest.
Mystic Offering expansion
Genshin Impact's Mystic Offering system allows players to trade in unwanted five-star Artifacts for Artifact Strongboxes, which contain a random Artifact from a specific set. According to @genshinBLANK on Discord, Version 3.0 will allegedly include the following sets:
Thundering Fury
Thundersoother
Viridescent Venerer
Maiden Beloved
Archaic Petra
Retracing Bolide
Crimson Witch of Flames
Lavawalker
Blizzard Strayer
Heart of Depth
New events
Carving of Innocence
According to @genshinBLANK on Discord, this event revolves around a toy store in Port Ormos named Acara Crafts, which has suddenly become unable to produce new toys. Players will help the shop find assistants and collect inspiration to exchange for items in the event shop. Based on the leak, players won't have to complete the Sumeru Archon Quest to start this event.
Additionally, @Genshin_Intel revealed that the event will consist of two main parts:
Roam the jungle—players may participate in exploration activities, including photography, battles, and parkour trails.
Metamorphosis of Wood—players may build wooden statues, which are similar to the snowmen in the Dragonspine event.
Tablet Analytics
Leaker @Genshin_Intel revealed an upcoming battle event with an unknown schedule. According to them, this event will consist of four stages, with three rounds each. In each round, players can battle an infinite wave of enemies and receive buffs that can be manually triggered every 15 seconds. Players can also configure their team comps between rounds, with a selection of four trial characters relevant to the nuances of each round. The event rewards are rumored to include Sumeru Talent Books, Primogems, and a Serenitea Pot kettle furnishing.
While waiting for Version 3.0, sit back and enjoy Version 2.8! Check out our guide on How to solve Astral puzzles in The Ancient Azure Stars in Genshin Impact Summertime Odyssey event – Mona's Mirage guide to help you clear Mona's Domain.