Blooming Sands is a Genshin Impact World Quest that can be accepted in Aaru Village. There, you'll meet a Village Guard named Raef, who needs your help collecting and delivering his purchases for his sickly girlfriend.
How to unlock the Blooming Sands Sumeru World Quest in Genshin Impact
To unlock this World Quest, you first need to complete the first four Acts of the Sumeru Archon Quest Chapter III: Truth Amongst the Pages of Purana.
Once all four Acts are done, head to Aaru Village and switch the in-game time so that it's daytime to prompt Raef to appear.
Related: Which is better, Elegy for the End or Staff of the Scarlet Sands in Genshin Impact?
How to complete the Blooming Sands Sumeru World Quest in Genshin Impact
Once you've met the prerequisites, head to the area circled in the image above. You should be able to see a blue exclamation mark in the World Map. Climb the structure to meet Raef. Since he's a Village Guard, he's busy and can't manage his deliveries, so he'll ask you to pick up his goods from a merchant named Azalai. Follow the quest marker to meet Azalai nearby, then head back to Raef and give him the Package.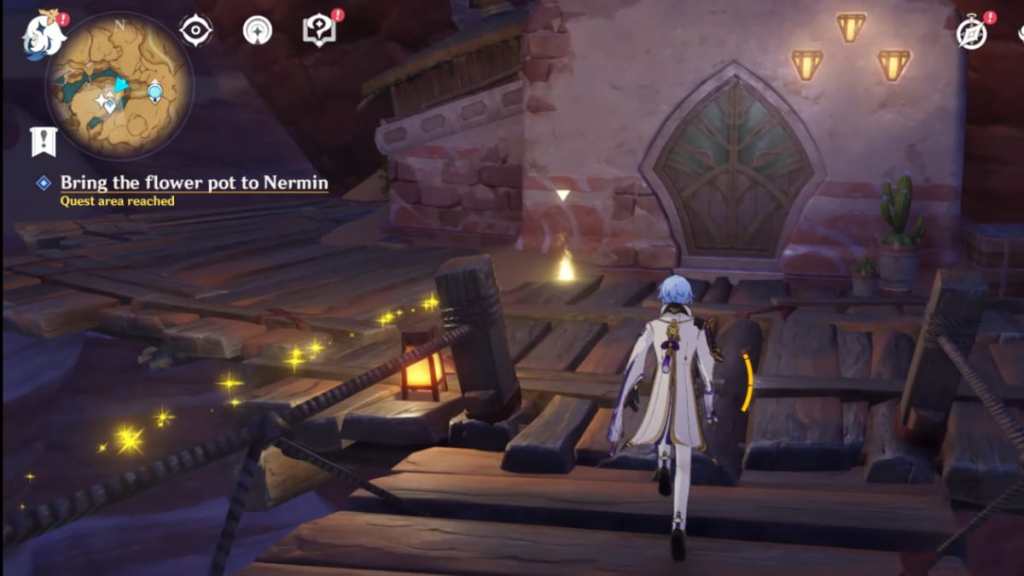 Follow the quest marker toward Nermin's house. You need to carefully glide down from the cliff to find her house connected to a bridge. Interact with the glowing Investigate spot to place the plant from Raef and speak to Nermin. Once that's done, return to Raef to complete the World Quest.
Check out our Genshin Impact Join the Eremites and Embrace a Wonderful New Life! World Quest guide to complete another quest from Aaru Village.