Genshin Impact just released v.1.5, which is full of new content that celebrates a certain catlike party member. Diona now even has her own Hangout Event, and completing all of her endings will grant you five adorable collectable photos, two achievements, and 90 total primogems—so what are you waiting for?
Genshin Impact Hangout Series II: how to get Diona's 5 Endings
Before you can unlock Diona's Hangout Event, you'll need to have met the following conditions:
Adventure Rank 26 and above
Have story keys (earn one key for every eight commissions completed)
Completed the Archon Quest: Prologue: Act III - Song of the Dragon and Freedom
There are five total endings in Diona's Hangout Event, meaning there are also five different photos you can collect. The Genshin Impact Hangout Events series won't punish you for choosing the wrong option—in fact, miHoYo encourages players to unlock all of the endings by revisiting certain scenes and choosing different outcomes! Almost every playthrough awards you with primogems and the opportunity to collect more photos, so don't worry if you select a wrong choice the first time around. You can even unlock multiple achievements during Diona's event.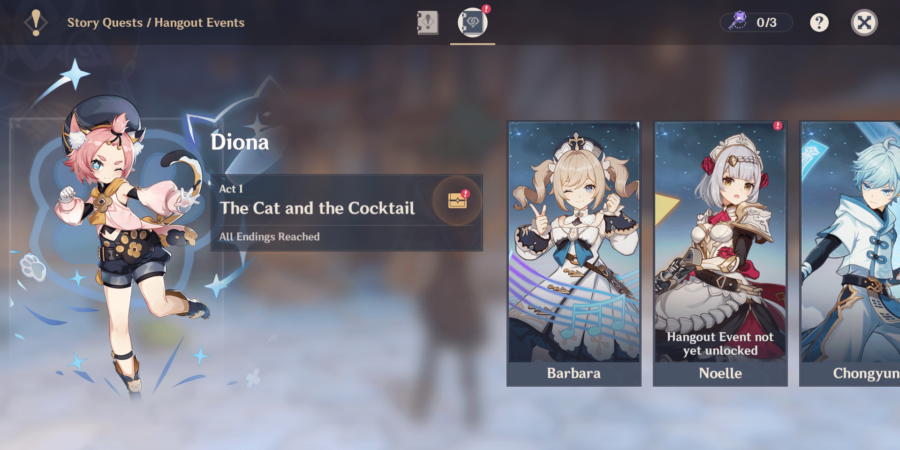 Read on to discover how to attain all six of Diona's endings.
Cat Party
When speaking with Margaret at Cat's Tail, say, "I'm here for the kitties..."
This prompts a quest in which you help Diona round up the three cats that typically frequent the tavern. Each cat has a specific preference, and if you ignore the information Diona gives you about which cat likes what (for example, giving Roger the cat food instead of the toy), you'll lose hearts.
Roger can be found on a rooftop near Angel's Share. When Diona reflects on how beloved Roger is by the Cat's Tail patrons, respond with, "I think customers visit the tavern primarily for your cocktails."
During the Nelson interaction (the second cat is hanging out just behind the blacksmith), tell Diona, "Your specialty drinks attract lots of attention already."
After locating Paisley, the third cat, Diona wonders aloud if her drinks aren't as important as the cats themselves. Tell Diona, "No-one would know about these cats if it weren't for your specialty drinks."
Cheering Diona up results in the "Cat Party" photo ending, along with the "Kitten Queen" accomplishment.
The Unfathomable Felines
Begin this branch with "I'm here for the kitties..." and continue to answer Diona with all of the negative responses that reinforce her uselessness.
When you find Roger, say, "Well, he is really cute after all."
When you locate Nelson, say, "Maybe you should take a hint from him and do what he does?"
Finally, at the cathedral, respond to Diona with, "That actually might make more money...". Fed up, Diona storms off (and probably takes a catnap to calm down).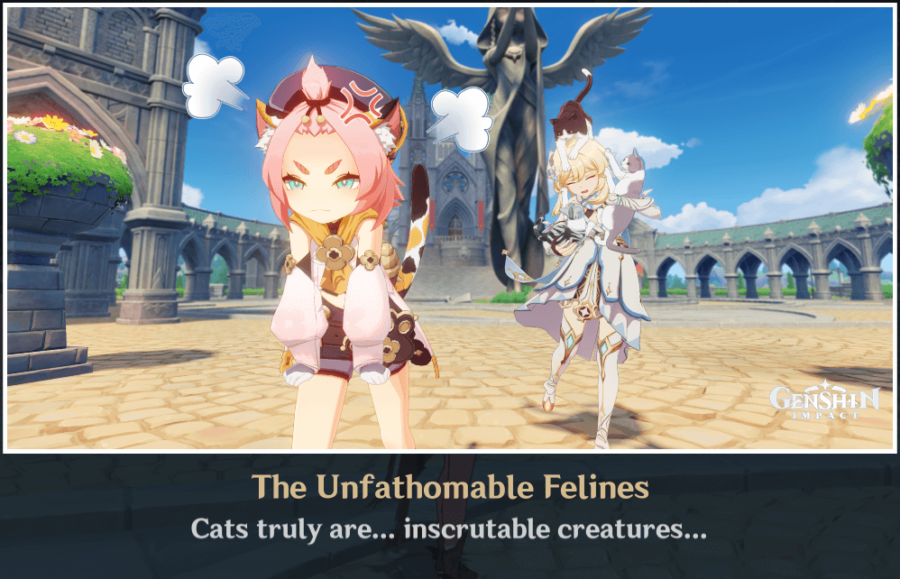 Related: All Wood Locations in Genshin Impact
The Ultimate Special
At Cat's Tail, tell Margaret, "I want to try some new specialty drinks...".
When Diona gives you a choice between a unique flavoring or base, go with, "I'd like the flavoring to be more unique...".
You'll then help Diona gather some ingredients to mix a one-of-a-kind drink. This journey eventually leads to Dawn Winery, where a couple of its employees try—not so discreetly—to win over the "genius" bartender.
Diona attempts to make disgusting concotions and repeatedly fails, only impressing the men with each new drink. It doesn't matter how you mix your own drinks, since Diona is unable to produce a mix that tastes bad.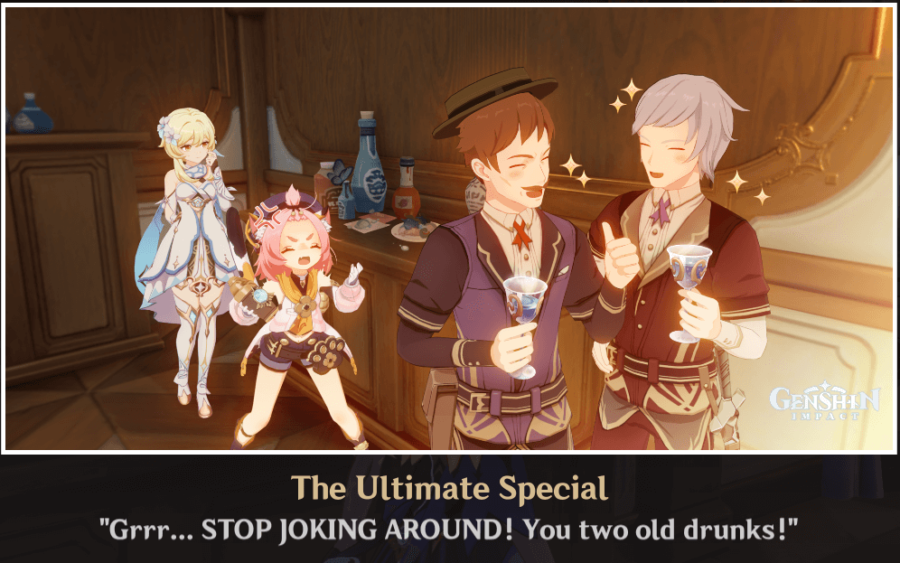 I... Only Had... A Little...
Begin this branch with "I want to try some new specialty drinks..." followed by, "I'd like the base to be more unique...".
Once again, Diona will ask for your help in obtaining certain ingredients. When you come across one of the hunters from Springvale, however, Diona is told that her father, Draff, got so drunk he wandered into Dadaupa Gorge by himself.
You'll need to either fight the nearby hilichurls or sneak by them. We recommend choosing to face them head-on, since you can sneak by anyway (and not get punished if you're caught).
After you find Draff, say, "I can deal with a few monsters. I'll bring some of that herbal soup back."
There's a sparse monster camp just a little further in the Gorge, where you'll need to check three different cooking pots. Bring back the gross-smelling mix to shock Draff awake and unlock the following photo.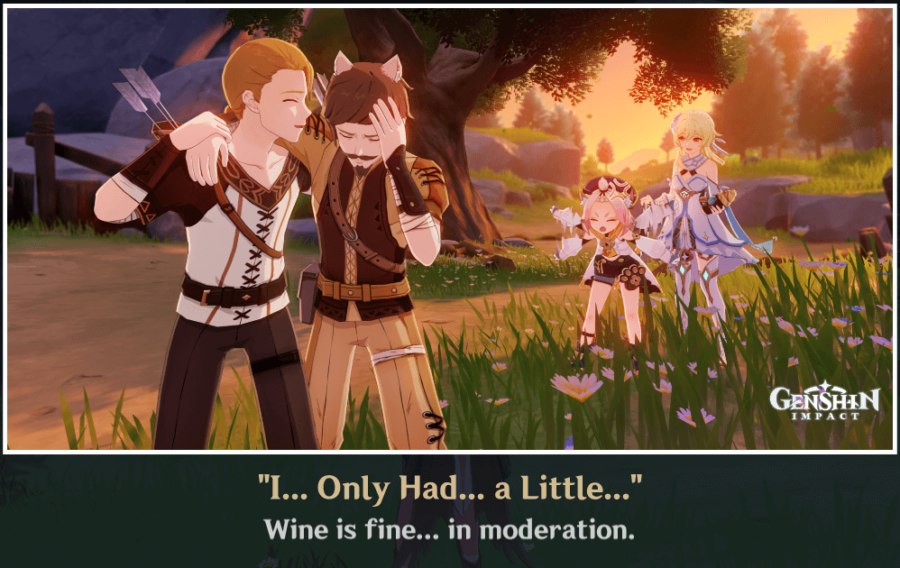 Diona's Special
Choose "I want to try some new specialty drinks..." and then "I'd like the base to be more unique..." to begin the Draff branch.
Once again, it doesn't really matter which method you use to find Draff in the hilichurl camp, but the process is made much easier by saying you'll face them head-on.
After finding Draff, tell Diona, "Draff said he had just found some, let's ask him."
To Diona's surprise, Draff wasn't just drunkenly rambling when he said he'd already collected the herbal soup she was looking for. Diona uses this mix to concoct something even better, which instantly restores Draff back to normal. Along with a sweeter interaction between Diona and Draff, you'll also unlock the "But There's a Catch" achievement.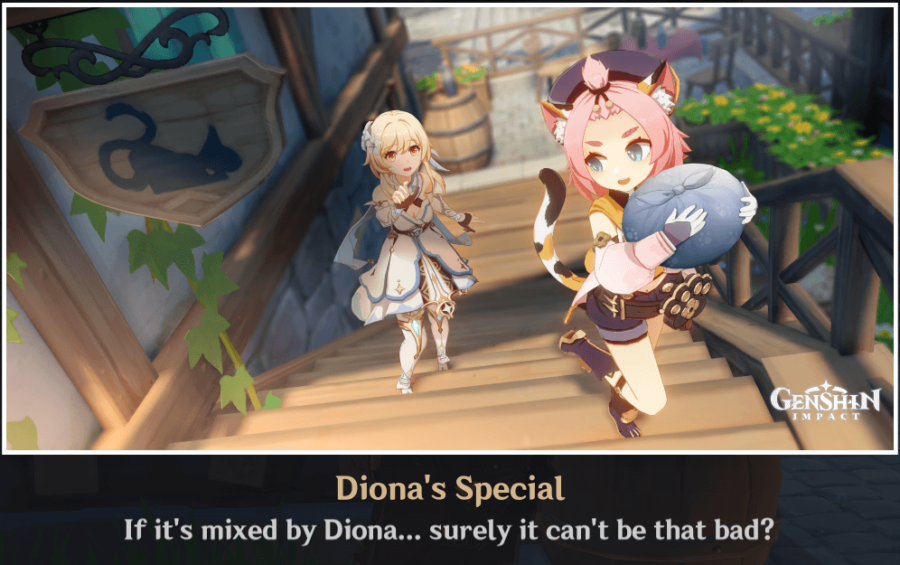 These are all of the available endings for Diona's Hangout Event. Don't forget to claim your ending rewards in the Hangout Events banner once you've completed them all!
All Hangout Event Guides
Be sure to read our other character interaction guides to get the most out of your Hangout Events:
Find out how to get Dream Solvent in Genshin Impact to make the most of your gameplay experience! Don't forget to check out Genshin Impact 1.6 Leaks, News, and Release Date for info on all upcoming content.