Genshin Impact's Genius Invokation TCG is a card game mode where you can duel against friends, NPCs, and even cats, using a customized deck of your choosing. The TCG may look complicated at first, but you'll soon find that it's fairly simple and fun to play. Here's how to play and win duels in Genius Invokation TCG.
How to play & win Genius Invokation TCG in Genshin Impact
Before starting a duel, make sure your preferred deck is set as your active deck. Whatever is set as your active deck will automatically be used in the card game.
Starting Hand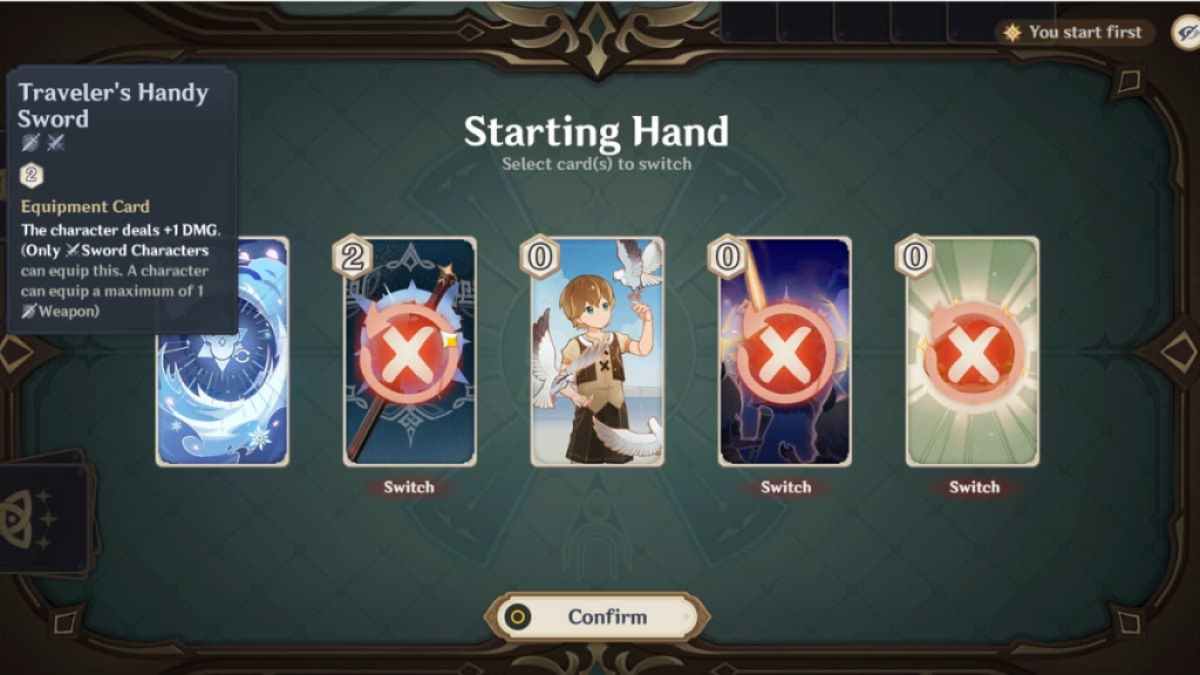 At the start of the match, you can draw five random Action Cards. It's best to pick cards that complement your Character Cards. You can reroll your Starting Hand once: simply click on the cards that aren't useful, then click Confirm to replace them. You may still have cards you don't need, but don't worry, as they can become useful later on.
Set Active Character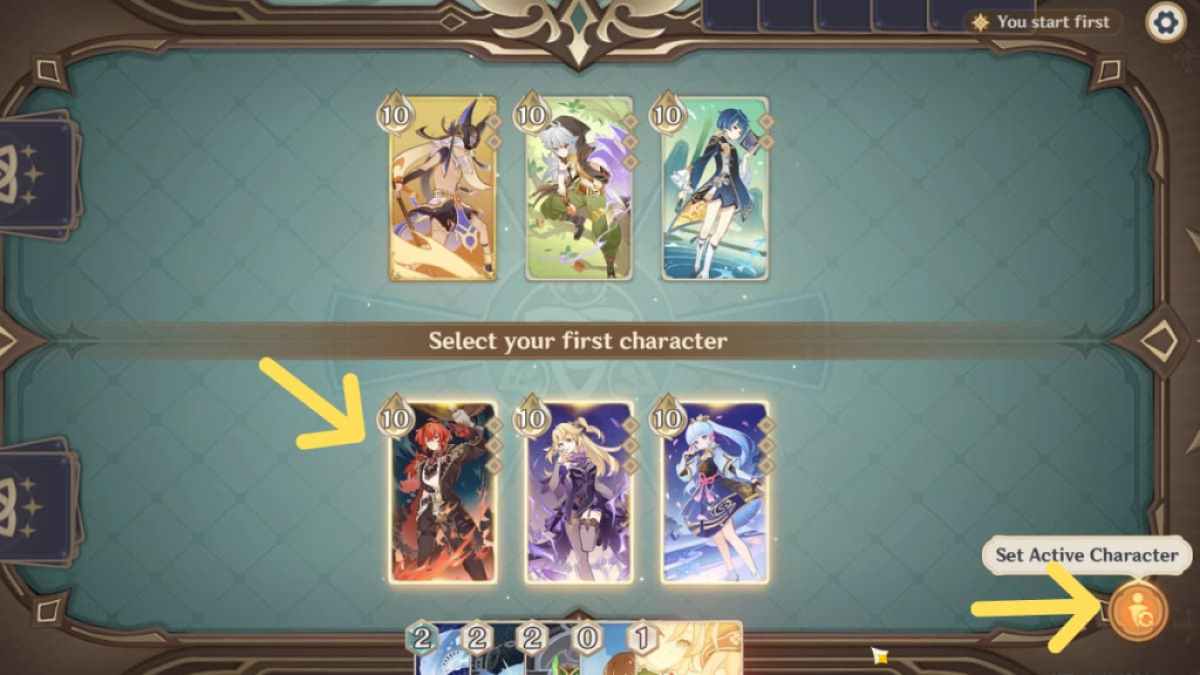 You can only use one Active Character Card at a time. Click on your preferred card, then click the Set Active Character button on the bottom right of the screen.
Roll Phase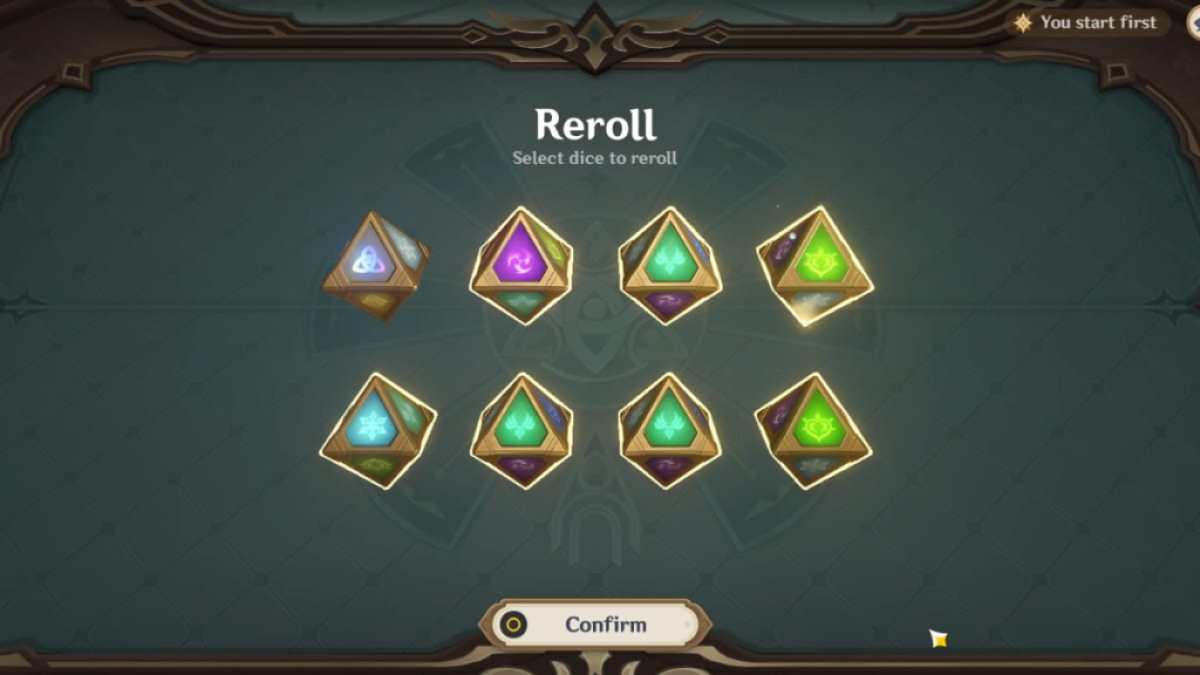 Next, you'll enter the Roll Phase. In this segment, you'll roll eight random Elemental Dice. Your goal is to get as many dice that match the Element of your Active Character, as doing so will allow them to make more moves. You can also roll for Omni Dice, which are silver-colored with a trinity symbol, as these can represent any Element.
Click on the dice you don't need, then click Confirm to reroll once. Whatever you end up with will be your starting lineup.
Related: How to get & use Card Backs in Genshin Impact Genius Invokation TCG
Action Phase: How to use Character Cards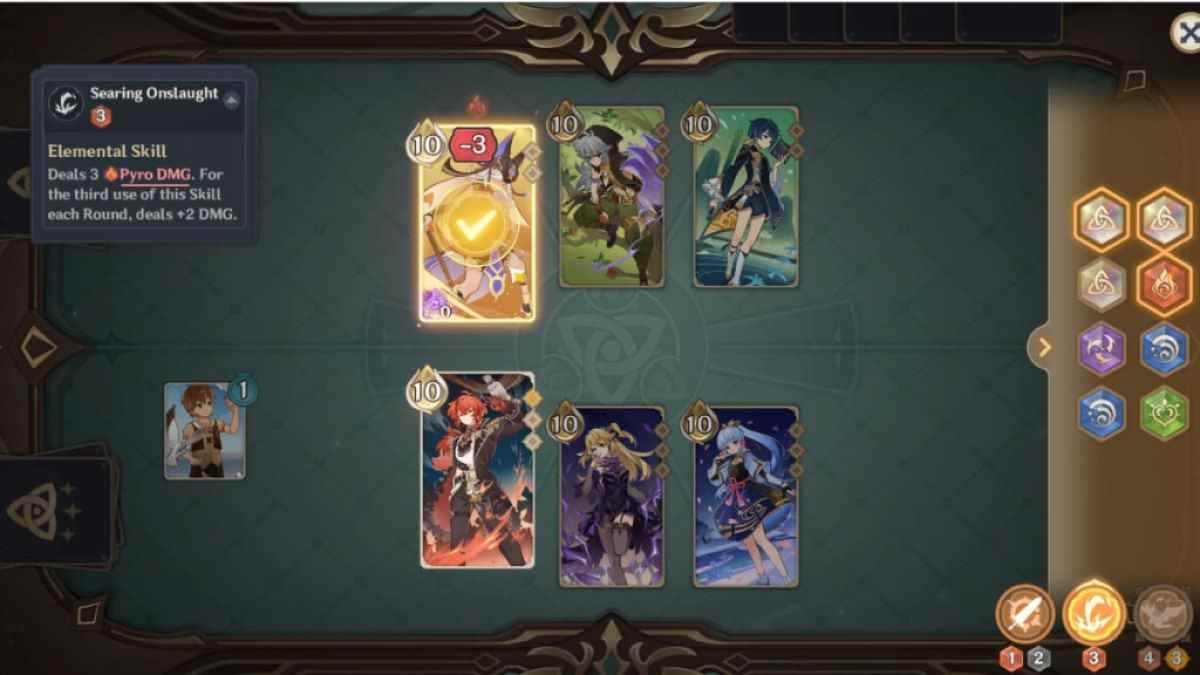 Character Cards can attack opponents using a Normal Attack, Elemental Skill, or Elemental Burst. These require Elemental Dice to activate. Click on the attack you want to use on the bottom right of the screen, then click the opponent's Active Character to target them. The Elemental Dice selected will be removed from your tray.
You can't directly target non-active cards, but you can do so indirectly using Elemental Reactions. Keep reading to learn how.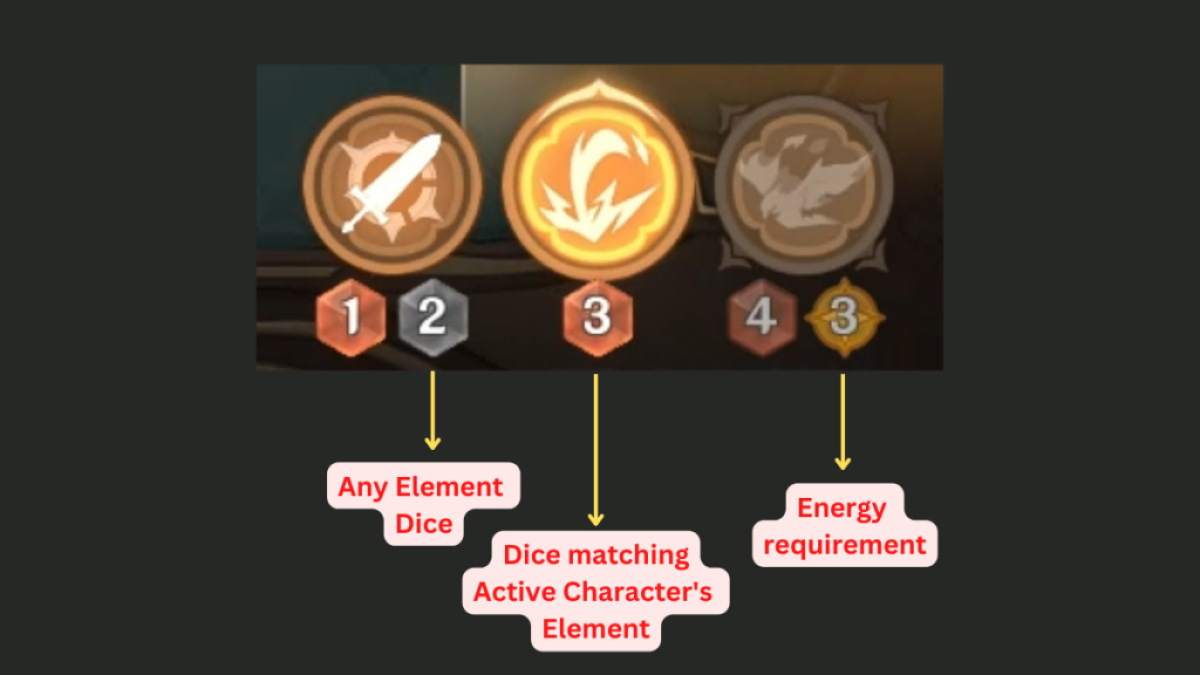 The Elemental Dice requirements differ per character. Reference the image above for a breakdown of what the corresponding symbols mean.
Gray hexagon: any Elemental Dice of the same kind (not necessarily the same Element as the Active Character).
Elemental-colored hexagon: Elemental Dice that match the Active Character's Element or Omni Dice.
Yellow circle: number of Energy required to activate.
Action Phase: How to get Energy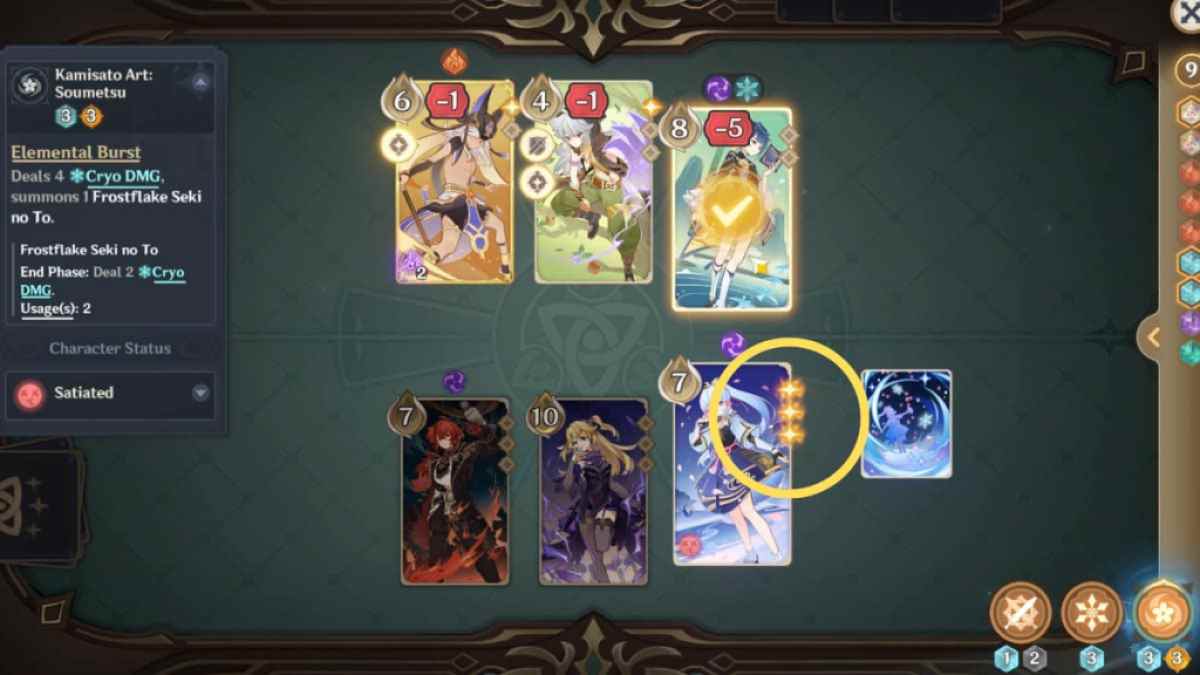 Using a Normal Attack or Elemental Skill will automatically generate one Energy for the Active Character. You can track by checking the number of orbs on the upper right of each Character Card. Energy can be transferred from one character to another using Action Cards like Calx's Arts.
Action Phase: How to switch Active Character Card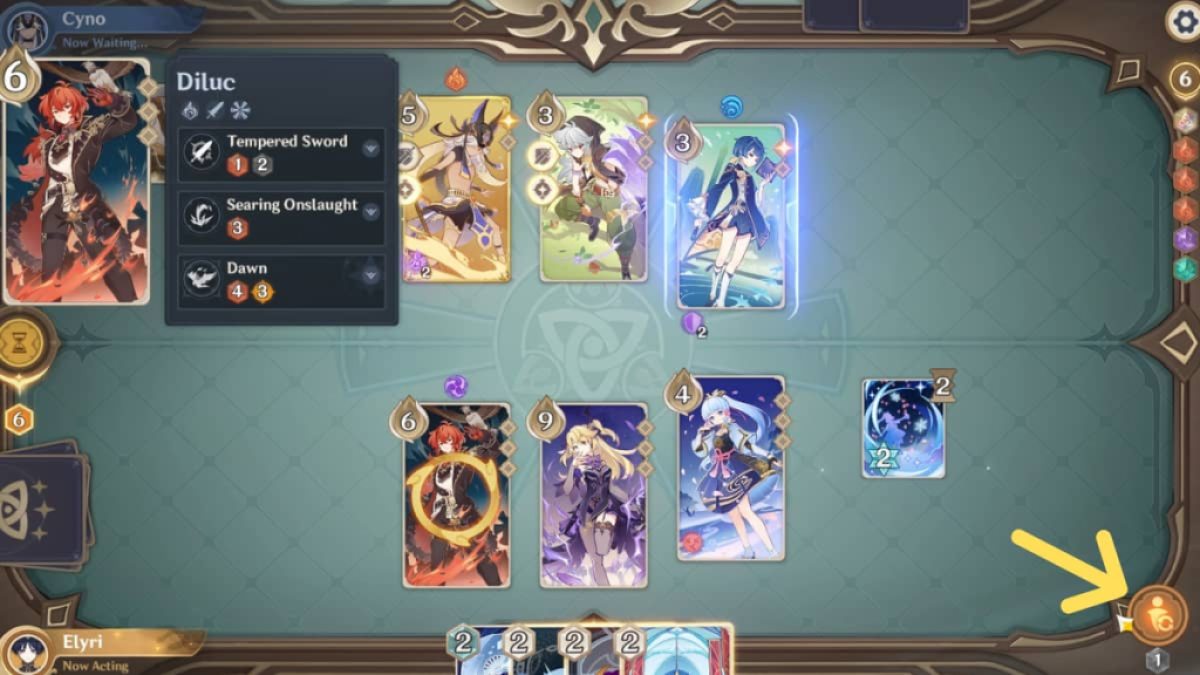 You can switch Active Characters at any time during your turn. To do so, click on your preferred Character Card, then click on the Switch Character icon at the bottom twice. It costs one Elemental Die (any Element) to make the switch. Doing so will also complete your Turn, so be careful.
Action Phase: What happens when a Character Card dies?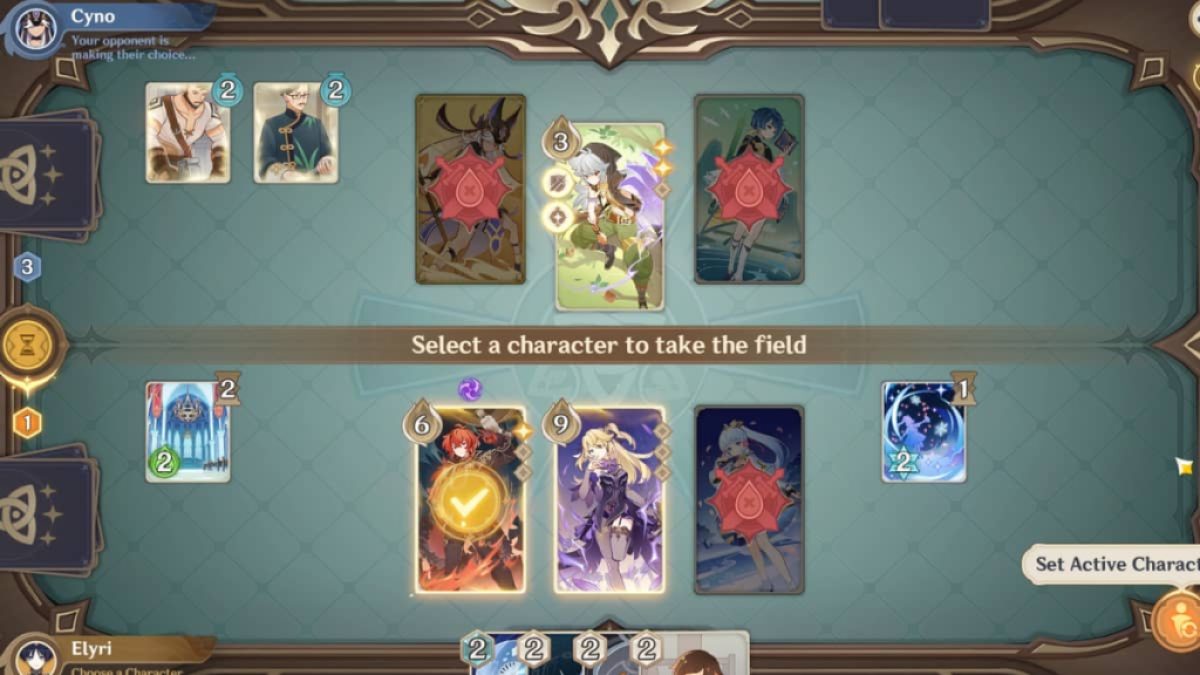 You can track HP based on the number on the upper left of each Character Card. And when a Character Card's HP reaches 0, it will die. You will be forced to set a new Active Character at no cost.
Action Phase: How to trigger Elemental Reactions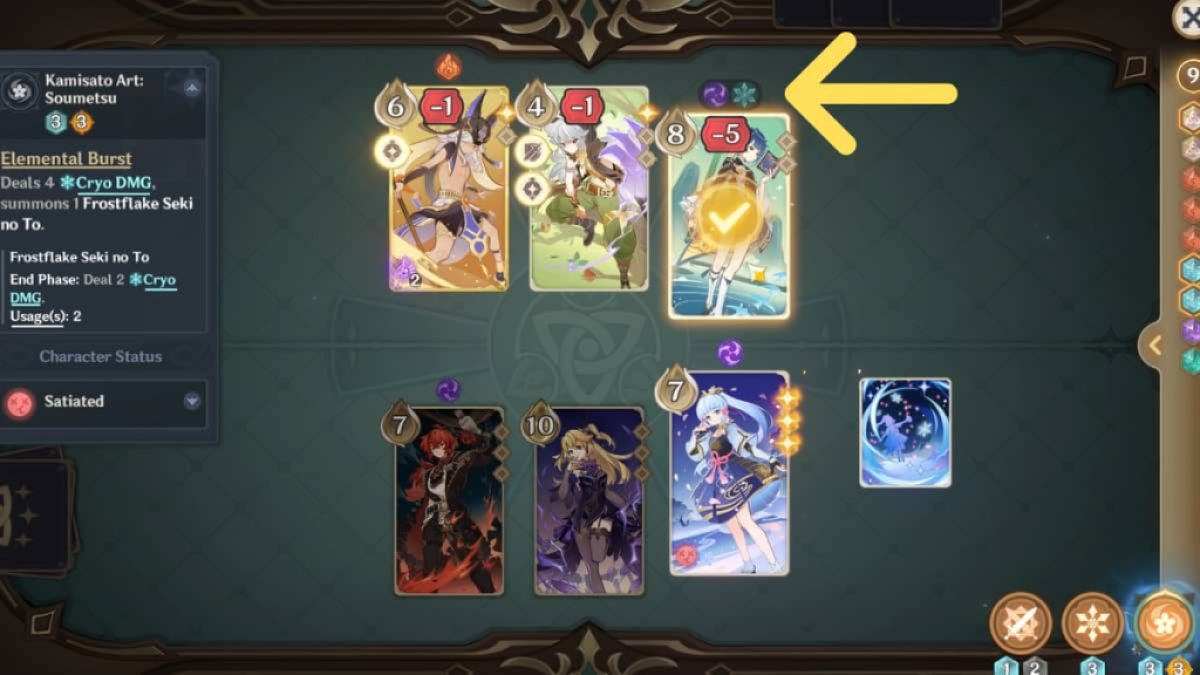 Elemental Reactions in Genius Invokation TCG are triggered the same way as the overworld. Apply an Element using one Character Card, then switch to another Character Card and apply a second Element to trigger a Reaction. Earlier, we mentioned that you can only target the opponent's Active Character.
However, triggering some Elemental Reactions allows you to deal damage to non-Active Characters as well. For instance, in the example above, Superconduct deals 5 damage to the Active Character, and 1 damage each to the inactive Character Cards.
Action Phase: How do summons work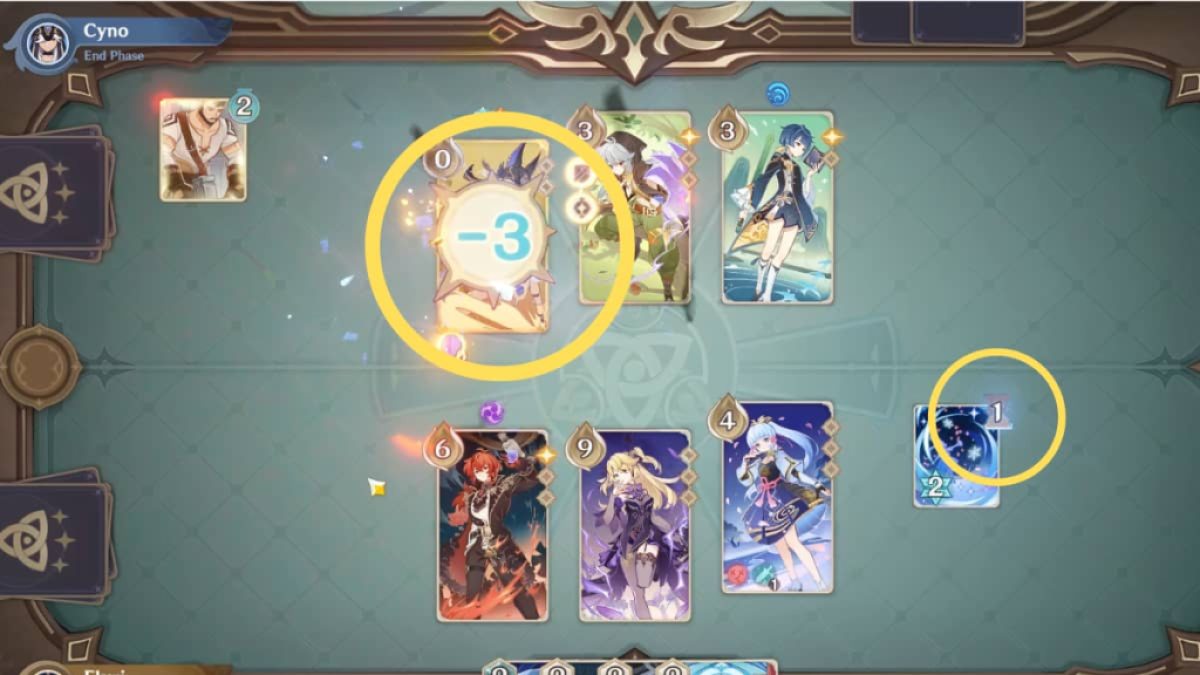 Summons will appear on the right side of the table. They will typically attack the opponent's Active Character at the end of the Phase, though it may differ per Character Card. Refer to the skill description for more info. The number on the hourglass indicates the number of Phases the summon will remain active.
Related: How to get more Genius Invokation TCG cards in Genshin Impact
Action Phase: How to use Action Cards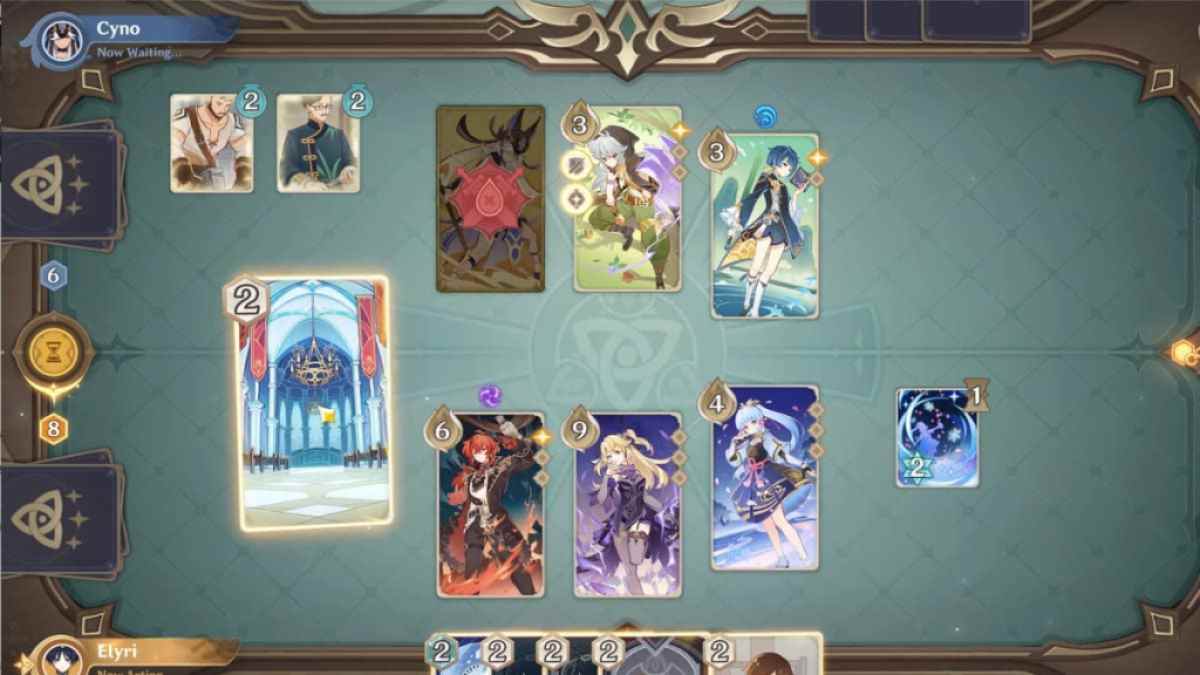 Both you and the opponent will receive two Action Cards after every turn. These are support cards that can buff your Character Cards, heal, change Elemental Dice into Omni Dice, get rid of enemy summons, and more. The possibilities are endless, and rolling good Action Cards can make or break a duel.
To use an Action Card, click on a card from your deck at the bottom of the screen, then drag it to the left side of the table, then click Play Card. Each Action Card has different requirements for activation. It's impossible to go through every one of them, so we'll show you how to decipher the card descriptions instead.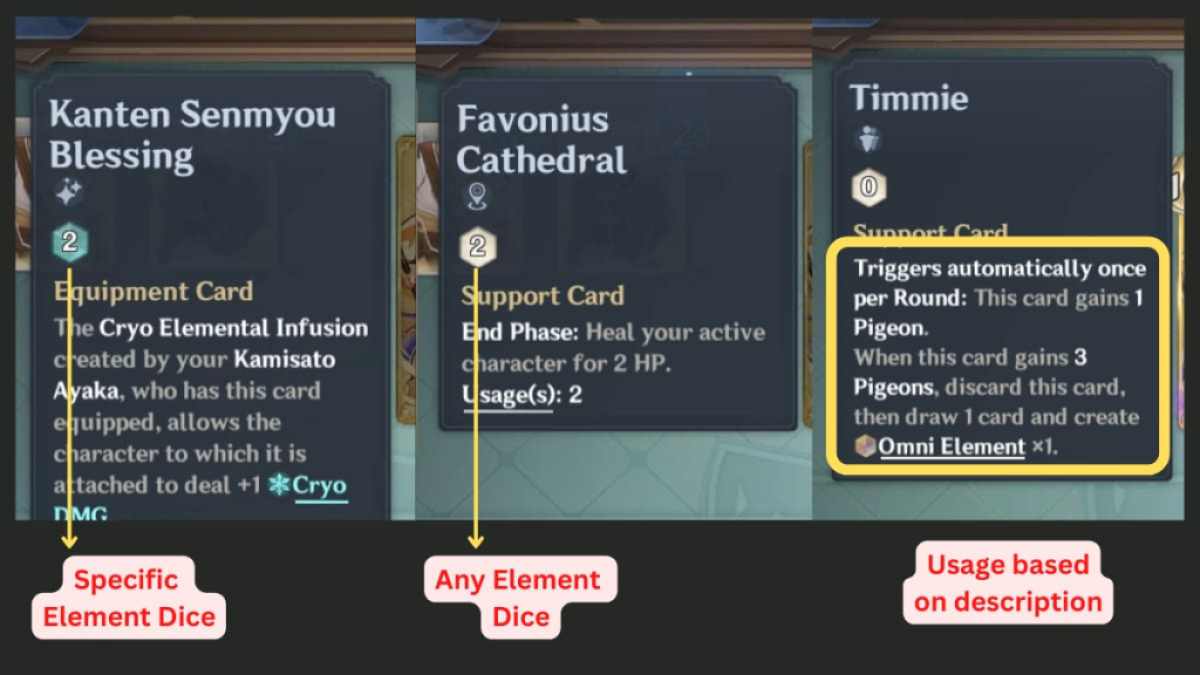 Number in Action Cards: number of Dice needed to activate.
Colored hexagon: number of specific Elemental Dice or Omni Dice needed to activate the Action Card.
White hexagon: number of any Elemental Dice needed to activate the Action Card (if more than one, they must be the same Element or matched with Omni Dice).
Description: contains information on how many turns the Action Card will stay active, plus additional requirements to obtain benefits.
Action Cards with 0 cost are great because they're free to use. But they won't always benefit you immediately. For example, Timmie's Action Card will only benefit you after three rounds, which means you need to think ahead and use it earlier in the duel.
Action Phase: What to do with useless Action Cards (Elemental Tuning)?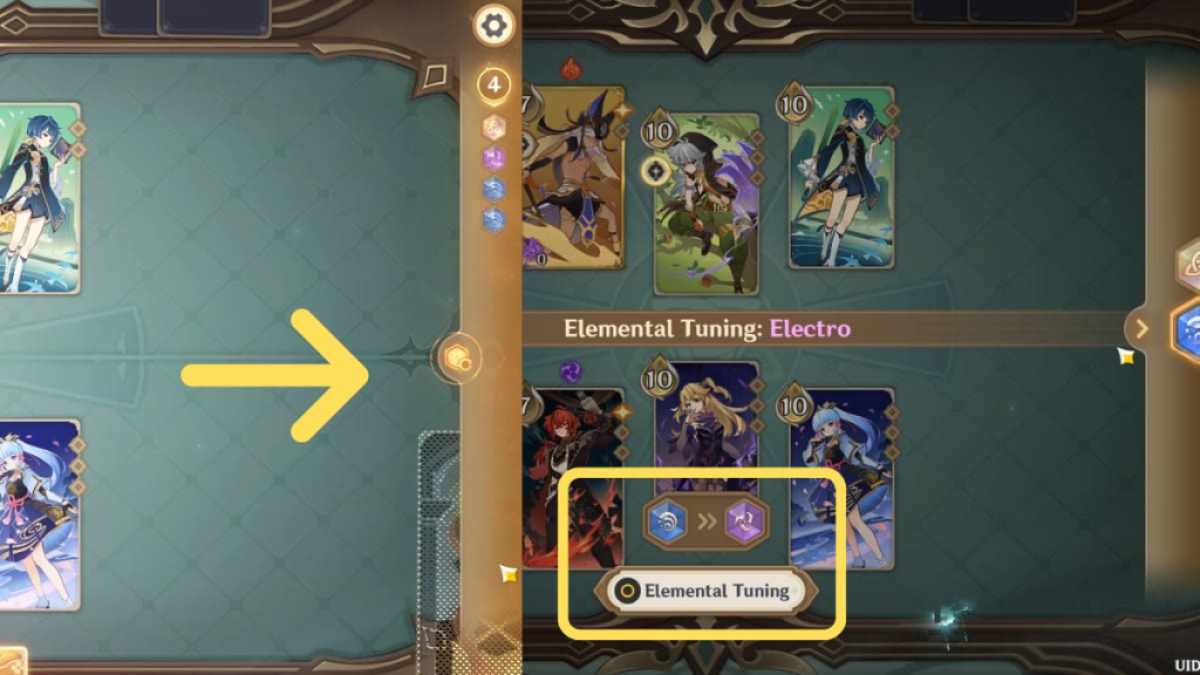 Action Cards that offer no benefit to your lineup can be converted into Elemental Dice based on your Active Character's Element. Click and drag any Action Card to the right side of the screen, then select any Elemental Die you don't need. The Action Card will be sacrificed to convert the unneeded Elemental Die into another one based on your Active Character's Element.
End Phase vs End Round vs End Turn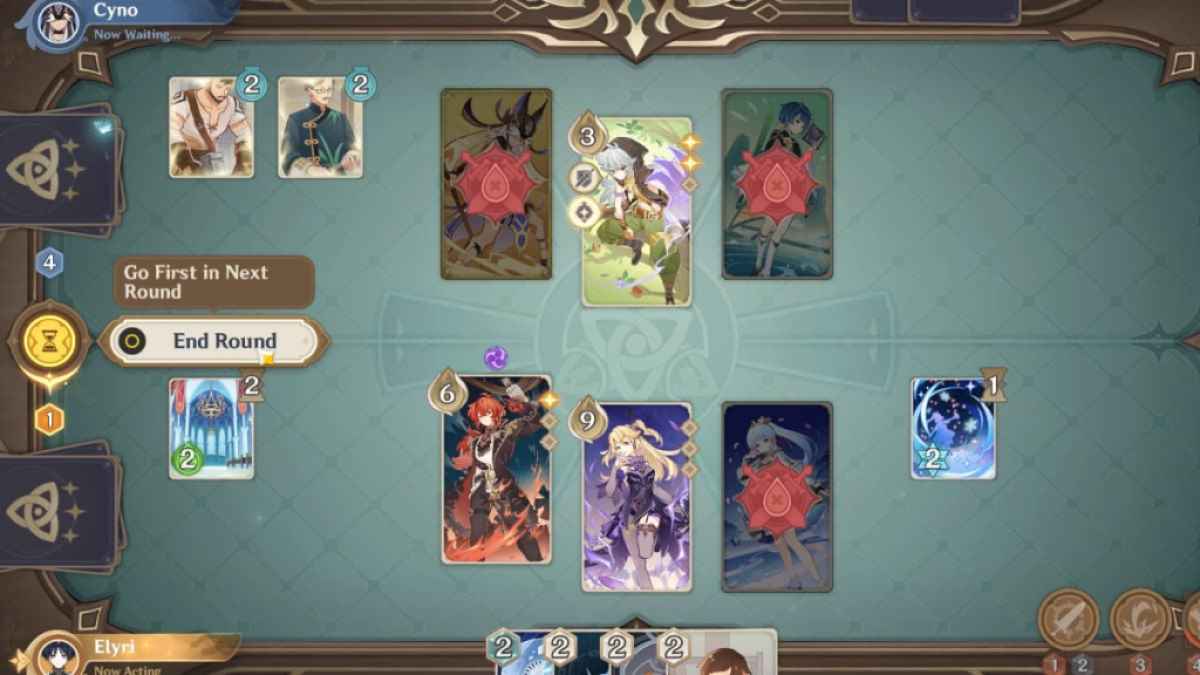 Phases, Rounds, and Turns mean different things. Here's a breakdown to avoid confusion:
End Turn: happens after attacking an opponent or switching Active Characters.
End Round: click on the hourglass icon to voluntarily end the Round, which usually happens when you've run out of resources to make more moves. The first party to end their Round will attack first in the next Phase.
End Phase: when both parties end their Rounds, the Phase will end.
After the Phase ends, both you and the opponent will obtain two random Action Cards and will roll Elemental Dice again before continuing.
Check out our guide on How to find opponents in Genshin Impact Genius Invokation TCG here on Pro Game Guides to play this amazing TCG all day long.