Genshin Impact's Mesmerizing Sea web event runs from July 22, 2022, to July 31, 2022. During this period, you can help Paimon remember fragments of her memories from the Golden Apple Archipelago to get Primogems and other rewards in return. You can get up to 80 Primogems in this event, but the rewards are time-gated across five days—so start as early as possible!
Start by heading to the official web event page. Make sure that you're logged into your HoYoverse account, which is also your Genshin Impact account. Select the correct server and character as rewards are distributed via in-game mail.
Related: Genshin Impact 3.0 – Sumeru leaks, banners, events, new area, and everything we know so far
How to play Genshin Impact's Mesmerizing Dream at Sea web event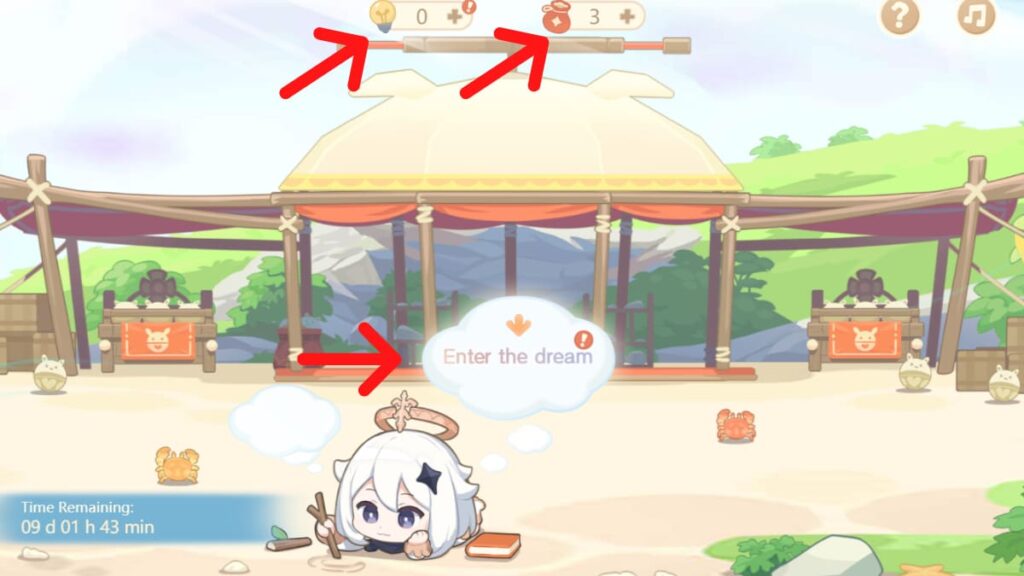 Click on Enter the Dream beside Paimon and choose among the five destinations in the Golden Apple Archipelago. Your goal is to answer all of Paimon's questions correctly.
Correct answers for the Mesmerizing Dream at Sea Event in Genshin Impact
On the first island, answer the following to complete the stage:
Is it an island with lots of Dodocos?
The Kaboomball Fortress?
A flying Treasure Chest?
Inspiration
Each stage costs x3 Inspiration, which can be obtained by clicking on the lightbulb at the top of the screen and doing the following things in-game:
Log into Genshin Impact.
Complete two Daily Commissions today.
Catch Anemo, Cryo, Geo, or Electro Crystalflies once.
You need to do all three to get enough Inspiration to do one stage. For the Crystalfly collection task, we recommend going to the Dawn Winery and running through the grapevines to find them quickly.
Snacks
If you answer any of the questions wrong, you need to feed Paimon a Snack to continue. Open the Snack menu by clicking on the red bag at the top of the screen. You can earn x3 Snacks per day by doing one of the following tasks:
Collect Realm Currency once in the Serenitea Pot.
Forge one item.
Cook a dish once.
Spend 1,000 Mora.
Since you can only complete one stage per day, make sure to come back every day to get all the web event rewards!
Check out our The Ancient Azure Stars World Quest walkthrough – Genshin Impact Summertime Odyssey Mona Mirage Chest & puzzle guide to progress in the in-game event.