Warrior's Spirit is a Genshin Impact event that runs from February 9, 2023, to February 20, 2023, featuring yet another Inazuma fighting arena where you can show off your sword-fighting skills. During the event, you can participate in six sword-fighting duels and win by perfecting your parry.
How to unlock the Warrior's Spirit event in Genshin Impact
To unlock the event, you must first complete the following prerequisites:
Reach Adventure Rank 30 or above.
Complete Ritou Escape Plan from the Archon Quest Chapter II: Act I - The Immovable God and the Eternal Euthymia.
Optional: Complete Raiden Shogun's Story Quest, the Imperatrix Umbrosa Chapter: Act II - Transient Dreams.
If you haven't completed the optional prerequisite, click on the Quick Start button in the event menu to begin. Otherwise, you'll automatically get the Event Quest called Unexpected Battle. Complete it to unlock the Warrior's Spirit Swordfighting Arena south of Ritou.
Related: Hu Tao's Special Dish and how to cook it in Genshin Impact
How to win duels in the Warrior's Spirit event in Genshin Impact
Arena Location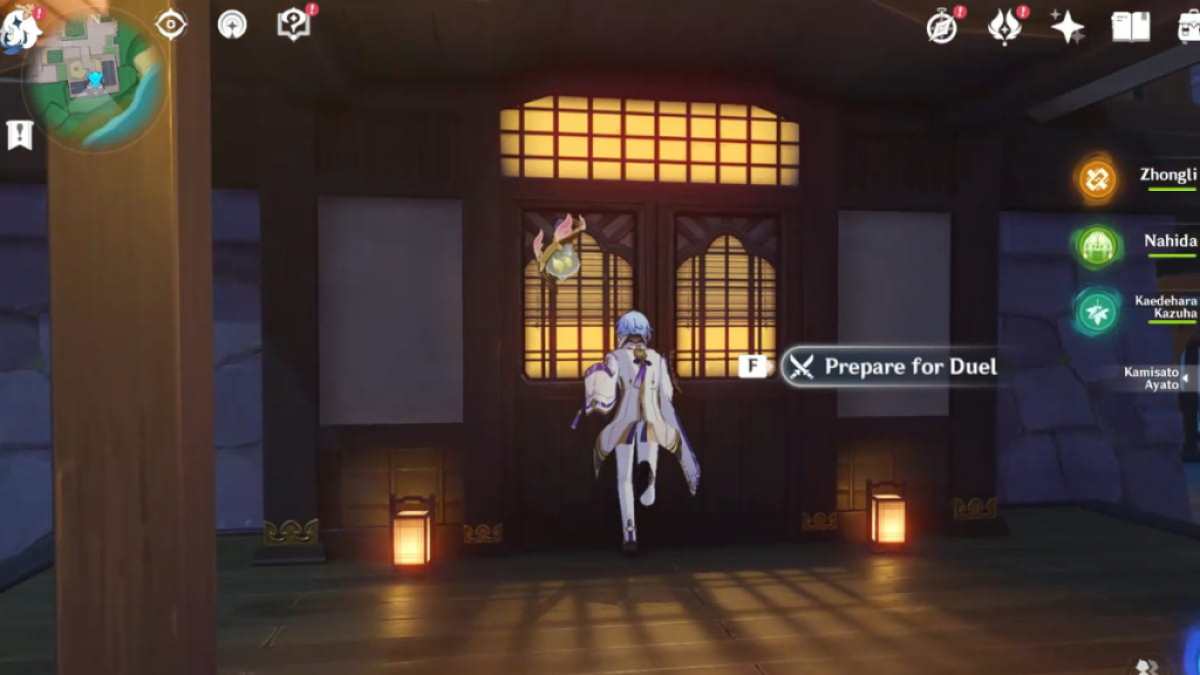 Head to the Warrior's Spirit Swordfighting Arena through the event Waypoint in Ritou, and enter the room to Prepare for Duel. There are six challenges that unlock throughout the event period, and they must be completed in order.
Strategy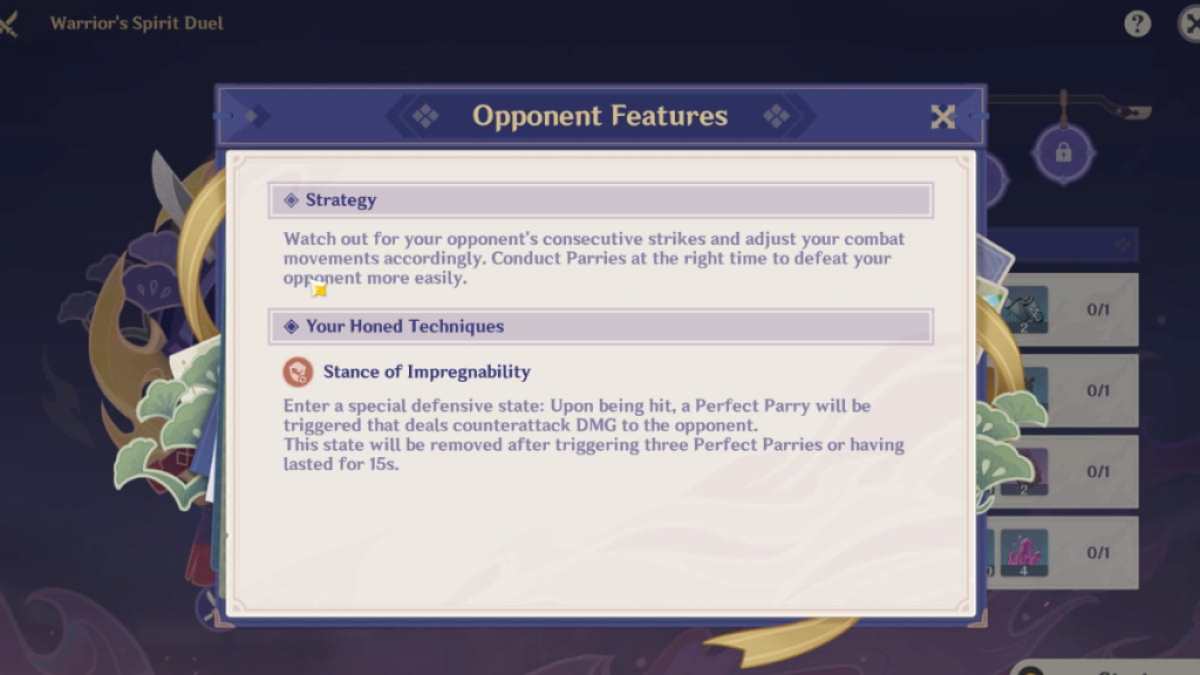 Under the opponent's name, click View Rules to get an overview of their combat style and your Honed Technique. The Honed Technique replaces your Elemental Burst and can help make the duel a lot easier. Both of these change in every duel, so make sure to double-check the Rules before starting.
Difficulty
Each battle is divided into three difficulties: Normal, Hard, Pro. You can only unlock Pro after completing Hard mode. Completing a higher difficulty will unlock all rewards from lower difficulty levels as well. Don't be afraid of the Pro mode, as it can sometimes feel easier than Hard due to the faster-paced nature of the duel.
How to Parry
During the duel, you can only use the Traveler, whose Elemental Skill and Burst will be replaced with event-specific techniques.
Elemental Skill: Parry
Elemental Burst: Honed Technique
Using Normal Attacks will barely do any damage, so you must parry all the opponent's strikes to make an impactful hit. Parry works similarly to Beidou's Elemental Skill, which requires impeccable timing to execute.
First, you must learn each opponent's moves, which are usually limited to a few attack patterns. Once you understand how they move, wait for the opponent to enter their battle stance. As soon as they strike (usually marked by a blue glow), immediately hold the Elemental Skill button to block, then release to counterattack, completing a parry.
To get Ayaka's special outfit, check out How to get Ayaka's Springbloom Missive skin in Genshin Impact here on Pro Game Guides.