Genshin Impact launched, and the second massive update on its way already! You should all know by now that Genshin Impact uses a gacha system, where a premium currency is used to have the chance of unlocking various things, characters, weapons, etc. So, a new banner is likely always going to be in the works.
Banner Release Dates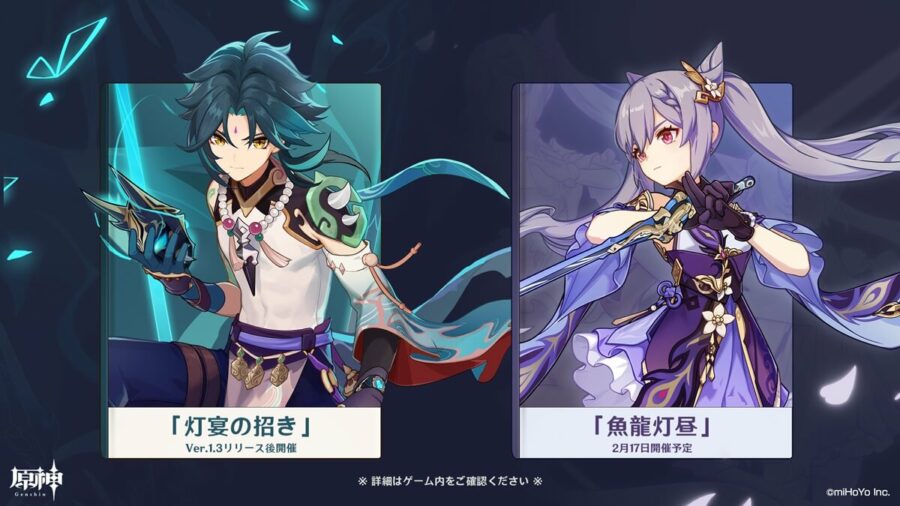 1.3 Upcoming Banner | Xiao | Keqing
During the 1.3 Live Stream, it was revealed the two Banners that will be coming with the new update. The first one coming Feb. 3 is Xiao! The Banner is called Invitation to a Mundane Life.
The second Banner Dance of Lanterns will be Keqing, coming on Feb. 17! We are unsure if Keqing will be the main face of the Banner, but it sure looks that way.
You might have noticed that the Xiao Banner and Keqing Banner is only over two weeks each. Keqing Banner ends on March. 3, which still leaves two weeks left of 1.3. It's rumored that Hu Tao is coming with the third Banner that begins on March. 3. On the Live Stream is said that Hu Tao, is still in testing and development; however, it makes sense to have a third Banner coming!
If you're interested in the skills and talents of Xiao and Hu Tao, look no further.
If you wanted a head start on farming for Xiao and Hu Tao, we've got you covered!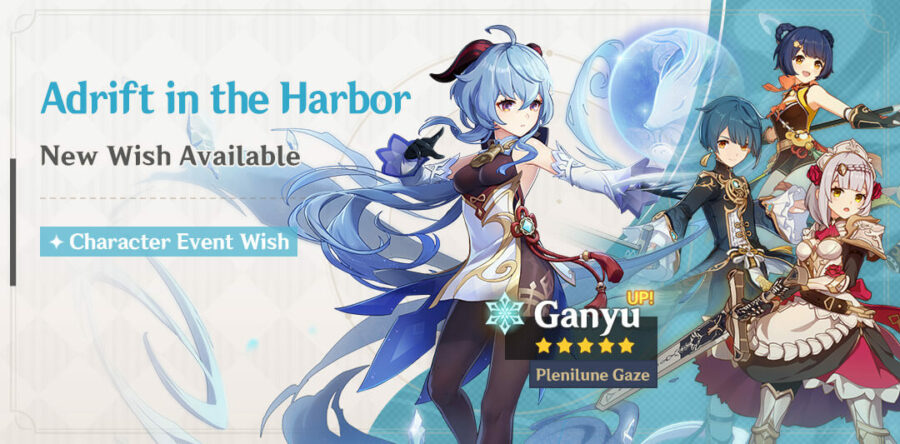 1.2 Current Banner | Ganyu
Adrift in the Habor is the banner that features new 5 Star Cyro user Ganyu coming on Jan 12, we hope you've saved up many wishes! Along with her are 4 Star characters Xiangling, Noelle, and Xingqui.
With the banner per the norm is the Epitome Invocation. In this Banner, you can pull the following weapons:
5 Star

Amos' Bow |Bow
Skyward Pride

4 Star

Sacrificial Sword | Sword
The Bell | Claymore
Dragon's Bane | Polearm
Eye of Perception | Catalyst
Favonius Warbow | Bow
If you're interested in the skills and talents of Albedo and Ganyu, look no further.
If you wanted a head start on farming for Albedo and Ganyu, we've got you covered!
Rumored Banners
Lots of details are floating around about 1.3 and onwards, and we're going to cover them all as we hear them. Remember take everything as a grain of salt! As 1.4 is still a while away!
Confirmed/Ongoing

Ganyu - January 12th - February 3rd
Xiao - February 3rd, 2021 - February 17th
Keqing - February 17th - March 3rd

1.3 Rumors

Hu Tao - March 3rd - March 17th

1.4 Rumors

Ayaka - 5 Star Cyro
Mimi - 4 Star Hydro
Any more information on upcoming banners, we'll be sure to update this article!
If you're looking for information on the Genshin Impact 1.3 Leaks, New Characters, Release Date check out this post! Also keep an eye on our Genshin Impact codes to get some free goodies!