With Genshin Impact's Teyvat being filled to the brim with various different regions, towns, and cities, it's the perfect continent to stash a chest or two... Or thousands. With more and more added to each patch, HoYoverse's game is absolutely swimming with hidden treasure to discover. But how many total chests are there in Genshin Impact? Put your adventurer outfit on and get ready to explore because there is a ridiculous amount.
Total amount of chests in Genshin Impact (as of patch 3.4, February 2023)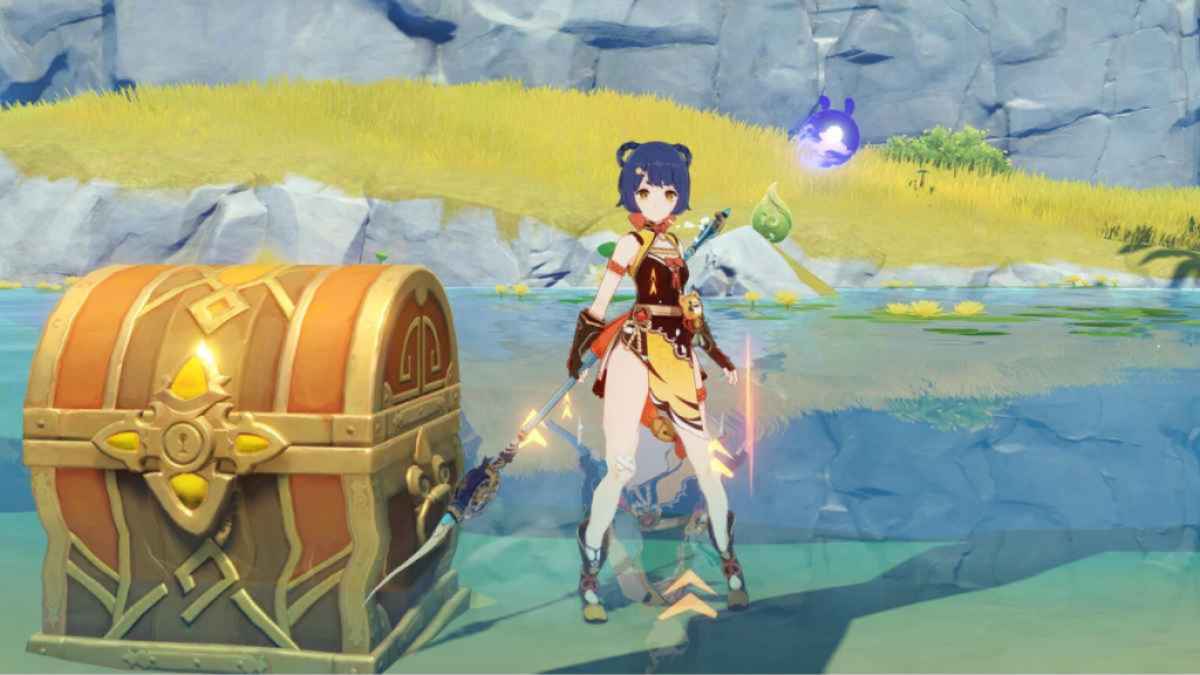 Since HoYoverse's popular single-player MMORPG Genshin Impact currently features four playable regions at the time of writing, it's hardly a surprise that the game houses a massive amount of chests. But the actual number may shock and slightly intimidate you, especially if you like to collect everything possible.
Related: All Genshin Impact Materials
As of February 1, 2023, Genshin Impact has 4,950 unique chests, according to HoYoLAB, the game's official forum. And that includes the newest region, Sumeru as well. Note that not every chest is found in the open world; some appear in time-limited events, Domains, or through side quests.
The number of chests of each type is as follows:
| | |
| --- | --- |
| Chest type | How many |
| Common Chest | 2538 |
| Exquisite Chest | 1594 |
| Precious Chest | 488 |
| Luxurious Chest | 184 |
| Remarkable Chest | 146 |
What is in each chest type in Genshin Impact?
There are five types of chest in Genshin Impact, starting from low rarity to very rare. As the name suggests, Common chests are the most prevalent, while Luxurious and Remarkable chests are the rarest. A variety of rewards can be obtained from finding the hidden loot, such as Primogems, weapons, and Artifacts, though the type, amount, and rarity depend on the chest type.
You can expect to find the following drops from each chest type, though the loot result varies from chest to chest:
Chest type
Possible drops
Common Chest
0-2 Primogems, 10-20 Adventure EXP, 1-3 Sigils, 257-996 Mora
1*, 2*, 3* Enhancement Materials
1*, 2* Weapons
1*, 2* Artifacts
Exquisite Chest
2-5 Primogems, 20-30 Adventure EXP, 2-4 Sigils, 756-1,367 Mora
2*, 3* Enhancement Materials
1*, 2*, 3* Weapons
1*, 2*, 3* Artifacts
Precious Chest
5-10 Primogems, 30 Adventure EXP, 3-10 Sigils, 1,433 Mora
2*, 3* Enhancement Materials
1*, 2*, 3* Weapons
1*, 2*, 3* Artifacts
Luxurious Chest
10 Primogems, 30 Adventure EXP, 4-10 Sigils, 1,500+ Mora
2*, 3* Enhancement Materials
1*, 2*, 3* Weapons
1*, 2*, 3* Artifacts
Remarkable Chest
0-5 Primogems
Blueprints
Now that you know how many chests there are in Genshin Impact, check out Genshin Impact Characters List – All Playable Genshin Impact Characters on Pro Game Guides.