The Moon-Bathed Deep World Quest consists of five segments, four of which can be completed in any order. The "Tail of Watatsumi" is one of the four. You can begin solving this puzzle after accepting the quest from Tsuyuko, who's located at the edge of the Sangonomiya Shrine.
Start by heading to the southeast islet in Watatsumi Island. Its exact location is marked in the image below.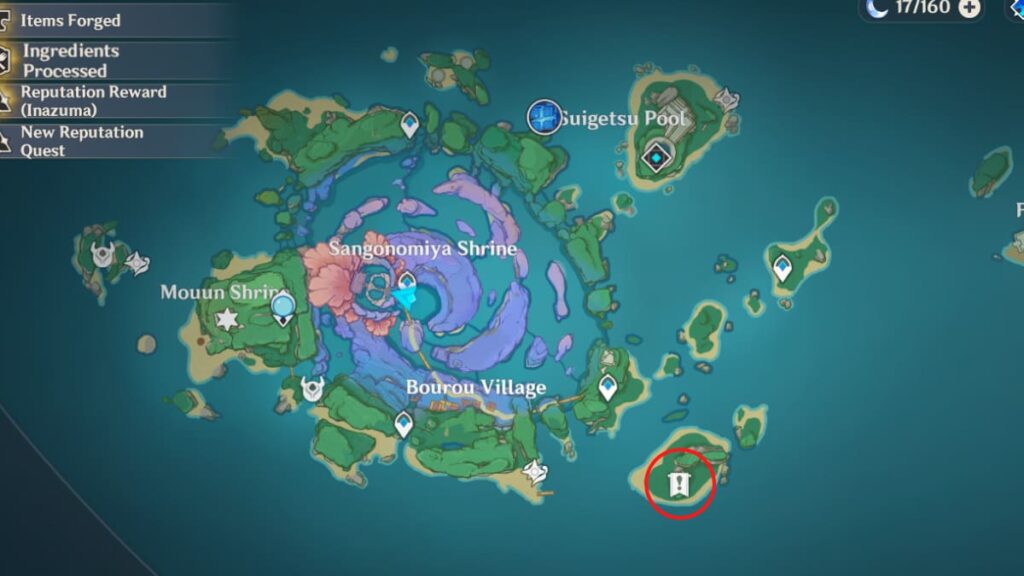 There, you'll find a stony path leading up to a locked shrine surrounded by six Electro Lamps. Your goal is to light up these lamps using Electrogranum. Interact with the nearby Thunder Sakura Bough to pick up an Electrogranum and approach the Electro Lamps to light them up.
Related: How to solve the Cube puzzles north of Shirikoro Peak in Genshin Impact
You don't need to click anything—simply approaching each of the Lamps will do the job. When the Electrogranum expires before all the Electro Lamps are lit up, pick another up before proceeding. After that, the shrine will unlock and the following Fatui Skirmishers will appear.
x1 Hydrogunner Legionnaire
x1 Cryogunner Legionnaire
x1 Pyroslinger Bracer
Defeat them, and a glowing purple item will appear on the shrine. Interact with it to pick up a Spirit Pearl.
Check out our guide on How to complete the "Eye of Watatsumi" in Genshin Impact to help you proceed with The Moon-Bathed Deep.