After completing Kito and Kina's Hidden Exploration Objective in Tsurumi Island, Kito leaves you with a box meant for Una, a Quest Item that will unlock Una's part of the story. This Objective is time-gated over five real-time days.
Start by heading to the altar north of the Moshiri Ceremonial Site, where you'll find an illusion of Una. Her exact location is marked up in the image below.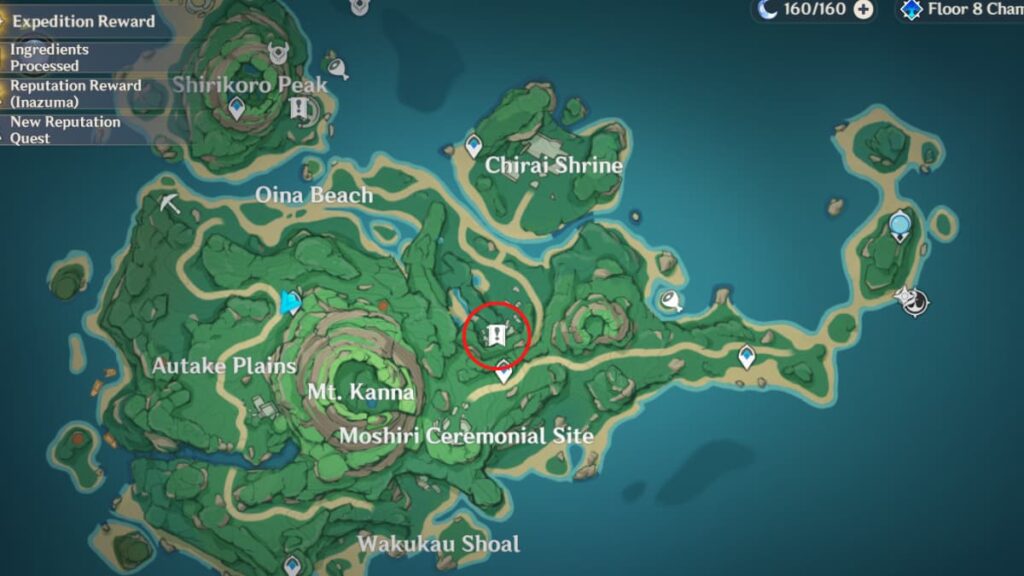 Day One
Speak with Una, who believes that you're Kito and Kina. She'll give you x3 Sakura Bloom.
Day Two
Wait one real-time day and visit Una again. She still thinks that you're Kito and Kina. After the first dialogue, she'll give you x3 Sakura Bloom.
Related: How to complete Chise's Stormstones Hidden Objective in Genshin Impact
Day Three
Repeat the process one real-time day later: speak with Una, who this time thinks you're a person named Abe, who just returned from fishing. Get x3 Sakura Bloom.
Day Four
On the fourth day, Una acknowledges your presence and wonders how a Traveler was able to enter Tsurumi Island's unwelcome territory. She tells you a bit about her family and, like the previous days, gives you x3 Sakura Bloom.
Day Five
This is the last day of the Hidden Exploration Objective. This time, Una is well-aware that she's about to depart, as the boatman has been paying her visits quite often. She tells you about a land of dreams, similar to what other illusions have told you. Likewise, you receive x3 Sakura Bloom for completing the dialogue.
Speak with Una a second time to give her Kito's Sachet, the Quest Item you retrieved from Kito and Kina. Una will say her last farewell and finally depart, leaving you with an Exquisite Chest.
If you haven't completed the prerequisite, check our guide on How to complete the Kito and Kina Sakura Bloom Hidden Objective in Genshin Impact.