Every Genshin Impact update, there's a plethora of events spread throughout the six-week update. An event in 1.4 gives players the chance to get another pet if they missed out on acquiring a Mini Seelie!
How to Get Hearts of the Spring
Hearts of the Spring are a special type of currency/material earned from participating in the Wishful Drops event. Instead of hunting for loot, players have to help an Oceanid Pet called Endora to absorb water monsters and grow in specific exploration areas. Upon completing these areas, a Heart of the Spring will be rewarded.
Wishful Drops event starts on April 9 at 10 am Server Time and ends on April 16 at 4 am Server Time. You must be Adventure Rank 20 or above to participate and have completed the prerequisite quest Life Flows On.
There are two main premises of this event, the first is to obtain Hearts of the Spring, and the second is to battle Raging Rhodeia, the Oceanid boss that you can actually inflict damage on this time!
Related: How to Get Endora, the Oceanid Pet, in Genshin Impact
The first phase is by heading to certain areas and using the Endora's Bubble Spit skill (that replaces your own Elemental Skill) to absorb the water creatures in these areas. You can switch between these two skills at any point. To use the Bubble Spit, press the same button you would when you use an Elemental Skill. If you hold it down, you can adjust the distance.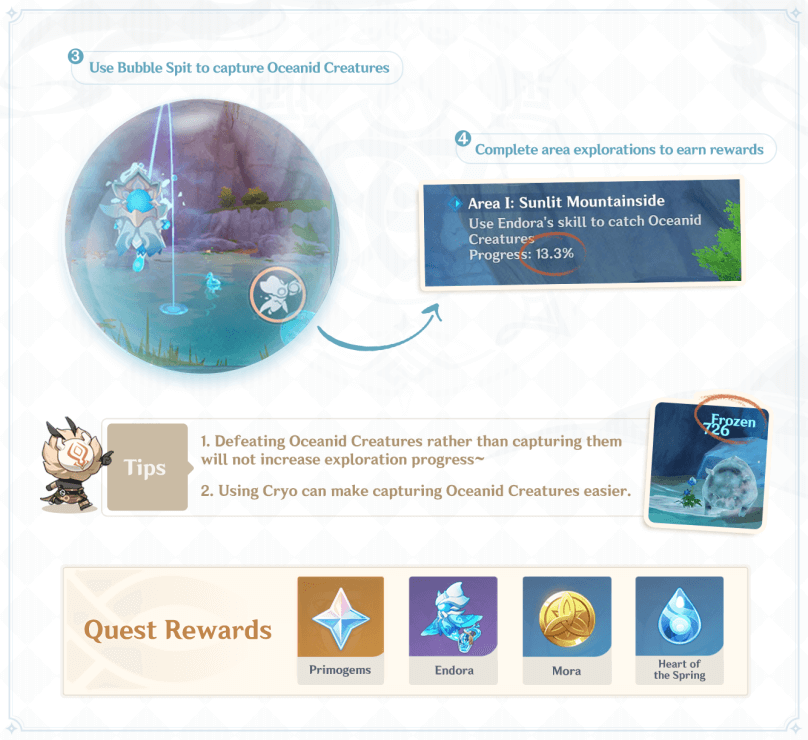 To capture the Oceanid Creatures, use the Bubble Spit ability to either place a bubble trap on the ground for these enemies to touch or hit them directly with it. But these enemies act like any normal enemies, so when you get in close vicinity with them, they will attack you, so hitting them directly will be more challenging. You can use Cryo abilities to freeze them in place, and then use the Bubble Spit to hit them directly to make it easier!
Remember, you need to capture these Oceanid Creatures to increased the progress in the areas. Killing them does not increase it.
Hearts of Springs are the reward that you will get upon hitting 100 percent in these areas. There are five areas total in Wishful Drops, meaning you can gain up to five Hearts of the Spring.
Now to spend the Hearts of the Spring, you need to face off against Raging Rhodeia, and upon her defeat, you can either use 40 Original Resin or one Heart of the Spring to get the rewards!
Check out our new All Genshin Impact Characters and All Genshin Impact Materials pages. We'll also keep you in the know on upcoming banners and Genshin Impact code updates.