Under the Umbrella's Shade is a Domain located in the Mawtiyima Forest in Sumeru. Upon entering the vicinity, you'll encounter a Dendro Monument puzzle. Solving it will unseal the Domain and reward you with a Common Chest.
How to solve the Dendro Monument puzzle to unlock Under the Umbrella's Shade Domain in Sumeru in Genshin Impact
Start by heading to the Under the Umbrella's Shade Domain located northeast of Mawtiyima Forest. Once you're there, you'll find four Dendro Monuments, an Auspicious Branch, and a Dendro Boulder around a large rock at the center of the clearing. You need five Monuments to solve the puzzle, so interact with the Auspicious Branch to summon Dendrograna, then attack the Dendro Boulder to break it and reveal the fifth Dendro Monument.
Related: How to complete the Drusus Riddle Sumeru City bulletin board puzzle in Genshin Impact
If you have already attempted at the puzzle, you can reset it by randomly applying Dendro onto all Monuments until they're all deactivated. With a clean slate, apply Dendro onto the Monuments in the exact order prescribed in the image below.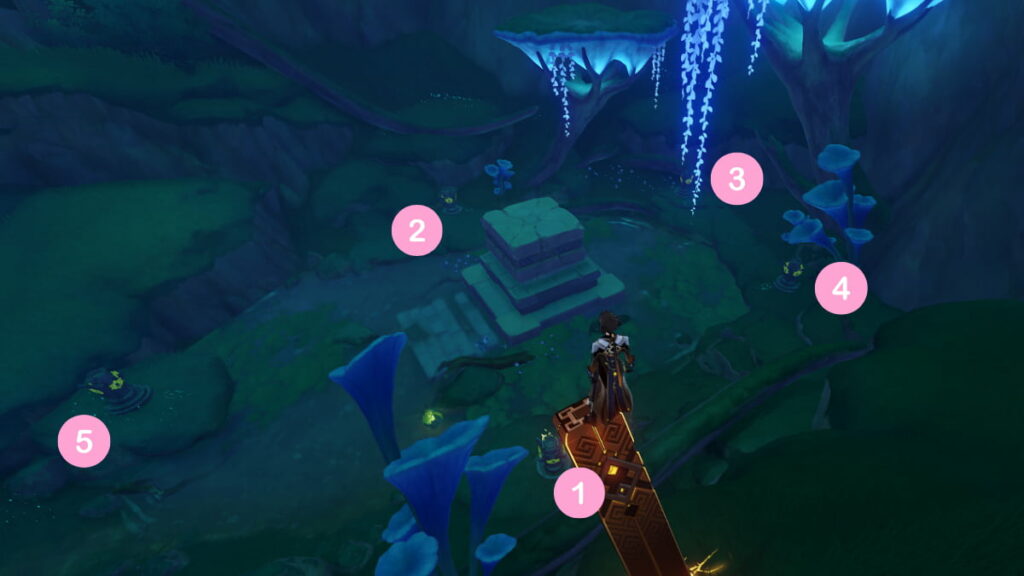 If you make a mistake, you can reset the puzzle by randomly activating the Monuments until they all turn off and try again. After solving the puzzle, the rock at the center will break, allowing the Domain to surface. Don't forget to interact with it so that it becomes a Waypoint in your World Map.
Check out our guide on How to use the Strange Parchment in Genshin Impact – Luxurious Chest puzzle guide to solve another puzzle in Sumeru.