Four-Leaf Sigils can be found all over Sumeru and are used to explore the region's vast rainforests. They're similar to Inazuma's Thunder Spheres, but don't require any Dendrograna to activate. Instead of teleporting, interacting with a Four-Leaf Sigil will create an effect similar to a hook shot—a line connecting you and the Sigil will form, and your character will propel to the location of the Sigil. This makes it a lot easier to climb mountains and move across Sumeru's massive map.
How to activate Sumeru's Four-Leaf Sigil hook shot in Genshin Impact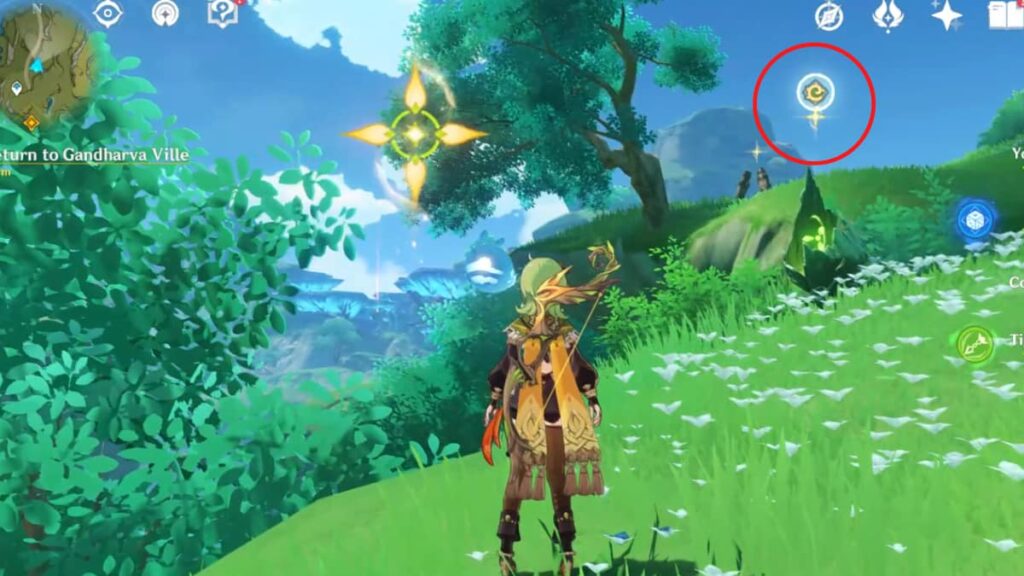 Upon spotting a Four-Leaf Sigil, you need to wait for a yellow symbol of a vine to appear above it, indicating that you've locked onto a 'target.' The Four-Leaf Sigil must be of a reasonable distance away and must enter your line of sight in order to 'target' it. This involves a bit of trial and error and is something you'll eventually get used to while exploring Sumeru.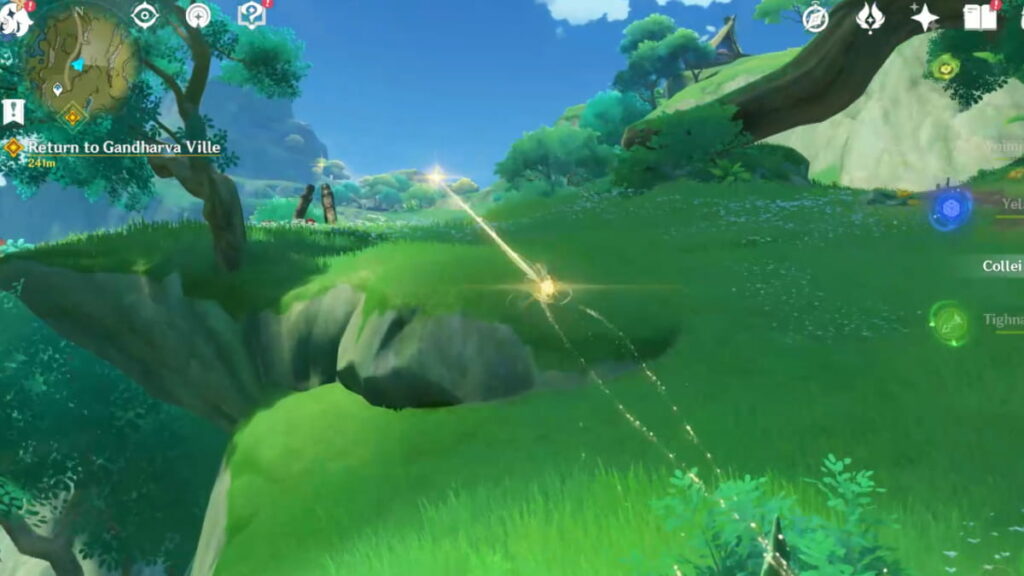 Once you see the symbol above your target Four-Leaf Sigil, interact with it using the following controls:
Mobile: press the vine symbol to the left of the E Skill
PC: press the T button
This will immediately form a line and propel your character to the Four-Leaf Sigil, essentially taking you from point A to B in a matter of seconds. You're able to use Four-Leaf Sigils in mid-air or while gliding, but you must always lock onto a target first.
How to use Clusterleaves of Cultivation to make Four-Leaf Sigils in Genshin Impact
While exploring Sumeru, you'll find plants with long aerial roots called the Clusterleaves of Cultivation. If you apply Dendro to these special plants, they will regurgitate Four-Leaf Sigils, which can make it easier to get to some hard-to-reach areas in the region. Unfortunately, it's not possible to influence where the Four-Leaf Sigils will be placed, as they're locked into fixed positions. After a Clusterleaf of Cultivation has released Four-Leaf Sigils, its aerial roots will lose its luster and face the ground, indicating that it can no longer release more Sigils even after applying Dendro again.
Check out our Genshin Impact Silent Seeker of Knowledge Sumeru Archon Quest Domain walkthrough to help you complete the first part of the Sumeru Archon Quest.