The fourth and final act of the Genshin Impact v.1.6 event, Midsummer Island Adventure, is available to play as of June 17, 2021. By completing The Final Riddle: A Secret Uncovered quest, players will finally learn the truth behind the mysterious Dodo-King's identity.
Related: Genshin Impact x Honkai Impact 3rd crossover: details & interview
After accepting the quest in your Journal, turn your clock somewhere between 06:00 and 08:00 to rest until early morning. You'll then be prompted to return to the giant conch shell on the bubble barrier island, where you last left the three crystals. The crystals have attracted fish; catch the three fish to obtain the scales you'll need for the light mechanisms.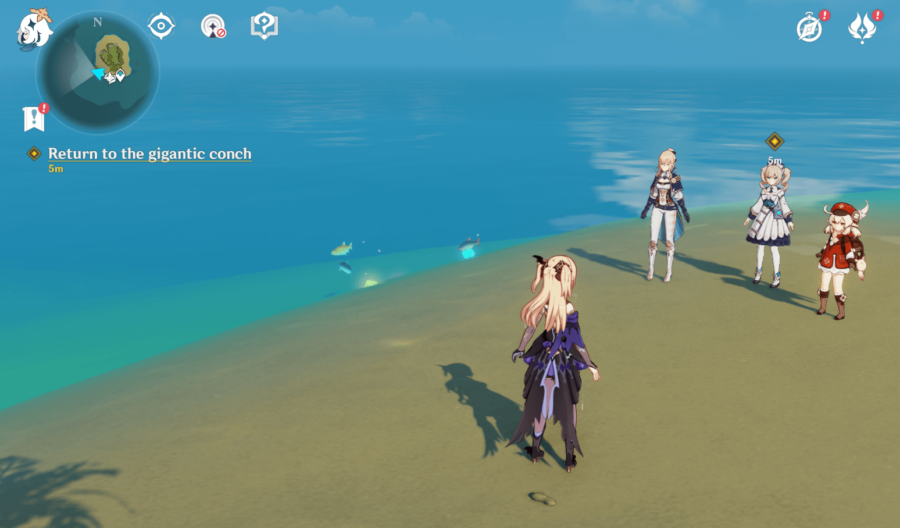 Place a scale on each of the mechanisms and then speak with Klee, who is suddenly feeling apprehensive about coming face-to-face with Dodo-King. Traveler and the others will reassure her in an especially touching scene, allowing Klee to work up the nerve to take down the bubble barrier.
We won't spoil the surprise that comes afterward, though many of you probably have an idea of who Dodo-King really is and what sort of reveal you'll find beneath the barrier. After this concluding scene, the last Midsummer Island Adventure minigame will be unlocked. Play "Harpastum Bombs Loaded... Blow 'Em Away!" to earn more prizes like Hero's Wits, Mora, and up to 90 primogems.
Collect all 32 Echoing Conches with our Echoing Tales Guides, or read about Inazuma and upcoming events in Genshin Impact 1.7/2.0 Leaks and Release Date.