Version 2.0 of Genshin Impact becomes available on July 21, 2021, bringing all kinds of new content and features to the game. Along with new characters, Archon Quests, and the heavily-anticipated unveiling of Inazuma, miHoYo has packed in a few extra surprises. One of these is the introduction of Epitomized Path, an all-new Weapon Wish mechanic.
What is the purpose of Epitomized Path?
Epitomized Path allows Travelers to chart a course towards a specific 5-star featured weapon that they hope to obtain. Basically, this feature increases your chances of getting the exact item you'd like from the "Epitome Invocation" weapon wish banner. This special wish mechanic will become a permanent fixture to "Epitome Invocation" after Genshin Impact v.2.0 goes live.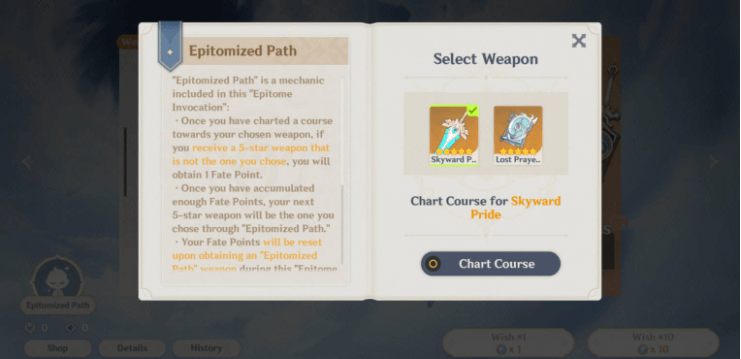 The role of Fate Points
When you receive a 5-star weapon that is not the one you chose, you will receive a Fate Point. You can hold up to two Fate Points maximum.
Once you've acquired two Fate Points, the next 5-star weapon you get will be the one you have chosen through Epitomized Path. After receiving your chosen weapon, your Fate Points will revert back to zero. Further details on Fate Points include:
If you do not use Epitomized Path to obtain a weapon, you will not accumulate Fate Points
You can change or cancel your weapon of choice at any time. However, after doing so, any current Fate Points will be cleared
At the end of each "Epitome Invocation" period, any held Fate Points will be cleared
For more on the next Genshin Impact update, check out Genshin Impact 1.7/2.0 Leaks, New Characters, Release Date, or take our quiz to find your Genshin Impact Vision. We've also got you covered on codes for in-game freebies!