Amakumo Fruit is a new ascension material in Genshin Impact and is primarily used for the new Five-Star Electro character Raiden Shogun who was released in the Update 2.1. This new Amakumo Fruit can only be found on Seirai Island and Seirai Island alone.
There are 126 Amakumo Fruit on Seirai Island, and each harvesting point can give you two fruit apiece, which is more than enough to ascend Raiden Shogun if you were lucky enough to get her from a wish. If not, you never know when this resource will come in handy for quests later in updates, so collecting the resource now will make things easier.
The main area to get Amakumo Fruit is at Amakumo Peak, but a heavy Electro storm is engulfing the area, so being anywhere near that central area, your HP will continuously drain, as well as if you stand still, you will be struck by lightning, which deals massive damage.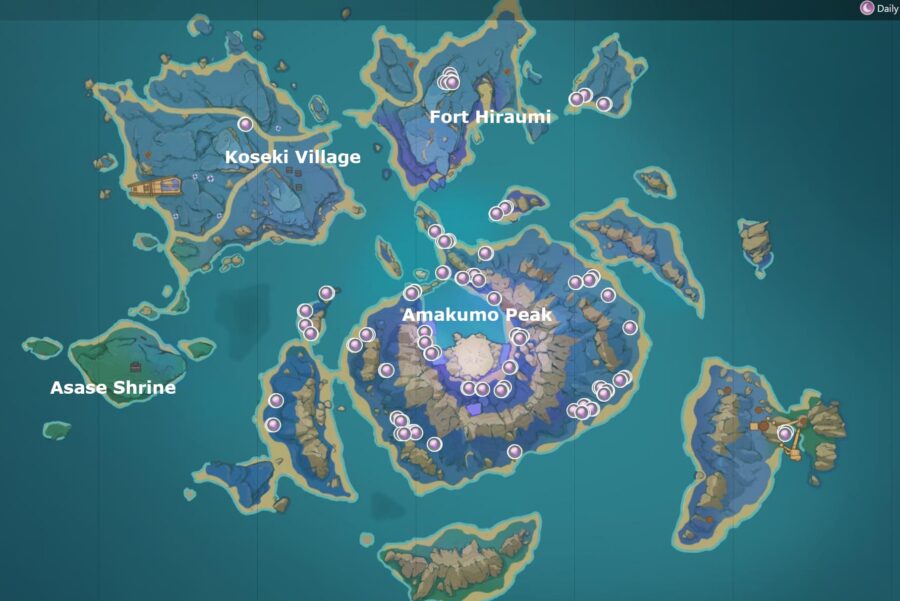 To disable the storm as it were, you have to go to Inazuma City, and a new quest will have appeared with the 2.1 update called Seirai Stormchasers. By accepting this quest, you will be tasked with exploring Seirai Island and, in turn, will stop the storm, allowing you to loot the entire island of its Akakumo Fruit.
For more Genshin Impact guides, PGG has you covered.