Desert Pavilion Chronicle and Flower of Paradise Lost are Artifact sets that can be farmed from the City of Gold, a Domain located at the depths of Khaj-Nisut. Here's how to find the Domain and some tips on how to farm it fast.
Where to find the City of Gold Artifact Domain in Genshin Impact
The City of Gold is located northeast of Khaj Nisut. From the nearest Teleport Waypoint, head to the vicinity and glide down to the bottom, where you'll find the Artifact Domain. You don't need to solve any puzzle to enter—simply interact with the Domain to unlock it.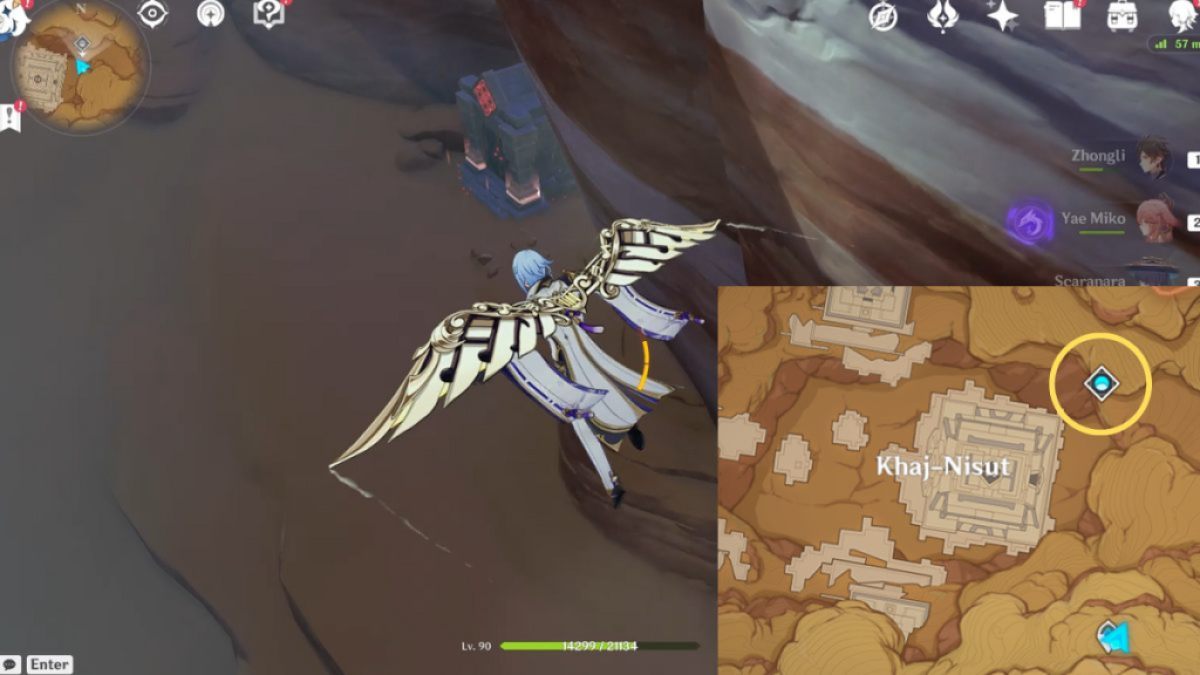 Genshin Impact Desert Pavilion Chronicle Artifact stats
The Desert Pavilion Chronicle is a great fit for Anemo DPS units that rely on dealing Normal and Charged Attacks. Characters who can benefit from this set include Wanderer and Shikanoin Heizou.
2-piece: Anemo Damage Bonus +15 percent
4-piece: When Charged Attacks hit opponents, the equipping character's Normal Attack Speed will increase by 10 percent while Normal, Charged, and Plunging Attack Damage will increase by 40 percent for 15 seconds.
Genshin Impact Flower of Paradise Lost Artifact stats
The Flower of Paradise Lost is a great fit for support characters that scale off Elemental Mastery and specialize in dealing Dendro Reactions against Hydro and Pyro. Characters who can benefit from this set include Nahida, but team composition is key to making the set work.
2-piece: Increases Elemental Mastery by 80.
4-piece:

The equipping character's Bloom, Hyperbloom, and Burgeon Reaction Damage are increased by 40 percent.
Additionally, after the equipping character triggers Bloom, Hyperbloom, or Burgeon, they will gain another 25 percent bonus to the effect mentioned prior. Each stack of this lasts 10 seconds. Max four stacks simultaneously.
This effect can only be triggered once per second. The character who equips this can still trigger its effects when not on the field.
Related: How to unlock The Coordinates of Sun and Rain Domain in Genshin Impact
Tips & Tricks for farming the Desert Pavilion Chronicle & Flower of Paradise Lost Artifacts in Genshin Impact
The City of Gold Domain will spawn eight enemies, including fungi and Slimes, that spawn in multiple waves. To speed up the monotonous Artifact grind, we recommend the following to help you out:
Bring a non-Hydro DPS unit as the Domain spawns Hydro Slimes, which are immune to the Element.
If possible, bring an Anemo character such as Venti, Kazuha, or Faruzan to group the enemies.
Use Attack and Crit-boosting food or Element-boosting Essential Oils to increase your damage output.
Check out our guide on How to unlock the Altar of Mirages Domain in Sumeru in Genshin Impact here on Pro Game Guides to unlock another Domain in the desert.