The most awaited simulator game of the year is here, and it does disappoint us in any way. Goat Simulator 3, ironic to its name, is the second installment in the Goat Simulator series, where you again jump in the shoes of a lunatic goat called Pilgor that has powers and abilities surpassing any video game characters in history. The title is a true successor to the series, as the latest iteration takes everything good from the original game and builds upon it beautifully through more goofy missions, bizarre abilities, multiplayer modes, and a strange universe that treats goats as equal to a god.
Campaign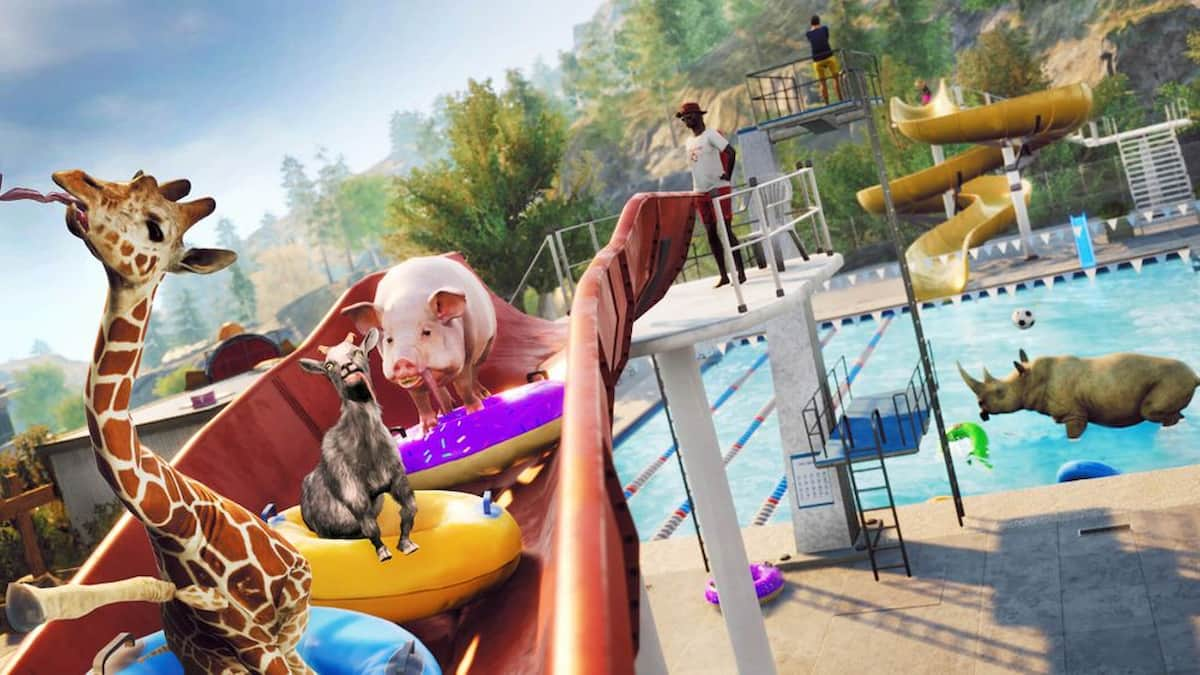 While the trailer and early look gameplay focused more on the multiplayer aspect, to my surprise, the game heavily leans on the campaign mode and the quests surrounding it. Like its predecessor, Goat Simulator 3 does not have a story mode or narration but instead relies on small quirky missions that players need to solve as they unlock areas on the map. These missions have multiple strange objectives, like performing occult rituals to bring scarecrows to life and running for an election in Goatenburg. Though they are stupid and goofy, most of the objectives require some form of puzzle-solving techniques and exploration.
This element is where Goat Simulator truly shines, as the fulfillment is incredible after solving a puzzle that may sound childish to people without any context. For example, I found immense joy and satisfaction in saving steve from drowning, which is actually a fish. Such pun-filled puzzle-style quests are present throughout the campaign. Even the climax boss fight is a satirical take on the game development industry as the game designer himself plays the role of the boss due to the unavailability of time to design a proper boss for the main character.
Though I thoroughly enjoyed the campaign mode without narration, I would have been even more content if these missions/quests were merged with an actual storyline. Due to this lack of a proper story, some players may feel bored or unmotivated to complete the entire campaign, as there are no connections or reasons behind each task. Moreover, the developers did have characters like the game designer at their disposal to develop a hero-nemesis-style magical story arc. In spite of that, they did not design any arcs that give a feeling of continuity. Even something like collectible lore pages or diaries revealing some insight about Pilgor or his universe could have tremendously elevated the gameplay experience instead of the default collectible trinket that merely severs as a showpiece.
Score: 3.5/5 Stars
Customization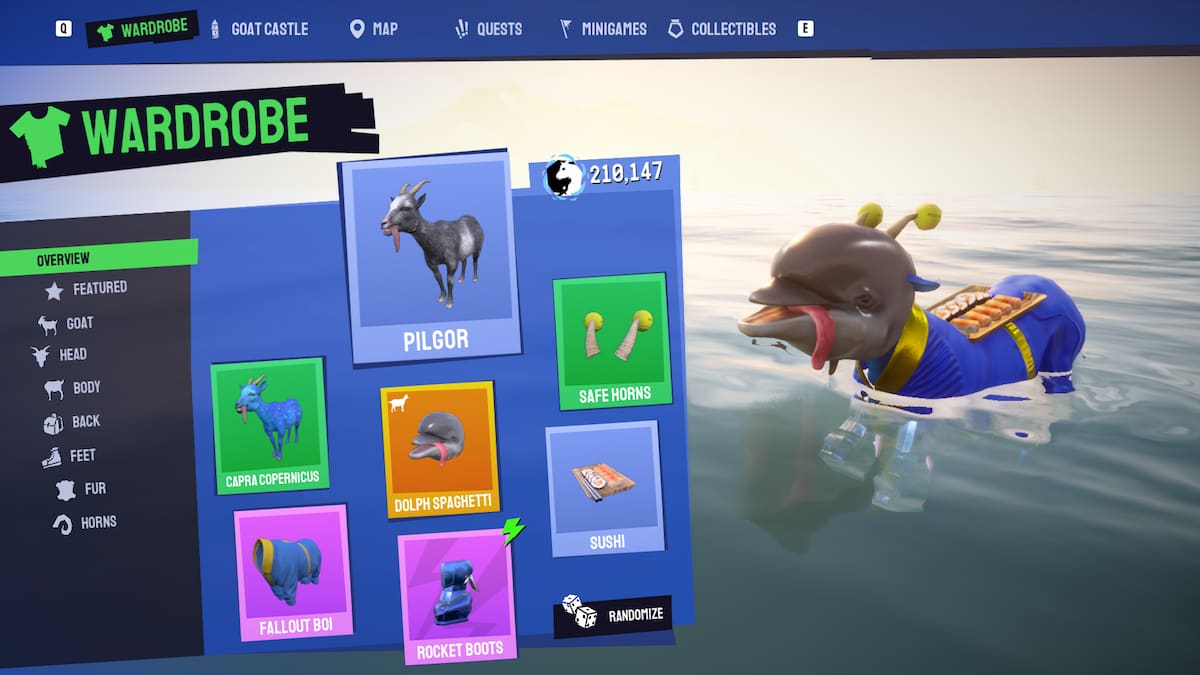 Like most games on the market, Goat Simulator 3 has various accessories and cosmetics. All the 100+ items can be roughly divided into two categories: plain cosmetic skins and cosmetics with passive abilities. Using these cosmetics, you can customize almost every part of your goat, from the head to the type of fur you can wear. You can buy the cosmetics from the store using Karma (in-game currency) or complete some quests pertaining to the item.
The customization option is very diverse and meaningful because the items, apart from being goofy/funny, reflect the various landscapes, pop culture, and themes in the world of Goat Simulator 3. This act is rare in the current generation of games, where developers fill up the store with random items that are not associated with the games they are making. Due to this, I felt happy to wear clothes that match the vibe of the place. Let it be wearing hippy coolers among gypsies or a chef's cap in a cooking competition. In the end, it all looks picture-perfect. Moreover, a game titled Goat Simulator 3 also allows you to play the entire game as other animal characters like Giraffe, Rihnosauraus, and even as a human being.
While the overall cosmetics are unique and pleasant to use, they could have used the cosmetics with passive abilities much better purpose if they had been presented as tools or gears to solve quests rather than serving as mere skins. While Headgear items like Background Checkers aid in missions like finding the annoying whistleblowers around the map, they are not essential. It is something that the developers could have really improved to enhance the gameplay mechanics. It would be cool if the developers made separate quests that mandated certain passive cosmetics. I would have liked to see mission designs like wearing a VR headset cosmetic causing the game to transform from a third-person action to a VR-style game.
Score: 3.5/5 Stars
Controls
One of the major complaints in the first Goat simulator game is the buggy ragdoll controls and movements. Coffee Stain North understood that feedback and improved upon its shortcomings in Goat Simulator 3. From the start, Pilgor moves and feels way better than in the first version, where the character would feel like sliding rather than walking. Basic mechanics like jumping, grinding, headbutting, and climbing have also been vastly reworked. I never faced a single problem with basic controls or mechanics in my 12 hours of playtime.
Even the complicated licking game mechanic works perfectly without any flaws that used to bug out a lot in the original game. You can carry almost any object from point a to point b by licking without any hassle. The same applies to the unequipping feature, as well, that drops any item at the exact location without fault or position error. Other character skins, like the shark or pig from the wardrobes, move and function similarly to that animal, which shows the amount of dedication/effort in bringing even the side characters alive.
Moreover, the game runs smoothly on both the controller and keyboard. There was literally no issue regarding any form of input delay or wrong response. The experience on both devices is the same. Still, I felt more leaning towards the controller because of the ability to make macro positional adjustments that prevented me from tumbling down from elevated positions.
Score: 4.5/5 Stars
Animation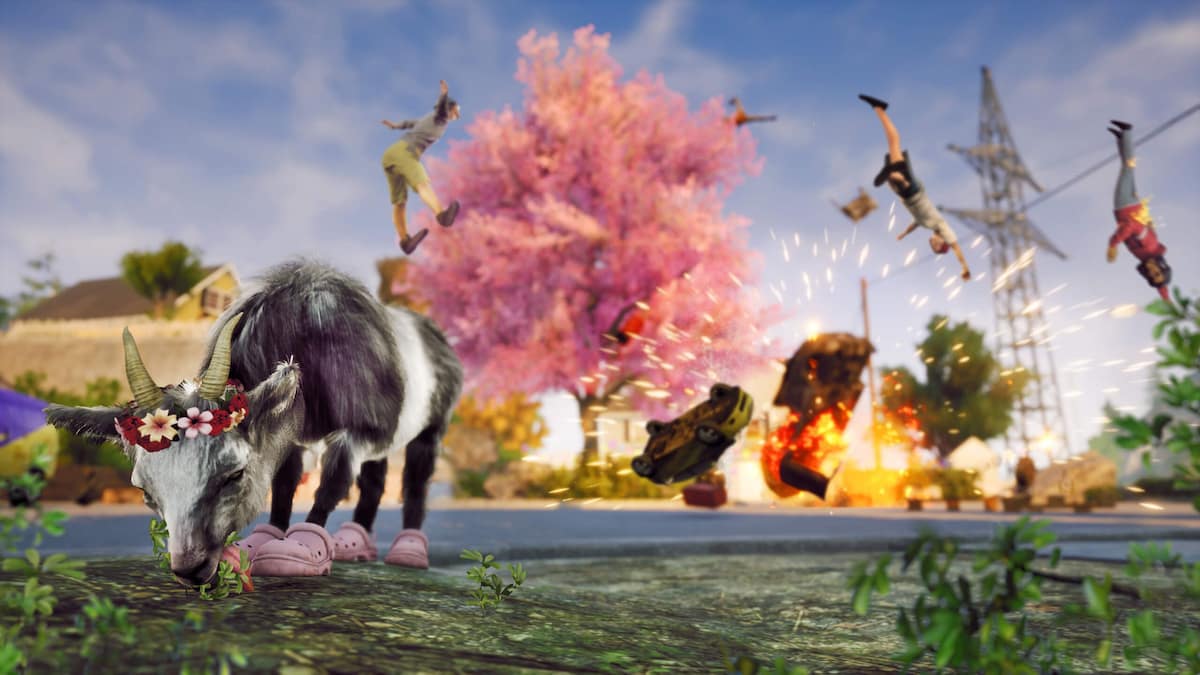 The one thing that made me a tad bit disappointed about Goat simulator 3 is the animations of the game. Yes, I know, Goat Simulator 3 is not a AAA title pushed out by the industry giants. Still, I feel that the developers could have worked a bit more on the overall facial animations of the NPC characters. Most NPC characters do not properly emote the feelings they should display. Even simple facial animations like being scared look plain and distorted. It brings down the overall gameplay experience, as you don't get the pure satisfaction or fun you should receive while performing any evil actions toward the poor human being.
Related: How to perform a backflip and frontflip in Goat Simulator 3
Even the animation of the lead character Philghor looks clumsy in some places. Especially the climbing scenarios, where the avatar mimics like he is running vertically rather than climbing on his four limbs. The emote wheel of Philghor is also very limited. In a game with a core theme around playful humor, you should expect at least 10 to 20 goofy emotes rather than the default eight.
Score: 2.5/5 Stars
Verdict - A perfect successor to the original
In an era where simulation games are getting closer to reality in their depiction, titles like Goat Simulator 3 are a breath of fresh air that brings some craziness and wackiness into the simulation genre. It has everything a casual game needs: goofy quests, nonlinear gameplay, and multiplayer mode. So, we highly recommend the title to any player who wants to have a laugh riot on weekends with friends or someone tired of climbing ranks in their favorite competitive game. Bhwahhh! all the way.
We received this code from Coffee Stain Studios for reviewing purposes.
For more on Goat Simulator 3, check out How to Baa in Goat Simulator (PC and Mobile) or What is Goat Simulator 3? Release date, platforms, & more! on Pro Game Guides.