There are many times throughout God of War Ragnarok that players will find themselves in the middle of a tricky puzzle, stuck on one side of a broken bridge or blocked by an impassable obstacle. One notable puzzle that may confuse players on their first playthrough is how to clear brambles using Freya's Sigil Arrows.
How to use Sigil Arrows to clear bramble in God of War Ragnarok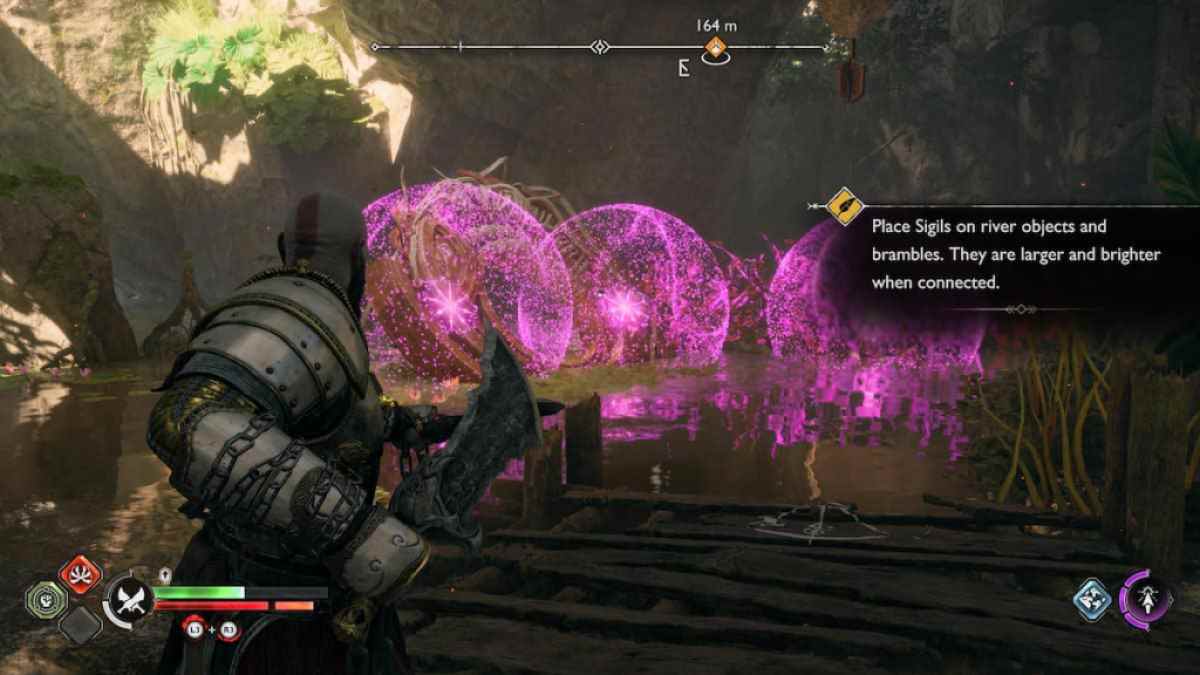 After helping Freya break free from her curse and defeating Nidhogg, players will come to a point where they need Freya's skills to cross some unreachable brambles. Kratos can normally use his Blades of Chaos to clear brambles, but these particular branches are a bit too far away to be reached by the player. Thankfully, Freya is accompanying Kratos at this point. Players can use her Sigil Arrows to extend the reach of their Blades of Chaos.
Related: How to get the red chest behind the gate in the Lower Wildwoods in God of War Ragnarok
Freya can shoot three Sigils that stick to a surface and, if they are close enough together, will connect with one another and create a chain reaction when triggered. To know if the Sigils are close enough together, players should look at the center of the Sigil. If it is glowing extra bright (like in the image shown above) then it has been done correctly. Players should connect three Sigils, making sure one of them is touching the bramble, and then ignite the one closest to them using the Blades. This will cause the chain reaction to spread across the arrow shots and burn the bramble away.
Interested in other helpful God of War Ragnarok guides and want to read more? Check out Where to find the three seal bells for the Nornir chest in The Temple of Light in God of War Ragnarok on Pro Game Guides!