God of War Ragnarok sticks with the mythological and fantasy trope: If you need something crafted, find a dwarf. Sindri and his brother, Brok, can craft new armor for you and upgrade what you currently have. Here is how to upgrade gear in God of War Ragnarok.
How to level up or upgrade your gear in God of War Ragnarok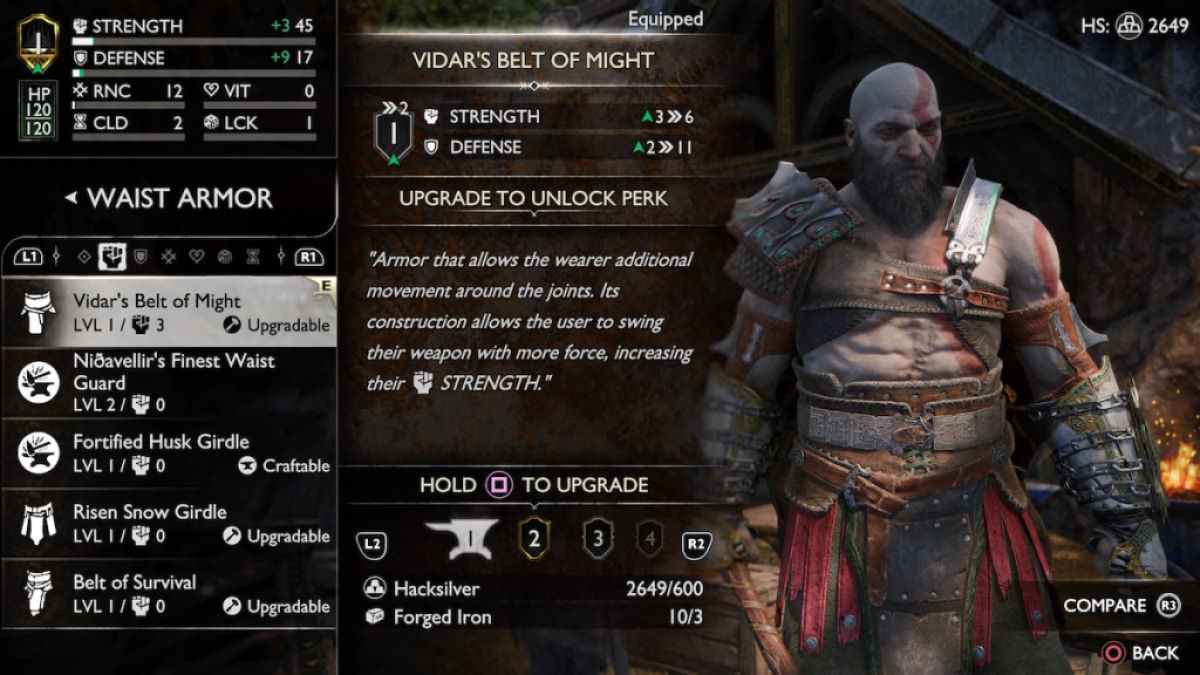 First, you'll need to find a shop. If you open your Map, the shop icon is indicated by a yellow circle with a white anvil in the middle. If you've unlocked the Compass in Svartalfheim, you can press Triangle while hovering over the shop icon to help you navigate to it. Go and talk to whoever is manning the shop using Circle to open your crafting and upgrade menu.
Once in a shop, you can navigate between the Weapons, Armor, Special Items, and Sell Menus using L2 and R2. Toggling up and down will allow you to select different weapons or types of armor in each menu.
Let's say you want to upgrade your Waist Armor. Select it when highlighted in the Armor Menu with X. You can then toggle up and down between the waist armors you already have or can craft. You can also use L1 and R1 to sort armors by the stats they raise. L2 and R2 will allow you to view all the different upgrade levels of a piece of equipment and the material requirements of the highlighted item. In the lower right corner of each item, there should be an indicator when an item can be crafted or upgraded. Hacksilver is a common currency needed, as well as Forged Iron, Slag Deposits, and Rawhide in the early game.
Looking for more help in God of War Ragnarok? Check out All God of War Ragnarök difficulty settings, explained and When can you buy Resurrection Stones in God of War Ragnarok? here at Pro Game Guides.