EA's The Sims 4 is a game loved by many, and does have lots of fun aspects to mess around with, as well as multiple worlds to create. Compared to its predecessors though, it is sometimes lacking and fans have noticed that storylines and gameplay can feel a lot more shallow than they used to. The great thing about fan created mods though is that things can be added to make your Sims experience as entertaining as it used to be! So, here are some of the best mods you can get for your game.
Best Sims 4 Mods
These mods are more geared towards making gameplay aspects more in-depth. If you are wanting to make your Sims game a little bit more... achem, risqué, then check out our list about the best sex mods for The Sims 4.
Better Build/Buy by TwistedMexi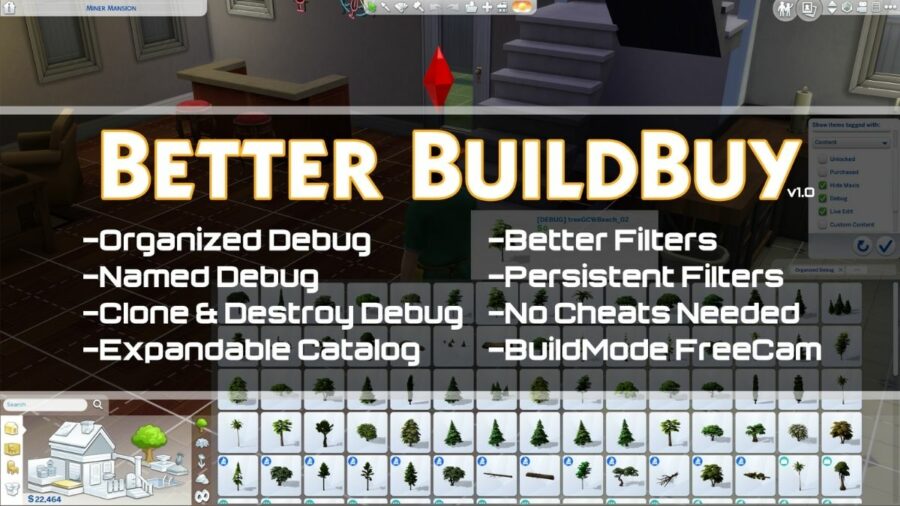 Sometimes you may be building in The Sims and wonder where a lot of the objects are that you see on other lots, but can't seem to use yourself. Well, they are actually there, left as official content by EA but are hidden and called Debug Items. Where TwistedMexi's Better Build/Buy mod comes in is for when you are wanting to use debug items but don't want to trawl through a massive list of inconspicuous items. By pressing the 1 Key on your keyboard you will be able to see up to Five Rows of objects, and it takes writing long cheats in the cheat bar out of the equation. It also adds actual names for the debug items, meaning that they are easier to find through the in-game search engine. Nice and simple!
Various Adult Mods by Basemental
Basemental creates mods that cater to the more adult parts of the Sims games, but not in a sexual way. Their recreational mods are in the categories of Drugs, Gangs and Alcohol to make your Sims world a little bit more spicy! You can take drugs with some like-minded sims, or can even travel to locations to distribute merchandise. Want to live a life of crime that is more gritty than the game originally intended? Then one of these mods is likely your best bet. Needless to say this mod is intended for ages 18+, maintain your innocence people!
Related: The Sims 4 Unlock All Items Cheat
Have Some Personality, Please! by Polarbearsims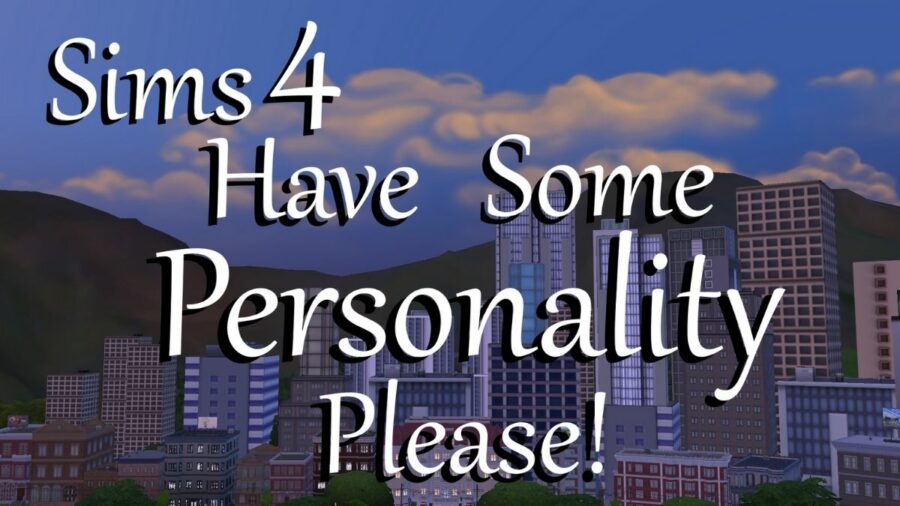 Have you ever been playing the Sims and been annoyed by how chatting autonomously does next to nothing for friendships and building relationships? The personality mod by Polarbearsims helps to resolve that by removing a lot of the idle chit chat that happens when you are not actively controlling your sim's conversations. Your sims will actually be able to Get to Know each other better even when your are playing as a different character in the household, and will communicate more like humans do in terms of finding out new information. This means that relationships can be better maintained, and grown. So, if you have your eye on a sim at a party that you would like to get to know, your sim won't just stand there talking about nonsense anymore, but will try to make steps towards some form of familiarity with that sim. Due to the more realistic nature of this mod, it also features Risky Woohoo, which we have covered before. So look out for that.
Social Activities by LittleMsSam
LittleMsSam's mod improves upon the concept of the rabbit hole. In The Sims 4 when your sim goes to work they essentially disappear off of the map. It didn't used to be like this, but these days that is how The Sims rolls, and when they're achieving something off-screen they're in a rabbit hole. This mod allows your sims to go on social outings and actually fill their Social Need without you having to be there. It is autonomous as well, so your sims can go on a trip to the museum with a friend when they please without having to be rung up by a friend first. There is also a First Love mod by LittleMsSam's which allows your sim kid to visit their crush/go on a little date, awww!
Related: Best Sims 4 Expansion Packs
Meaningful Stories by roBurky
This mod by roBurky makes the emotions system in The Sims 4 more in-depth and lifelike. Instead of having random emotions that don't seem to play into your sim's actual emotion status, certain feelings will take more effect. For instance, ever had your teen sims go through a phase where they can't stand to be around other family members, but they will continue to be happy and chat with them just fine? This mod takes feelings such as that into account and will have sims become more sad or uncomfortable, incorporating a wider set of emotions. It also has moods change gradually instead of drastically, so being stressed because of work won't suddenly be fixed because it's a lovely day outside! (Although we wish it were that simple). Exercise will also help to alleviate bad moods, so for instance hitting a punching bag will decrease anger, and going for a run will help to clear your sim's head and make them feel less sad. Little changes that make a world of difference to the game.
And there you have it, these mods should make your endeavours in The Sims a little bit more interesting! EA has been making official changes and fixing aspects of the game since its initial release back in 2014. Since then a lot has changed, mostly for the better but it is hard to deny that some things are still missing. If you take a trip down memory lane in The Sims 3 there are plenty of things that should also be in the most recent iteration of the series, such as building lots anywhere and having sims actually go to buildings for things such as school as work. The open world aspect is also something that is sorely missed! But we suppose we will just have to hope that The Sims 5 improves upon the uphill struggle that has been this last 7 years in the simverse.
Need more help? Check out the max all skills cheat in The Sims 4.