If you want to make a forge in Valheim or a few other items, you will need to get your hands on copper, so here's what you need to know. 
Where to get copper in Valheim
To get cooper in Valheim, you will need to find and hit copper ore vein deposits inside the Black Forest biome with a pickaxe; doing so will cause the rocks to break and drop the copper ore you need.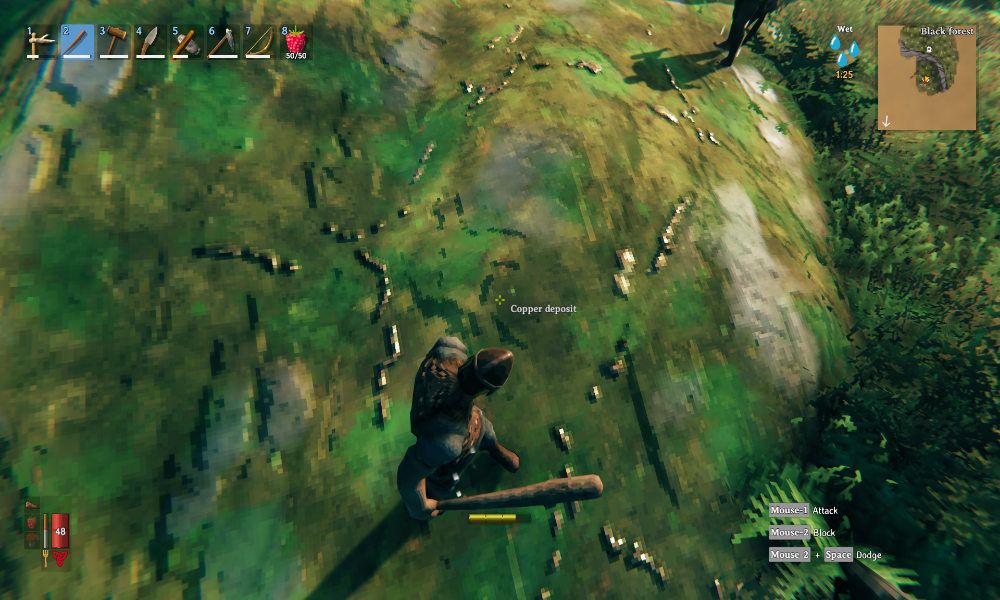 You can also get copper ore sometimes from looting chests; however, you will first need to have both a workbench and a smelter crafted before you can use any copper ore you find. 
Crafting the workbench is easy, as you need only ten wood, which you can get from chopping birch trees down; once you the wood, use a hammer to craft the workbench by going into crafting under the build menu.
Related: How to make a workbench in Valheim
If you don't have the hammer yet, you can craft it with three wood and two stone; after this, you can then move on to crafting a smelter with the following below. 
To craft a smelter, you will need the following items below.
Five Surtling cores:

 You can get these as loot from Surtlings, chests, and from burial mounds; you will also need to get at least one core before the smelter recipe becomes unlocked. 

Ten Stone: 

You can get stone by mining it from large rocks in the Black forest or by picking them off the ground and from Greydwarf enemies. 
Once you get some copper ore, you can then smelt it down to turn it into bronze, which is required to make several tools, weapons, and armor in the game. 
For more on Valheim, we at PGG have you covered with an expanding roster of guides like  How to upgrade your workbench and how to make troll hide armor in Valheim. Along with these two awesome guides, check back later and we will have even more guides for Valheim coming out in the weeks and days ahead.