Skater XL is one of the answers to curing our need for skating games, as there has been a lack of them since Skate 3! It follows on from Skate's original brand of using the stick to control the board, instead of buttons like in Tony Hawk's Pro Skater. One of the easiest, yet most satisfying tricks to do is a manual, so here's how to do just that.
How to Manual in Skater XL
The major difference between Skater XL controls and Skate controls is that Both Sticks come into play rather than just the right one. Instead of using the Left Stick to turn, you use the Left and Right Triggers, so when performing tricks you will need to get used to using the left stick as well as the right.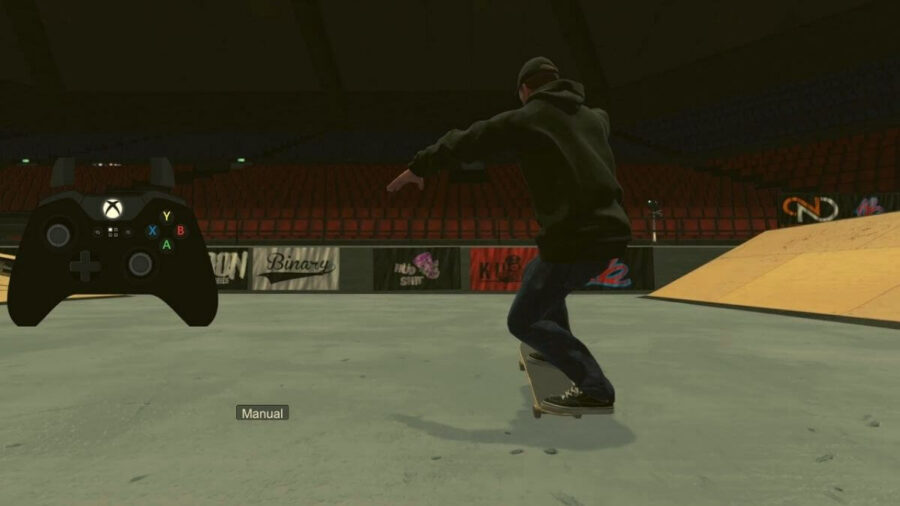 Related: How to do Common Tricks in Session.
Performing the Manual
Thankfully doing manuals is pretty easy once you get the hang of it. You can do manuals casually when riding around, or you can do a flip trick into a manual, and then pop out again. Here is how to do it:
For a regular manual: press Down gently on the Right Stick.
For a nose manual: press Up gently on the Left Stick.
If you are going into a manual from a flip trick, make sure that whichever stick you are using goes back to the Center first to Reset.
There may be a little bit of practice involved first so that you get the right amount of pressure on the stick.
If you press down too gently then the manual won't register and your skater will just keep going forwards with all four wheels on the ground. The same can go for if you are a bit too hard, but other times it may cause the skater to just pop the board onto the tail, which will make you come to a standstill.
Games like Skater XL and Session are good signs that skating games are coming back to life, let's hope that we get even more in the future along with Skate 4! Speaking of, why not check out what we know so far about Skate 4's release details?