Gundam has become a worldwide phenomenon since its release in 1979. Unfortunately, it hasn't seen too much success in the gaming sphere. Gundam Evolution is looking to change that with its competitive gameplay, fan-favorite mobile suits, and free-to-play model.
All Gundam Evolution Units
Marasai (UC)
Hailing from Gundam Unicorn, the Marasai is a mid-range fighter with plenty of tricks up its sleeve.
Main Weapon: Fedayeen Rifle

G Maneuver: Sea Snake (Shock)
Active Skill 01: Fedayeen Rifle (Beam Blade)
Active Skill 02: Sea Snake (Ensnare)
Gundam Exia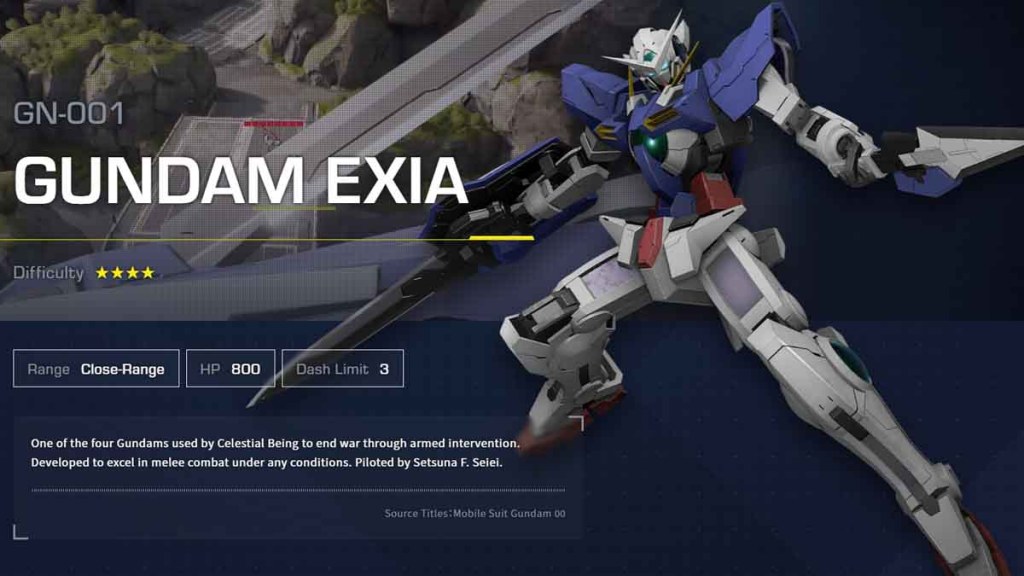 The lead Gundam in Gundam 00, the Exia is a melee specialist.
Main Weapon: GN Beam Dagger
Sub Weapon: GN Sword (Rush & Slash)
G Maneuver: Trans-Am
Active Skill 01: Quick Step
Active Skill 02: GN Sword & GN Short Blade (Spin & Slash)
Active Skill 03: GN Beam Saber
GM
Just because it's a Gundam knockoff doesn't mean it can't hold its own on the battlefield.
Main Weapon: Beam Spray Gun

G Maneuver: Homing Mine
Active Skill 01: Shield Bash
Active Skill 02: Detonator Bomb
Active Skill 03: Repair Grenade
Guntank
What the Guntank lacks in aesthetic, it more than makes up for in combat potential.
Main Weapon: Bop Missile

G Maneuver: Launch Core Fighter
Active Skill 01: Rush
Active Skill 02: Cannon
Active Skil 03: High Speed Recovery
Turn A Gundam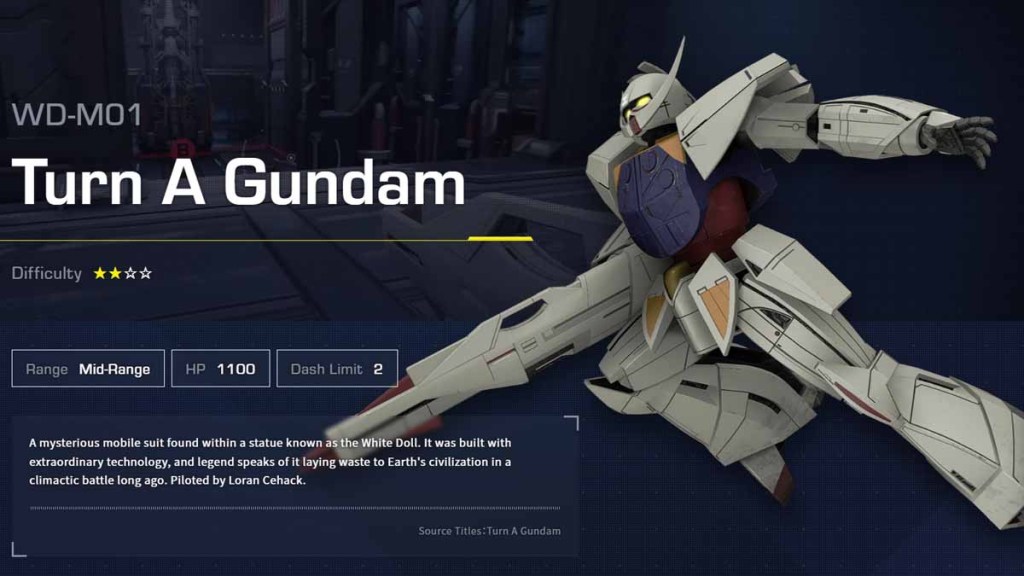 Coming from its titular series, the Turn A Gundam is a technological marvel that makes good use of its surprising mobility.
Main Weapon: Beam Rifle

G Maneuver: Moonlight Butterfly
Active Skill 01: Nanoskin
Active Skill 02

: Overhead Throw
Dom Trooper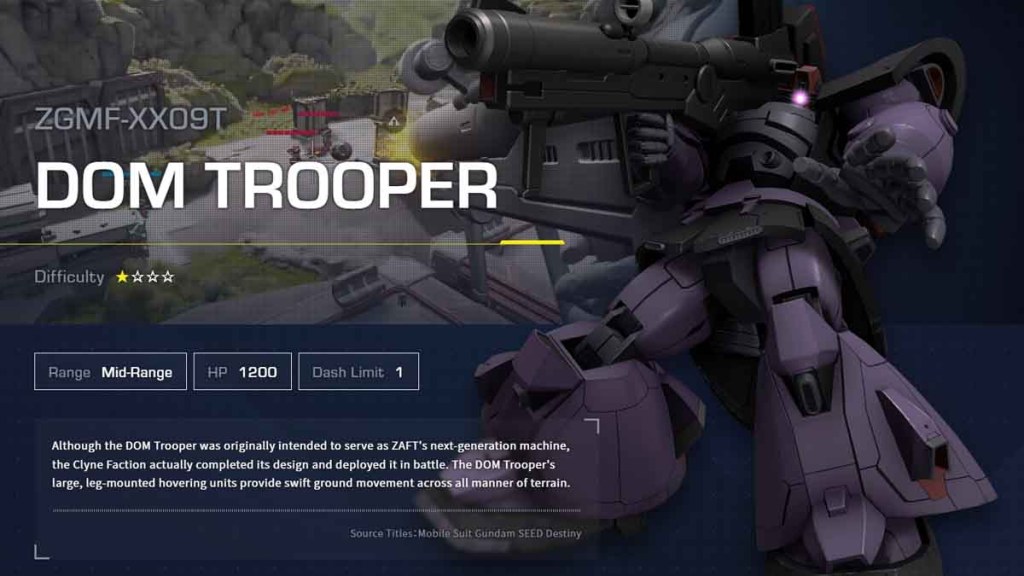 Providing heavy fire, the Dom Trooper can lock down any location and hold it.
Main Weapon: Giga-Launcher DR1 Multiplex (Projectile)

Sub Weapon: Giga-Launcher DR1 Multiplex (Beam)
G Maneuver: Screaming Nimbus
Active Skill 01: Adhesive Sensor Mine
Active Skill 02: Armor Gun
Asshimar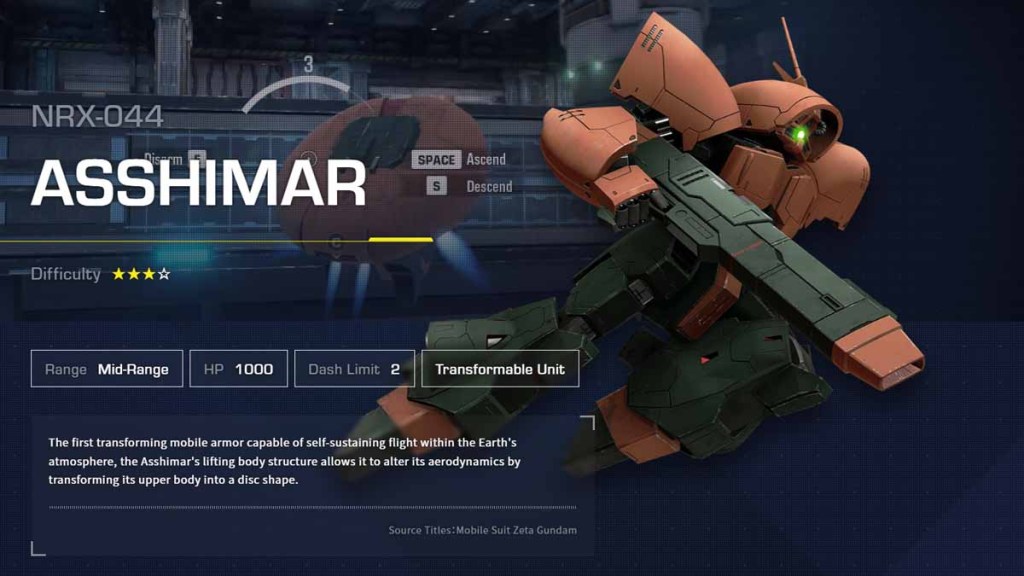 A hybrid unit capable of transforming, the Asshimar pesters foes with its ability to quickly zip around the battlefield.
Main Weapon: Large Beam Rifle

Sub Weapon: Charged Shot
G Maneuver: Punch
Active Skill 01: Transform
Active Skill 02: Napalm Grenade
Related: The Destiny 2 community has chosen Mechs for the Festival of the Lost 2022 theme
GM Sniper II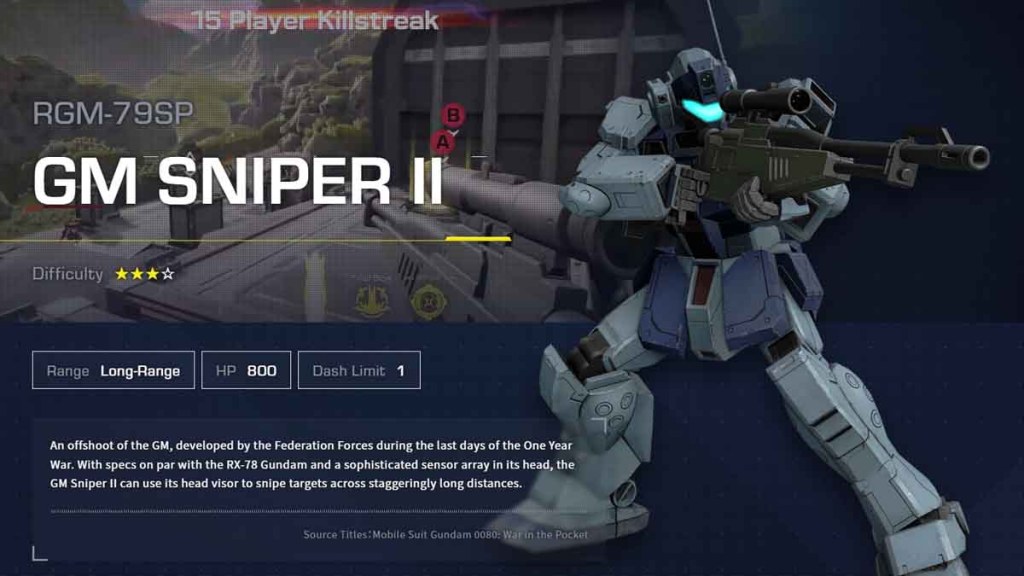 A long-range support mobile suit, the GM Sniper II can expose foes and pick them off safely from a distance.
Main Weapon: Sniper Rifle
G Maneuver: Sensor Visor
Active Skill 01: Jump Booster
Active Skill 02: Vulcan Pod
Active Skill 03: Recovery Gun
Methuss
A support unit through and through, the Methuss can buff allies' energy and health by attaching support cables.
Main Weapon: Arm Bean Guns
Sub Weapon: Repair Cable
G Maneuver: Energy Cable
Active Skill 01: Transform
Active Skill 02: Twin Shot
Active Skill 03: Gun Turret
Sazabi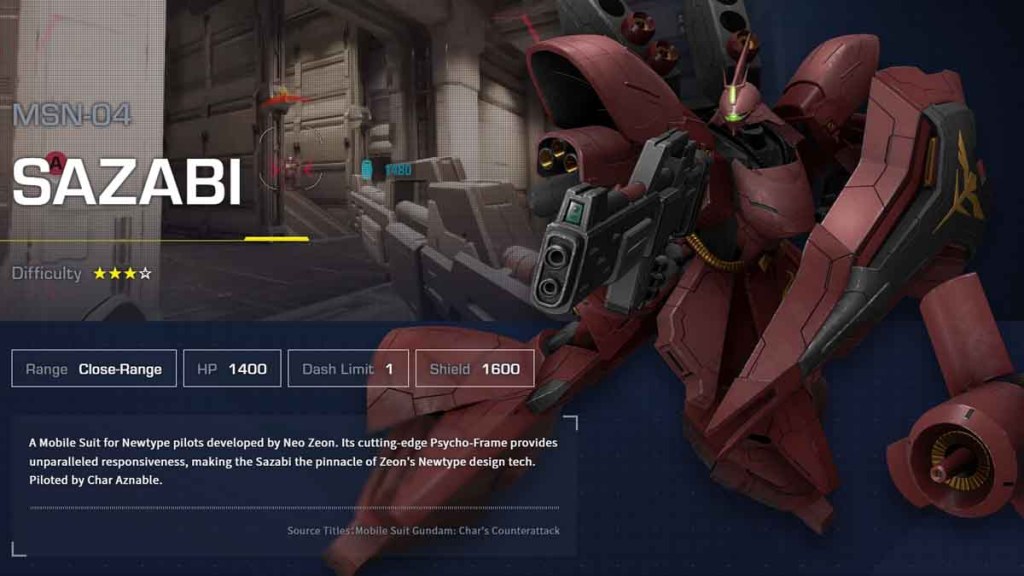 Nearly as iconic as the Gundam itself, the Sazabi is piloted by famed pilot Char Aznable.
Main Weapon: Beam Shot Rifle

G Maneuver: Funnels
Active Skill 01: Homing Boost
Active Skill 02: Beam Tomahawk
Active Skill 03: Enemy Search
Gundam Barbatos
The Barbatos is a legendary Gundam with nearly unparalleled melee prowess.
Main Weapon: Mace (Sweep)

Sub Weapon: Mace (Smash)
G Maneuver: Alaya-Vijnana System
Active Skill 01: Boost Jump
Active Skill 02: Long Sword
Zaku II (Ranged)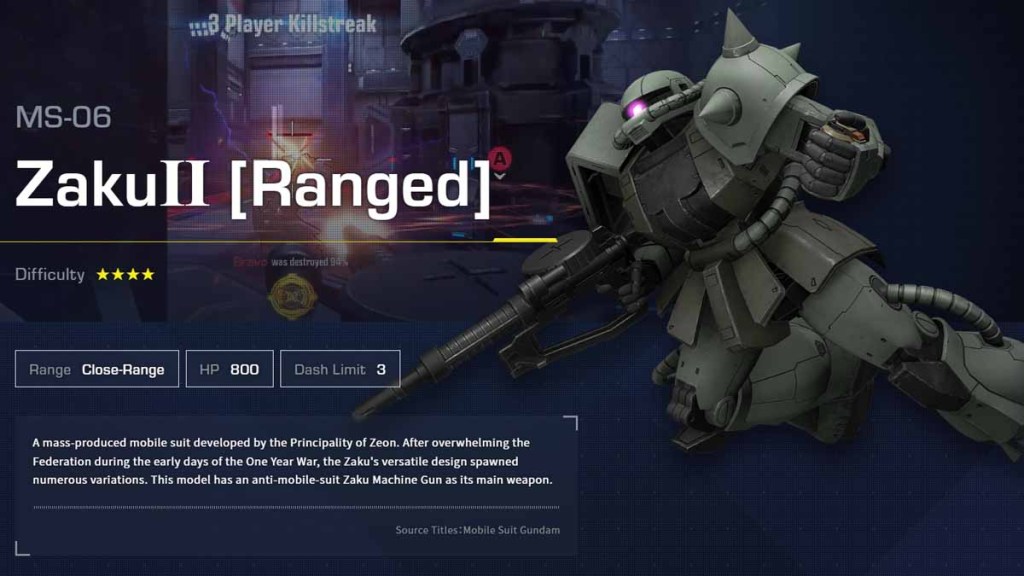 The Zaku is a mass-produced mobile suit that embodies the fighting spirit of the Principality of Zeon.
Main Weapon: Zaku Machine Gun

G Maneuver: Heat Hawk Smash
Active Skill 01: Smoke Discharger
Active Skill 02: Cracker Grenade
RX-78-2 Gundam
The Gundam that started it all, the RX-78 is iconic and Gundam Evolution's take on it pays homage to this classic suit.
Main Weapon: Beam Rifle

G Maneuver: Super Napalm
Active Skill 01: Gundam Shield
Active Skill 02: Hyper Hammer
Pale Rider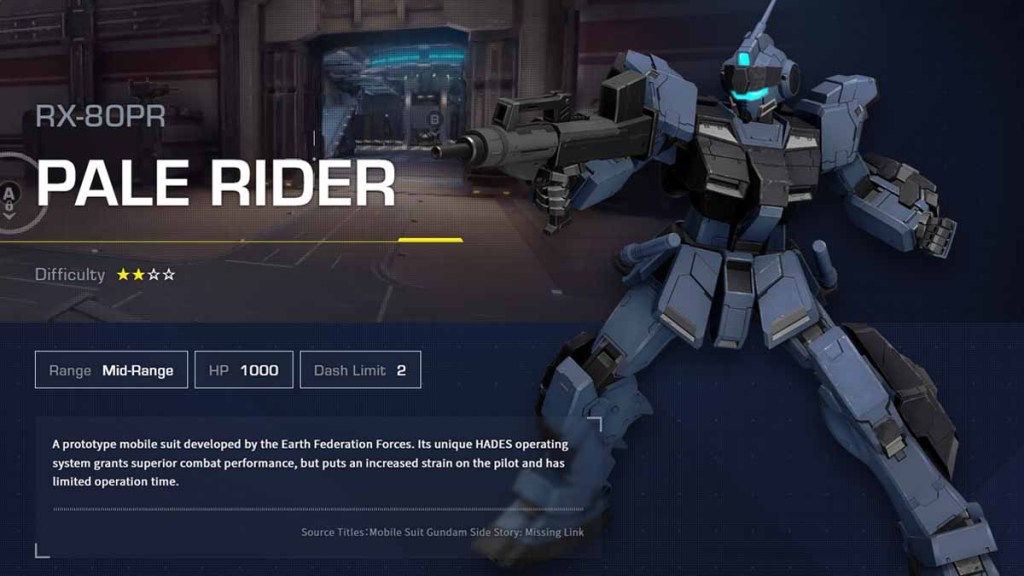 The Pale Rider is a good all-rounder with plenty of versatility and should be agreeable with many new players.
Main Weapon: Bullpup Machine Gun

G Maneuver: Hades
Active Skill 01: EMP Grenade
Active Skill 02: Hand Grenade
Active Skill 03: Repair Pod
For more mecha related goodies, check out How to find and defeat a Hardframe Battle Mech sentinel in No Man's Sky on Pro Game Guides.