Only the best equipment will help you win. This is the reason that many competitive gamers, especially the pros, use certain equipment.
That statement is well known in traditional sports but is even more so a fact of life in esports. That one millisecond between hearing that one footstep, or hitting that one key, or even flicking over to your last target makes all the difference between wins and losses, and not all gaming, or even computer peripherals are made the same.
For example, regular everyday keyboards don't have the same response time as a mechanical keyboard does. Regular stock mice don't have the same speed response time as a gaming mouse that may have a higher DPI, and most basic headphones won't carry the same detail as gaming headphones do.
But today we're focusing on the keyboards and the best ones out there that'll help you dominate the competition. The best use the best and this list isn't just what looks and works best, but also considers what the pros actually use on a daily basis -- from their streams to scrims to competition, from the hottest games like Valorant to esports classics like CS:GO and Rainbow Six: Siege.
A keyboard made specifically for serious competitive gamers, the Logitech G Pro and G Pro X mechanical keyboards can be found on the desks of numerous esports pros throughout the world.
It follows a common trend of gaming keyboards that cut away the number pad (tenkeyless or TKL keyboards) which allows you to maximize space on your desk for more room for your mouse or other peripherals. This makes it easier to carry to tournaments.
The G Pro can be found in stores like Best Buy for about $130 when not on sale and comes with Logitech's new GX Blue clicky switches, which give a bit of a tactile feel and a clicky sound when you press a key, but are as responsive as needed. The G Pro X, which can be ordered online through Logitech G's website for $150, is hot-swappable which allows you to choose between three switches: the blue clicky that comes stock with the G Pro, the GX Red linear switches which are smoother, quieter and more direct, or the GX Brown tactile switch, which gives a soft, tactile type of feedback to the user.
The red and brown switches have a 0.1 inch shorter actuation distance compared to the blue, however the blue switches have .02 inches less travel response. In short, they are all pretty quick and responsive. Switches are really based on the user preference.
I personally use a G Pro with the blue clicky switches and it is as responsive as I want and need it to be and I haven't noticed much of a difference from my old keyboard that had red linear switches outside of the clicky sound and feel.
The G Pro and G Pro X use PBT keycaps that allow you to easily customize your keycaps.
The G Pro and G Pro X are wired keyboards that come with a detachable USB-A to Micro-USB wire that plugs straight into the back center of the keyboard. The micro-USB side of the wire has a trident type of shape at the plug end to keep the wire secured into the keyboard.
And, most importantly, the keyboard has full RGB backlighting, customizable through Logitech's G Hub app so you can match your mood or your setup.
Related: How to Reduce Lag in Valorant
HyperX is as much of a staple within the esports scene. Their peripherals are used throughout esports, competitive gaming and are even used by the big-time streamers we see on YouTube, Facebook Gaming, and Twitch.
The Alloy FPS and FPS Pro mechanical keyboards are the rival to the Logitech G Pro/G Pro X in build, style, and even more importantly price. Where Logitech aims for premium, HyperX aims for accessibility while keeping its products at a premium. The Alloy FPS can be found on Best Buy for about $110 while the FPS Pro is currently on Amazon for about $70.
The HyperX Alloy FPS is the full-sized version while the FPS Pro is the TKL model. Unlike the G Pro, the FPS and FPS Pro come with a solid steel base and are based with their own Cherry MX switches (HyperX's own red linear switches), which are one of the best out there. It also includes RGB backlighting, very bright RGB backlighting that can also be a bit more active that some users may actually want, and a detachable USB-A to Micro-USB cable that connects toward the back-right side of the keyboard.
This keyboard was specifically made with shooters in mind thus the FPS label in it's name and it is built to travel. It's not hot swappable unlike the G Pro X although you can change the keycaps with HyperX's own PBT pudding keycaps.
Honestly, it's as plain as a TKL keyboard can get and that's okay.
If Logitech and HyperX have all but dominated the scene as of late, then Corsair is the "OG" of the block and it's not afraid to take up your desk space and charge you more for it's original premium. Keep in mind that Corsair has been doing this since the mid-90's despite really hitting their groove just over a decade ago.
While the K70 Mk. 2 comes in at just over $150, it comes with more features than the first two boards listed here. It comes with a number pad and also includes its share of on-board media keys, a long volume wheel, and an included wrist rest (which I cannot recommend enough, especially for long play sessions).
The K70 Mk. 2 may not be as portable as the G Pro and the FPS Pro listed above due to its size, but it's just as durable for travel with its solid aluminum frame.
It also comes with Cherry MX Speed switches which have 1.2 millimeters of response time meaning that every key press is registered almost immediately, making it just faster than the G Pro. It also includes 8,000Hz hyper-polling and 4,000Hz key scanning rate. In short, this keyboard flies. It includes a USB pass-through to power or use other devices, like a wired mouse, which the two TKL keyboards mentioned above do not have.
Also, if its space that you're truly worried about, the K70 also comes in a TKL form that keeps its media keys making it more functional than the G Pro and the FPS Pro, and it comes in at around $120.
The "OG" of this list shows that it can still run the street, Or at least the desk.
Related: State of Survival Codes (July 2021) – All Working Gift Codes!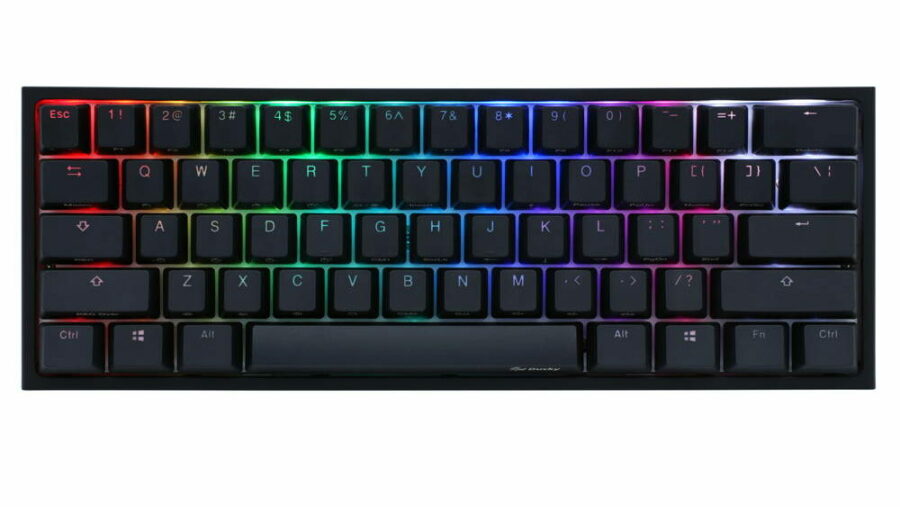 Okay, what about this: how about a fast keyboard, that's more TKL than a TKL can be? Let's take away the function keys and the arrows. In short, let's keep it to pure necessity and basics.
Welcome to the 60% keyboards which have become a trend and vibe within competitive gaming since late last year and more into 2021. They take up even less space than a TKL keyboard on a desk and are easily portable.
The Ducky One 2 Mini is one of the most popular keyboards in the market amongst keyboard enthusiasts and, besides its adorable size factor, this keyboard holds nothing back despite its size. It's very premium, from its detachable USB-A to USB-C plug to its high-quality PBT doubleshot keycaps, to its RGB backlighting to its build. With its bevvy of Cherry MX switch options and price the Ducky One 2 isn't one to pass up. It's as responsive and as reliable as any competitive gamer wants and needs it to be.
So, what about functions? While 60's don't carry physical arrow or function keys, there is a function layer key so you still have access to such commands. It takes a little getting used to holding another key to use another basic function like an arrow, but smaller form means more "non-essential keys" had to be sacrificed.
Smaller 60% keyboards are great not just for travel, but if you have a really small desk and want a physical keyboard for your gaming laptop.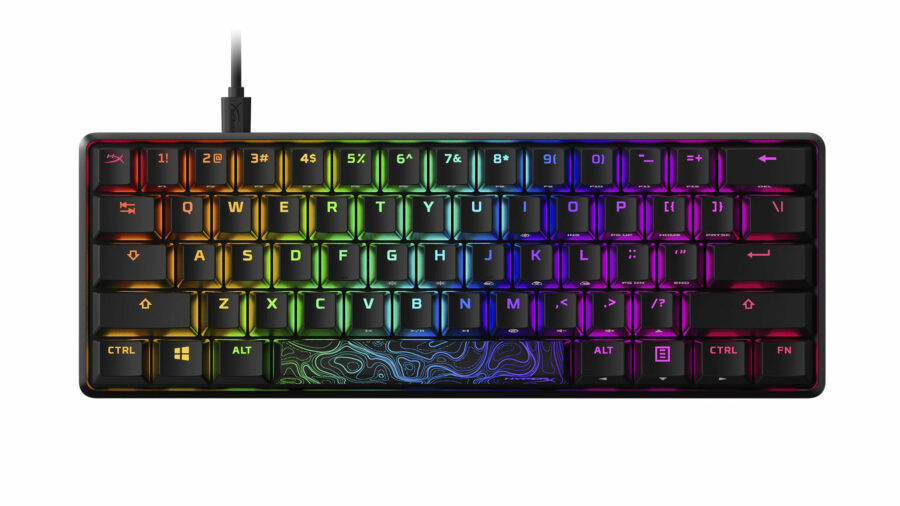 The second HyperX keyboard to make this list, and the smallest one, the Alloy Origins 60 follows its own tradition of quality at a reasonably affordable price.
Coming in at just $100, $20 less than it's rival Ducky One 2 Mini, the Alloy Origins 60 includes many of the same features as the Ducky One 2 Mini. Quite often you can also find this on sale at your local Best Buy.
It's a 60% keyboard that uses a "fn" key for access to the arrows, other functions, and one of the keyboard three lighting profiles. It also includes a detachable USB-A to USB-C cable. However, unlike it's Ducky rival, it comes with an aluminum base which makes it slightly heavier, yet more durable for travel and more than sturdy enough on a desk.
You can customize HyperX's notable bright lighting via the NGenuity app on your desktop to set the lighting and remap other keys as you see fit.
As far as performance is considered, the Alloy Origins 60's size doesn't impact its performance. It's still just as responsive and as speedy as its Alloy Origins big brothers.
For competitive gamers on a budget and with low desk space, or for those that want a keyboard they can travel to tournaments with, the Alloy Origins 60 is a great option.
For more Hardware guides, check out Nintendo Switch OLED Pre-Order Guide on Pro Game Guides.
This article includes affiliate links, which may provide small compensation to Pro Game Guides.