The future is now and the future is in 8K. While 8K content hasn't hit us just yet, 8K smart TVs are starting to find their ways off of the shelves with people future-proofing for what's to come next. If you haven't seen an 8K TV just yet, go to your local Best Buy and check one out, it's totally worth it. The common person may not be able to tell the difference immediately, but the clarity and the smoothness of the imagery are simply something to behold and admire.
In the gaming space, 8K TVs are overkill considering that most consoles run up to 120 fps and most 4K TVs now match that. For those who believe that the bigger the screen, the better the visuals, 8K is made for you. With the bigger sized screens come some of the best and upcoming best features we've seen in TV technology ever, including improved OLED displays that offer visuals that's more crisp than we ever thought, and infinite HDR support along with Dolby Vision and even Nvidia G-Sync technologies.
But be warned: 8K TV's do not come cheap whatsoever with them ranging anywhere from $3,000 to as high as $30,000. For those with the money to burn, who want to futureproof now, here's some of the top 8K TVs to get you one step further into the future.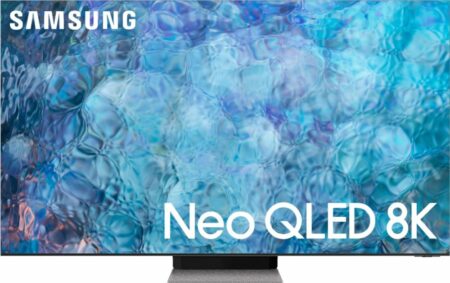 Samsung's QN900A may be the best 8K TV out in the market now and there isn't even 8K content ready for it yet. But when the 8K content starts flowing in, the QN900A will have you ready for visuals you never knew could be achieved.
The QN900A comes in three sizes, a 65-inch, 75 and 85-inch model, and offers incredible picture quality and contrast through its 'Quantum' Mini-LED that are 1/40th the thickness of a normal LED. In normal terms, it features smaller LEDs that result in the size of one LED pixel allowing for incredibly detailed colors and black levels. Elsewhere the QN900A features 8K resolution with tremendous upscaling of 1080p and 4K content due to Samsung's AI-based 'Neo Quantum Processor 8K'. Gaming-wise on the Playstation 5 and Xbox Series X/S, you will realize the true graphical power of next-gen gaming. The lone downfall with the QN900A is also within its screen. While the visuals are astounding, the screen reflects easily, so make sure that this doesn't face any windows because it will reflect the light back to you, almost blocking you from its visual gift.
An extremely high-end TV like this doesn't come cheap, with the 65-inch base model of the QN900A starting at about $5,000. But for the money, not only are you setting yourself up for the future, you're upscaling the visuals that you are seeing now.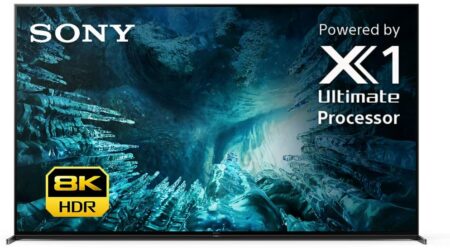 Sony's entry into the 8K scene is an interesting one. Their debut 8K TVB, the Z9G and ZG9, took the stage at a whopping $13,000. Their second, and latest entry, the Z8H and ZH8 builds on the strengths of their 8K debutants while plummeting the entry price by over 50 percent, starting at $5,000.
The ZH8 and Z8H models come in either a 75-inch and 85-inch model and their first-class performance matches its first-class style. Its 8K resolution shines with its 2,500 nits of brightness and HDR and Dolby Vision keeping everything sharp. Audio-wise, the Z8H/ZH8 models may be some of the best sounding TV's we have ever heard from a built-in system. The new Sony 8K TVs come with a few minor flaws, however. The included Android TV can be a bit frustrating to deal with and there is only one HDMI 2.1 port for 4K and above content, which feels kind of frugal for an 8K TV that's supposed to focus on 4K and above content. The upscaling from 1080p and 4K leaves a bit to be desired when compared to Samsung, although the upgraded visuals still look good regardless.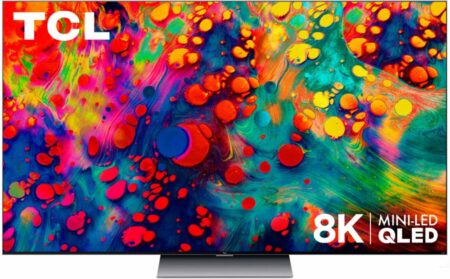 TCL TVs somehow manage to keep pace with the Samsung and Sony TVs of the world and do so at about a fraction of the price. But the 8K TVs had to cost a bit more right? Nope. The TCL 6-Series is possibly their best line of TVs ever and the fact that they come in at a relatively accessible starting price makes them even that much better.
The 6-Series 8K is probably the cheapest 8K TV in the market now, tomorrow, possibly ever, undercutting the likes of Samsung and Sony by 50 percent of their starting cost, coming in at just over $2,000. Despite similar performance to the likes of Samsung and Sony, that undercut cost comes with its share of caveats. Visually, there's only two HDMI 2.1 ports (which is actually an upgrade from the Sony Z8H), and it doesn't upscale from 1080p or 4K as well and its motion processing leaves a little bit to desire. Audio-wise, it's average at best with some sound balancing issues it needs to have worked out down the road.
The LG QNED989 stands out so much that it has its own Nanocell branded LED's to showcase its visuals and it doesn't disappoint one bit. Visuals aside, it's the display tech features that the QNED brings that really give it the spotlight.
The QNED99 features 30,000 tiny LEDs (Nanocell) which is exponentially more than most OLEDs in today's market. The tiny LEDs allow for brighter, much more detailed images with vivid coloring that pops out in a way that we've never really seen before. Its a9 GEN 4 AI Processor does a tremendous job of upscaling current 1080p and 4K resolution to 8K, making today's visuals look as close to 8K before we even get to 8K. It also features native 120Hz through four HDMI 2.1 ports, making this perfect for next-gen gaming and probably the generation after the PS5 and Xbox Series X/S. The QNED also features a Filmmaker Mode allowing you to see movies as the director intended you to see it and both Google Assistant and Amazon Alexa smart assistants for voice commands.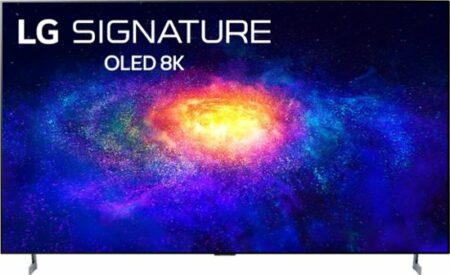 If you've simply just got money to burn then this is the 8K TV for you. The LG ZX is the highest end 8K TV you can grab right now that's the closest thing to getting a high-quality movie screen. From a gaming perspective, this is the gaming screen of all gaming screens. The LG ZX isn't overkill—it's beyond. And it is glorious.
This 77-inch goliath of an 8K TV features four HDMI 2.1 ports to provide 8K resolution at 60fps and 4K at 120 fps, upscaling lower-resolution images to 8K for just about all of your devices. Its AI can upscale 2K and 4K imagery into 8K in ways that not even the QNED can. It features over 100 million self-lit subpixels for the most immersive visuals ever, giving you images that will make sure you are never able to go back to normal 2K and 4K imagery again. Gaming-wise, the ZX supports both HDR and NVidia G-Sync with a mere 1ms response time giving you the fastest, clearest visuals we've ever seen in gaming. The ZX is literally the sugar daddy for both the Playstation 5 and the Xbox Series X/S.
At a whopping starting price of $20,000 for the 77-inch model, you are getting the best TV of the decade, maybe even the generation. If you're feeling ballsy and have another $10,000 to burn, the 88-inch behemoth starts at $30,000. This will easily be the most expensive thing you own, and the one TV that will make you cry hard and for days after you throw a controller at it.
For more Hardware Guides, check out 2021's 5 Best Budget Gaming Laptops on Pro Game Guides!
This article includes affiliate links, which may provide small compensation to Pro Game Guides.