The advent of HDMI has standardized the world of video signals so much that most newer televisions don't even come with any other types of ports. While this certainly leads to a cleaner panel, it leaves behind any pre-HDMI devices. Complicating matters further, analog video formats such as composite, component, and S-video all use different connectors. So if you're breaking out an old video game console or maybe just looking to upscale a VCR to convert some home movies then you're going to have a hard time if your TV is all HDMI.
The idea of directly converting an analog signal is also a bit of a misnomer, as almost all of them available on the market today actually scale the image from its original low resolution to an HD compatible one. This is exactly what we want though, as many TVs won't accept lower resolutions via HDMI at all.
As a note: converters and upscalers are great devices, but they aren't miracle workers. The lower the resolution you're trying to convert to an HD compatible resolution the worse the resulting image is going to look. So while you can scale even the lowest signals to HDMI, it's always worth making sure that you're using the best available format for the original hardware. For example, if you're looking to upscale a PlayStation 2 then throw out those old composite cables and upgrade them to component before trying to scale the image.
Most Affordable for Non-Gamers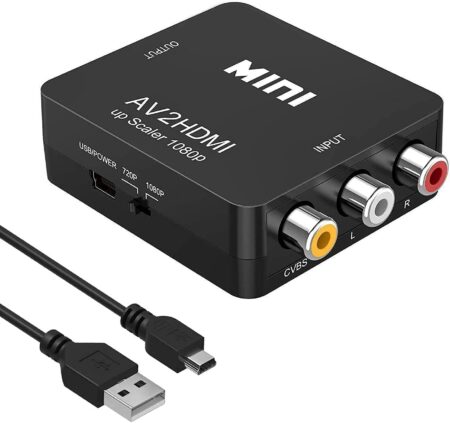 The AV2HDMI is one of at least a few dozen different scalers on Amazon that all seem to come from the same crop of low quality upscalers. In fact, chances are they mostly use the same internal parts depending on exactly where they're being manufactured. This particular model only accepts composite input, has no aspect ratio settings, and provides virtually no options for fine-tuning the image. But, depending on what you want to do this might be completely serviceable.
If you're just looking to upscale a video signal, perhaps to convert some old home movies or other composite video signal, then it will upscale the image to one that will display just fine over HDMI. If you're looking to hook up an old game console then you might think again, since the image will be stretched and the low-quality upscaling will introduce artifacts and input lag to the experience. So, while gamers need not apply, it still has its uses in the video conversion world.
Related: 2021's 7 Best HDMI Cables for Gaming
Most Versatile
RetroTINK-2X Pro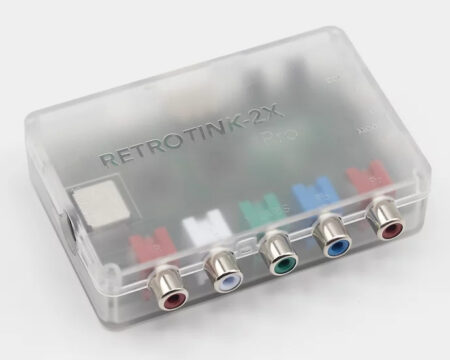 Mike Chi and his RetroTINK project turned the upscaler world upside down when it came out. At the time of its release high end gaming-friendly upscalers were all either very complicated, very expensive, or both. And few of the accepted more than one or two video formats. The RetroTINK came out and changed all of that with a palatable price tag, a boatload of features, support for all the most common video formats, and a super easy setup process.
The 2X-Pro continues that design legacy with automatic detection and support for most NTSC, PAL, and SECAM signals as well as adjustable comb filtering and toggleable scanlines. It accepts composite, S-video, and component and displays them all via HDMI with minimal lag. If you're looking for the ability to quickly and easily connect any of your old game consoles and have them up and running via HDMI with as little fuss as possible then the RetroTINK is a fantastic combination of price and versatility.
Best for Tinkerers
Open Source Scan Converter
The Open Source Scan Converter, often referred to as just OSSC, was revolutionary when it came to market. At the time similar upscalers (such as the XRGB Mini Framemeister) cost many hundreds of dollars and had to be imported from Japan, but the OSSC clocked in at a fraction of the price with similar functionality. In the intervening years the RetroTINK has stolen some of its thunder, but it's still a great option for those who like tweaking. The OSSC is virtually lag free upscaling handled at the individual scanline level, which means you're going to get an extremely responsive video signal.
It also has a boatload of features and settings for perfectly dialing in exactly what kind of image you want, which is great for those who demand very specific image processing. The major downside to the OSSC is that it only accepts a limited number of video inputs: VGA and SCART. For those with high-end RGB modifications on their old game consoles this is fine, but if you're just wanting to plug in a Nintendo 64 via composite then you're going to be out of luck. Regardless, if you're looking to convert VGA or SCART to HDMI and have very specific demands on how it's scaled then there's nothing quite like the OSSC.
Related: Best 4K HDMI Cables
Best Overall
RetroTINK-5X Pro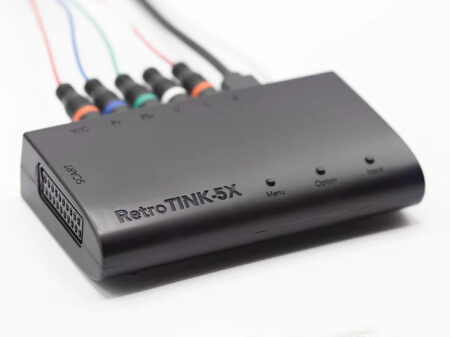 Never content to rest on his laurels, Mike Chi's RetroTRINK-5X Pro is a new paradigm in the realm of video converters/upscalers. It's driven by algorithm so it will produce the best possible image automatically after setting it to the appropriate mode and connecting your video source. Inside it uses FPGA hardware to perform deinterlacing on 480i signals, and is capable of properly scaling pixels without introducing shimmer.
But more importantly than any of that, it provides completely seamless resolution switching for titles that change resolutions often. Previous upscalers would struggle and drop signal during these resolution changes, which is a common occurrence on PlayStation and Sega Saturn titles. It supports all the same formats as the RetroTINK-2X Pro but adds composite via SCART. The end result is a perfect combination of power, convenience, and support for virtually all types of video signals.
The world of video converters and scalers is as wide as it is confusing. The main thing you should be looking for is which video signal you want to convert, and then whether or not you're after a lag free experience or not. For those after a lag-free gaming-friendly experience the market has never been better, with newer and better hardware coming out constantly.
For more hardware guides check out Best Bluetooth Mouse for Gaming and Best OLED Gaming Monitors on Pro Game Guides.
This article includes affiliate links, which may provide small compensation to Pro Game Guides.