When people think of the term "budget" they usually think that lower price means lower quality. While that is the case sometimes, there are gaming peripherals whose prices fall within the "budget" category, but are nothing close to the term, combining high or premium quality at a relatively low, accessible price.
Budget headsets are an interesting breed because there's a clear difference between "budget headsets" and "cheap headsets." Cheap headsets you can find at Wal-Mart or at the checkout counter at JCPenney and look cool and work, however they have very low audio quality or really bad quality, they are usually bulky and they actually take away from the experience. Budget headsets may cost you $10, $20 more than a cheap headset, however they will last for years, provide surprisingly exceptional audio and mic quality for the price, look halfway decent and, most importantly, actually add to the experience.
The headsets below all meet our budget requirements costing no more than $60 and could be some of the best decisions you could ever make.
Related: 2021's Best Budget Gaming Mice: The 5 Best Budget Gaming Mice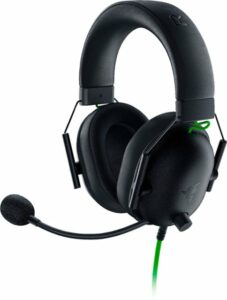 The Razer Blackshark V2 X is possibly the best budget gaming headset out there, period. It's the budget-friendly version of the V2 family that includes a more standard wired version that comes with a USB sound card at $100, and an even more premium wireless version that's one of the best gaming headsets in the market for $180.
Focusing in on the budget-friendly version, the V2 X comes in at $60, but is usually on sale for $10, or $15 cheaper giving it an extremely accessible price for such a quality headset. While the sound quality on the X isn't exactly one-to-one with its more premium V2 brothers, it can hold its own against any other budget headset on this list or out in the market in general. It features Razer's 50mm TriForce drivers which itself feature 7.1 surround sound that actually works. The microphone on the V2 X is better than a few other premium headsets in general as well, in fact possibly better than its $100 V2 brother and better than other $100 headsets out there.
Toss in the lightweight comfort with pleather memory foam ear cushions and the included carrying pouch, the V2 X is almost a steal at its price point.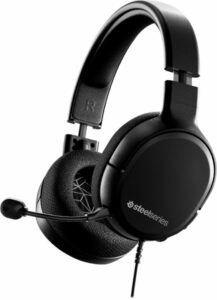 Steelseries headsets are known for their comfort and quality, (for the most part) don't scream "gamer," and the Arctis 1 is no exception. Coming in at $50, this is Steelseries' budget headset that still matches in quality with its more premium cousins that cost over twice and triple the cost of the 1's.
The Arctis 1's simplistic budget approach sees it featuring the same audio drivers as the much more expensive Arctis 7, much like how the previously mentioned Blackshark V2 X borrows qualities from its premium brothers. It's a wired headset that comes with an attached cable, which shouldn't be much of an issue for those who are used to wired headsets. However, it does come with a detachable mic that also brings as much quality as the other Arctis headsets in the market. The biggest potential breaking point here is the comfort. The Arctis lineup is notorious for its adjustable and comfortable ski-band headband which makes the Arctis headsets almost feel like it's floating on your head. The Arctis 1 does not have that, instead coming with a standard plastic headband and mesh ear cushions. The clamp could feel tight as some may experience the drivers pressing on their ears.
However, for $50 the Steelseries Arctis 1's are beyond a quality pickup for a wired headset with a design that is as simple and clean as possible.
Related: 2021's Best Gaming Keyboards Under $100: Best Budget Gaming Keyboards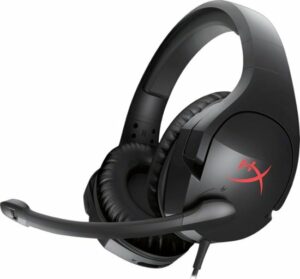 The HyperX Cloud Stinger should sometimes be every new gamer's first actual gaming headset. Not only is there its extremely low price for a gaming headset at $50, and almost always on sale for less, but it maintains HyperX's standard theme of quality products at an accessible price. For those on an even tighter budget, there's the Cloud Stinger Core that comes in at just $40.
The Cloud Stinger is the budget-friendly option of the much renown HyperX Cloud family of headsets. It features the same 50mm drivers that the more expensive and premium Cloud headsets do along with their signature memory foam earcups. The wire isn't detachable, nor is the microphone, however you can flip the microphone up to mute your mic when needed. The volume control for the mic can be located on the ear cup as well, making it easy to access.
It is as standard a gaming headset as one can get, and as accessible as one can get as it is available just about everywhere, and it will last you for years depending how you take care of it. If you're looking for your first-ever gaming headset, this could welcome you into gaming with open arms… or ears.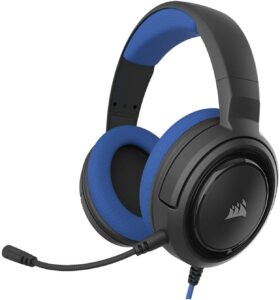 Throughout time Corsair has been known for their high quality PC products. Their gaming headsets are no exception to the rule and the HS35's combine a minimalistic design despite being on the larger side of gaming headsets with solid sound for a low price. These retail at $40, but can be found on sale on Amazon for just $25, making this the cheapest of the list.
The HS35's come in four different color variations matching your preferred console: black and red, blue, green, or black. However, considering that this is an attached wired 3.5mm headset, the color variations are more choice than requirement per console. It features large memory foam ear cups so your ears won't touch its included 50mm drivers. The mesh ear cushions are nice and soft, but could also leak sound for those who like to play on max volume.
Overall, these are a solid pickup for just $40 for those who are all about Corsair products. However, on sale these are an absolute steal at nearly half the price.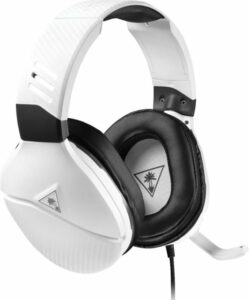 Turtle Beach is one of the most recognized, possibly legacy gaming headset brands in the market, known for usually accessible, quality headsets for almost decades now. However, within recent history they've fallen off just a little bit which allowed newer brands like HyperX and Razer to pass them and take the lead. The Recon 200's may not be the absolute best headset out there especially with a $60 retail price tag (although can usually be found on sale), but these hold their own in a budget gaming market that seems to get more competitive by the month.
The design unapologetically, and actually proudly, yells gamer which is what this is exactly designed for. For its $60 price tag you get surprisingly, yet unsurprisingly quality sound throughout, although it wasn't anything mind-blowing. Its included bass boost is a nice addition and when you switch to another headset, the added boost that the Recon 200's brings is noticeable. This is in particular noticeable in first-person shooters, where the Recon 200 really shines, nearly perfectly capturing weapon sounds and explosions, really emphasizing the lows to mids very well. The microphone is extremely strong, maybe a bit too strong, but the flip-to-mute feature on it is a nice quality of life option.
If you're maybe in the market for a decent gaming headset, specifically for first-person shooters, and you happen to be in Target or Best Buy, the Recon 200's are a worthy pickup, especially if it's on sale. Its a quality headset from a long-time trusted brand that specializes in gaming headsets and if its the go-to for a major FPS streamer like Dr. Disrespect, it should work well for you.
For more Hardware Guides, check out 2021's 6 Best 144hz Monitors for Gaming on Pro Game Guides!