Getting started in the world of PC gaming can seem intimidating and, even more so, ridiculously expensive. Desktop or laptop? Intel or AMD? How much RAM? What about a monitor? How much storage do you need? How does someone even get started?
Whether it's a kid just entering middle school, high school, or even college, or someone just transitioning from the console gaming world, getting started in the incredibly vast world of PC gaming can seem like a daunting task. But gaming laptops have found a way to simplify that and have become more advanced throughout the years, becoming a bit of a go-to for many new PC gamers out there. For those who don't want to invest over $1,000 on a desktop, especially first-timers, and for those college students who need something portable that takes little desk space, gaming laptops are definitely the way to go.
The gaming laptops listed below all keep a tight budget in mind, coming in at less than $1,000 to help you get started on the right foot without having to break the bank.
Related: 2021's 5 Best Modems for Gaming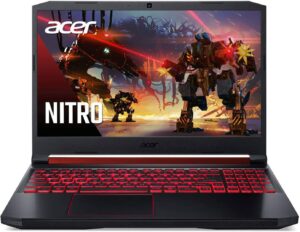 The Acer Nitro 5 may be a slightly older laptop compared to the gaming laptops coming out now, however, it is still an incredible entry-level gaming laptop that packs quite the punch at under $700. But don't be fooled. Low or cheap price doesn't necessarily mean low or cheap performance.
The Acer Nitro 5 comes in either a 15 or 17-inch model, a feature that's somewhat unheard of for a budget or entry-level gaming laptop, and that's not even the highlight feature for this laptop. While the bigger screen does help with the immersion factor, the Nitro 5 brings a lot to the table, like a 2.4GHz Intel Core i5 processor with an Nvidia GeForce GTX 1650 graphics card, 512GB PCIe NVMe SSD, and 8GB of DDR3 SDRAM memory. All of that performance is seen on either the 15 or 17-inch 1080p screen. Acer's included NitroSense software allows you to control the fan speed and power plans as part of the system monitoring, along with customizing audio types for different games and other media.
That may not seem as powerful, considering the laptops that are out today in general. However, at under $700 you get a high-quality, entry-level gaming laptop that will play all of today's best games on par with some desktops out there in the market today. Your wallet may thank you after as well.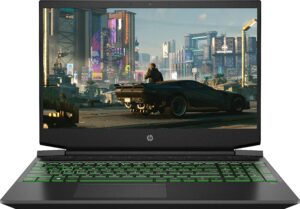 One of the first things that you will notice about the HP Pavilion Gaming 15 laptop is its bright green backlit keyboard, and in an era of gaming laptops that mostly decided on red backlighting, this is actually nice. Outside of the green keys, HP's 15-inch gaming laptop will give you solid performance and graphics to help with gaming and content creation while saving you some green as well.
Coming in at about $750, and can be found at WalMart, the 15 is a 15-inch gaming laptop with a 1080p display powered by an Intel Core i7-9750H processor, with an Nvidia GeForce 1650 graphics card. It also features 256GB PCIe NVMe SSD as its boot drive. While you may not be able to fit much, if anything, onto the SSD, you can always use an external SSD drive for your game storage, plugging it in through one of the USB-C ports. Or, if you're able to, you can pry off the bottom of the laptop and add more memory and storage as well.
The 15 doesn't have a ton of frills or extra features unlike other gaming laptops, instead, it focuses on performance. You can go to HP's site to order a more advanced model if you have a few extra bucks to spare, but at its base value, this is a well-balanced, performance-over-features laptop that is great for the entry-level PC gamer, or anyone looking for a gaming laptop to take on the go.
Related: 2021's 5 Best RGB Gaming Headsets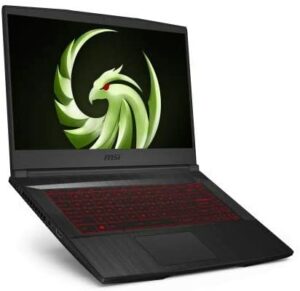 MSI's Bravo 15 gaming laptop will probably run you your entire $1,000 budget, but we promise it will be completely worth it. .
The Bravo 15 is an all-AMD powered gaming laptop that features a Ryzen 5 4600H which may be one of the fastest processors among other laptops in the price range. It features an Nvidia GeForce 1660 Ti graphics card along with 16GB RAM with a 15-inch monitor that features a 120Hz refresh rate, and WiFi 6 (which is great for futureproofing your internet and will strengthen your connection now). It also includes a TKL keyboard layout with red RGB backlighting, an HDMI video output, four USB 3.2 Gen 1 ports, and a gigabit ethernet port as well for a wired internet connection. It does tend to get a bit warm for more full-powered, long gaming sessions, and the fan can be heard, but it is nothing really worth worrying about.
All in all, this may be the closest that you can get to a mid-four-figure priced laptop performance-wise without having to go far over the $1,000 budget limit pre-tax that you can get. While there are other gaming laptops that feature a GeForce 1660 Ti at roughly the same price, those other laptops can't keep up with the power and even some of the features that the Bravo 15 brings to the table. For those really looking to dive into the PC gaming world, this is a worthy investment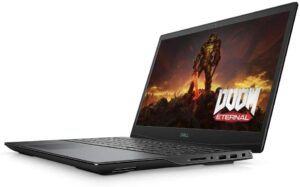 Alienware gaming laptops, let alone Alienware products in general, are pretty expensive. Worth it, but expensive. The Dell G5 15 is, literally, the cheaper alternative especially for those who can't afford the Alienware line.
The G5 15 is a 15-inch, 1080p gaming laptop that features an Intel i5 processor with 8GB RAM, a 256GB SSD hard drive, and an Nvidia GeForce 1650 Ti graphics card. There is a higher-end model of the G5 15 you can get for a little bit more that includes an Intel i7 processor with an Nvidia GeForce RTX 2060 graphics card and added memory that will really boost the performance, although the base model handles itself just as well for an entry-level gaming laptop. Design-wise, the all-black frame with the RGB underglow is kind of nice even if it seems a little bit tacky and it is a bit of a chunky design, but not necessarily big.
The G5 15 does have its share of faults, even for a budget-level gaming laptop as most do especially when compared to their more premium competitors. However, just speaking on performance alone, the G5 15 can play all of your favorite games as well as you need it to and even better than some other gaming laptops within the price range. It is a reasonable option to consider and considering its price point at around $800, its flaws are somewhat acceptable.
If you're looking for a good gaming laptop for cheap (which is also why you're reading this list), the Lenovo IdeaPad Gaming 3i is worthy consideration. It's affordable, can run all of the mainstream games and esports titles that you need it to, and even features a 120Hz screen. All of that for less than $750.
The first thing worth noticing about the 3i is its price, followed by its performance. At less than $750, you get a gaming laptop with an Intel Core i5 processor and an Nvidia GeForce GTX 1650 (the main entry-level Nvidia graphics card for most budget-level gaming laptops), 256GB SSD which helps as your boot drive, and 8GB of DDR4 RAM. But remember, these are all the basic needs for most of today's big titles. You can get up to 120 FPS, which is solid for your esports titles, but it doesn't feature Nvidia G-Sync which seems like a strange omission, especially considering the built-inn Nvidia graphics card. While there aren't many USB ports, all you need is a USB-C hub and you're set to go. The 3i also has a Gigabit Ethernet port for a wired connection, but doesn't support WiFi 6, which is fine for today's standards.
The 3i is as bargain-basement as a gaming laptop can get. For those on an extremely tight budget, this is a worthy pickup that will save you some cash in the end while giving you a pretty solid entry-level gaming laptop. While the performance is fine for all of your titles, the screen is okay at best despite being relatively fast, although the lack of Nvidia G-Sync just feels like a big missed opportunity, even at its really low price.
For more Hardware Guides, check out How to use two monitors on PC | How to set up dual PC monitors on Pro Game Guides!