It's hard to say exactly what a "budget" motherboard is, and even harder to nail down what a "gaming" motherboard is. While a lot of the time the "gaming" moniker means RGB lighting or support for the fastest RAM speeds available, the overlap between regular workhorse motherboards and ones that are explicitly tuned for gaming is pretty large. In short: no, you don't need a motherboard with the word "gaming" in the title to be able to game on it. At the end of the day it's all about the capabilities of that hardware, not which marketing terms are in the model number. When choosing a motherboard your first guiding factor should be your processor (CPU) and then your graphics card (GPU). Since GPUs are more generally compatible you won't have much to check, but you'll want to have a motherboard that supports the exact socket type of your CPU. As such we've included motherboards that sport a few different socket types and case sizes, and we have kept all of our selections under the $150 mark at the time of writing.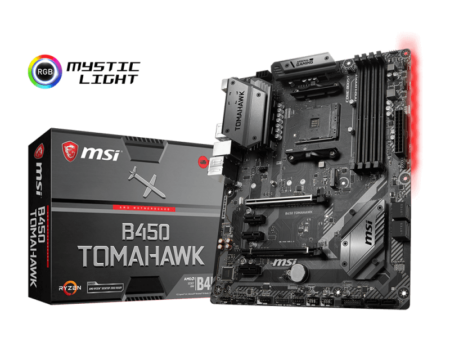 The MSI B450 Tomahawk is an ATX size motherboard that is compatible with AM4 CPUs, and uses the B450 chipset (as advertised in the model name). It supports up to 64 GB of RAM DDR4 RAM with speeds from DDR4-1866 up to and including DDR4-3466, which isn't the fastest possible maximum for DDR4 but should be enough to get the job done. As far as connectivity it has two PCIe x16 slots, 3 PCIe x1 slots, a M.2 slot, 6 SATA ports, and gigabit ethernet. MSI also boasts its Total Fan Control software suite in the BIOS of this board, which lets you set temperature targets and custom fan curves.
Slightly slower RAM speeds mean that if you're planning to use graphics that are integrated into the CPU you might want to look for something a bit faster, since RAM speed has a noticeable effect when running integrated graphics. Other than that the B450 is a solid budget choice to get you and your AM4 CPU up and running.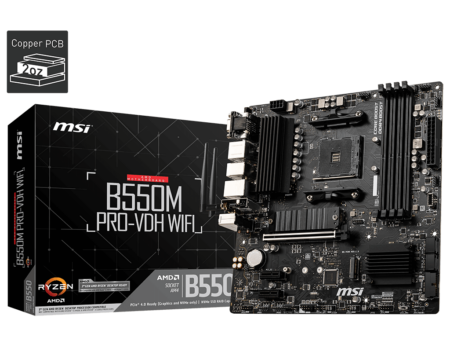 The MSI B550 Pro-VDH WiFi is a micro-ATX sized motherboard that is also compatible with AM4 CPUs, but sports an upgraded B550 chipset. This means support for the faster DDR4 RAM speeds, all the way up to and including DDR4-4400. This alone makes it a solid choice for those who may be running integrated graphics options as a result of the ongoing GPU shortages. It also has easy BIOS flashing, and a built-in heatsink/shield for M.2 drives.
On top of that this motherboard has one PCIe x16 slot, two PCIe x1 slots, two M.2 slots, four SATA ports, and gigabit ethernet, and built in WiFi 5. The slightly smaller size of this mATX board compared to the previous one listed makes for less PCI ports, but the overall connectivity remains very similar. A solid choice for those needing a smaller board or wanting those faster DDR4 RAM speeds.
The ASRock Fatal1ty B450, in addition to sounding like it stole its name from a Quake player circa 2000, is another B450 motherboard with support for the AM4 chipset. The difference here is that this is a mini-ITX sized motherboard, which means it can work in even your most miniscule of computer cases. Like other B450 chipset motherboards it supports DDR4 memory speeds up to DDR4-3466, which is respectable but not the maximum available speed possible with DDR4 memory.
It does, however, manage to fit decent connectivity into an otherwise small board with one PCIe x16 slot, two M.2 slots (M-Key and E-Key), four SATA ports, gigabit ethernet, and built-in WiFi 5. So while you may be compromising on size, you won't be compromising on gaming capability. It also has a built-in water pump header in case you're looking to setup some custom loop water cooling. It also has their Fatal1ty mouse port for increased mouse polling rates, which may help those of you who play faster-paced PC games and need your mouse to keep up.
ASUS Prime B560M-A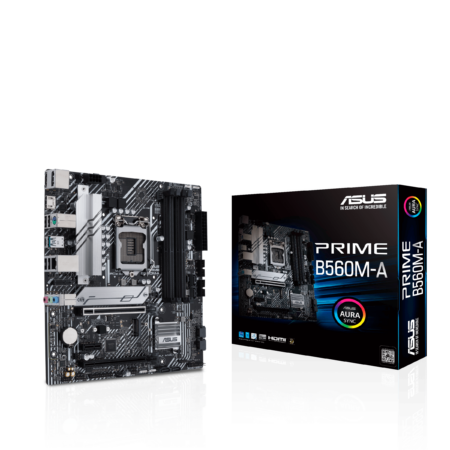 The ASUS Prime B560M-A is a micro-ATX motherboard with support for the LGA1200 chipset, which came out just last year in 2020 and supports Comet Lake and Rocket Lake processors from Intel. This newer architecture means support for RAM speeds up to and including DDR4-5000, with is fantastic for those running integrated graphics setups.
It also includes two PCIe x16 slots, one PCIe x1 slot, three M.2 slots (one usable depending on whether or not you're using a Rocket Lake CPU), six SATA ports, and gigabit ethernet. Notably this chipset also supports up to 128 GB or RAM for those needing as much RAM as possible. It also includes two heatsinks for the M.2 slots to keep your storage running cool and efficient, and ASUS claims that their OptiMem II design for the memory traces may reduce memory latency.
Related: 2021's 7 Best Static Pressure Fans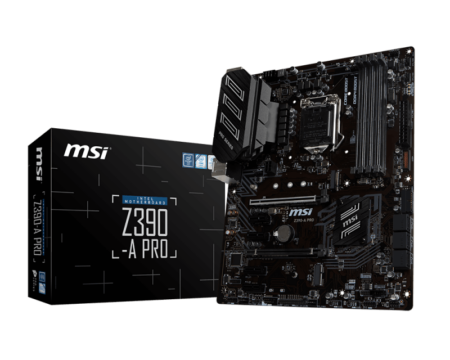 The Z390-A Pro is an ATX sized motherboard with Intel's Z390 chipset, which supports the slightly older LGA1151 CPUs. While not the most bleeding edge board, it has support for DDR4-4400 memory speeds, and supports CrossFire for those running more than one GPU (which is very possible if you're using slightly older hardware).
With two PCIe x16 slots, a whopping four PCIe x1 slots, six SATA slots, two M.2 slots, and gigabit ethernet this board has a lot of connectivity options. If you're using older hand-me-down GPUs in CrossFire mode or maybe choosing an older Intel CPU to save a few bucks this board is a great choice. Notably this one also supports up to 128 GB of RAM, so just because you're on older hardware doesn't mean that you can't load up on RAM!
Selecting a motherboard can be tough due to the absolutely dizzying amount of manufacturers and options out there. We could list them all day long and not even make a dent in what is available out there these days. But, like all things in PC building, the most important factors are compatibility and budget. Know what hardware you need to support with your motherboard and know how much you have to spend on one and you'll be able to nail down exactly which one is right for you. It's always more important to get the right hardware than it is to get something that looks cool.
For more hardware recommendations, check out Keyboard Sizes: Finding the Right Size Keyboard for You and The 5 Best Silent Gaming Mouse: 2021's Best Silent Gaming Mice on Pro Game Guides.