Microphones do not have to cost you so much money for high quality anymore. More times than not, you are not going to need pretty RGB lighting, or a vast amount of audio features on your mic, especially when it comes to streaming. That may seem like a hard pill to swallow, but all a mic really has to do is work easily (preferably be plug-and-play) and provide high-quality sound. Extra features are really just that, extra.
While most of those high-quality mics tend to go for prices well north of $100, the mics listed here are the best mic that ignore all of the gimmicks and even mute buttons and focus on straightforward audio quality. For those going into the streaming world for the first time, you do not need to buy a $200 or more microphone to complete your setup and have top notch audio for your stream. While these mics may seem cheap in price, we can assure you that they are anything but and, in some cases, these lower-priced mics actually compete with some of the premium microphones out in the market now.
All of the mics listed here are $100 or less and feature top-notch sound quality with practical form factor and are incredibly easy to use.
Related: 2021's Best Budget Wireless Headphones | 5 Budget Wireless Headsets
This is literally the king of budget microphones. The HyperX SoloCast focuses solely on audio quality and shines doing so. Even without all of the flashy features that its older, premium QuadCast brothers have, the SoloCast is not only HyperX's best budget microphone, it actually makes a run of its own as their best overall microphone.
The SoloCast features a cardioid condenser perfect for streaming and even fairly ideal for podcasting. It has a similar 20Hz-20kHz frequency response and 16-bit sample rate that the QuadCast mics do along with the same plug-and-play USB-A to USB-C wire. The biggest, notable, thing missing from the SoloCast isn't just the RGB lighting. The SoloCast does not feature any available audio customization or gain control on the mic itself unlike its QuadCast big brothers. Any actual volume like controls have to be done via OBS or on whatever sound software you are using, and the mic comes out of the box kind of hot, so you may want to lower it a bit. It does feature a tap-to-mute button on the top which is a nice quality-of-life feature that you will use more times than you think. It comes as a basic plastic pill-shaped mic that includes its own separate stand and can screw onto any basic microphone arm.
Based purely on audio quality alone, the HyperX SoloCast could easily be a $100 mic and that would be an incredibly fair price point. It's a simple, plug-and-play USB mic that gets its one job done and done well, all for just $60 and even less when on sale.
The literal and near identical head-to-head competitor to the previously mentioned HyperX SoloCast, the Razer Seiren Mini provides high-quality sound at a very low price. Much like its SoloCast rival, it strives on delivering top-notch audio while ditching all of the extras.
If you are anti-HyperX for whatever reason or just have a full Razer setup, the Seiren Mini is a worthy budget-friendly pickup. Coming in at just $50 ($10 less than the SoloCast) the Seiren Mini features a super-cardioid condenser that does a pretty solid job at eliminating unnecessary background noise while focusing purely on the sound that's right in front of it. For comparison, as solid as the SoloCast is, it does tend to pick up the louder background noises. The Seiren Mini, however, does not feature a mute button though, so you have to remember to mute your mic on OBS if you do not want it picking up anything it shouldn't. The Seiren Mini also features a built-in shock mount, which can be more useful than you think and something else that the SoloCast doesn't feature.
While providing similar, if not close to the same audio quality as its rival SoloCast, the Seiren Mini is a worthy pickup for those who already have a full Razer setup, want a mic that can match their non-traditional black setup, or who just don't want the SoloCast. At $10 less than its HyperX rival, for those on a tighter budget should consider this.
Related: 2021's 5 Best Webcams for Streaming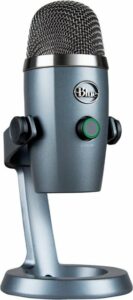 The Blue Yeti Nano is one of the most expensive "budget" mics on this list, or its one of the most premium "budget" mics on this list depending on how you see it.
It's the mini version of the much-beloved and trusted Blue Yeti and features many similar qualities that the Yeti itself is well known for, most importantly first-class sound quality. For starters, it's about 40 percent smaller than the Yeti, making it easy to travel with and to just have on your desk. More importantly, it's 24-bit, 48kHz recording sample rate is probably the highest and best that we'll see on this list, or any other "budget" list as well. It also features two polar patterns (cardioid and omnidirectional) and a dial to control mic gain which is a nice quality of life feature that the last two cheaper mics on this list do not have.
Considering that the Yeti itself runs for just $30 more than the Nano, the Nano's $100 price tag does seem a little bit rough. However, considering its $100 tag, you get a very high-quality microphone that has a few extra features that other cheaper mics won't, with audio quality that surpasses them as well. While the Yeti itself is the better option for just a few dollars more, for those on a somewhat tight budget, this is a worthy pickup.
Rode microphones need no introduction. They are one of the best mic brands in the space, almost a staple within it. At $100, the Rode NT-USB-Mini takes the same budget-yet-premium cues from the Blue Yeti Nano and gives you the same high-quality audio that Rode has made their name on at a relatively decent cost.
This mic is surprisingly tiny like the HyperX SoloCast and the Razer Seiren Mini despite its boxy shape. It features the same sample rate and bit depth as the previously mentioned Blue Yeti Nano (48kHz/24-bit) and is an easy USB-A to USB-C plug-in. It only has a cardioid condenser, meaning it will only get the sounds focused in front of the mic, however it does tend to grab a good chunk of background noise, especially when compared to the cheaper SoloCast and Seiren Mini. Despite its range of sound, the NT-Mini keeps itself on par with some of the more expensive, premium mics on the market due to the sound quality it provides. It has a similar gain dial that the Yeti Nano features along with a headphone jack for zero-latency mic monitoring. One special feature the NT-Mini has is its ability to bring other Minis together on the same PC, for those who need multiple mics for a podcast. It uses its Rode Connect software that allows for multiple NT-Minis to record at once, software that the other mics on this list don't necessarily feature.
Rode mics are a staple in the sound space for a reason and the NT-Mini is no exception. While $100 isn't necessarily budget, the NT-Mini actually gives the beloved Yeti Nano strong competition at the price range due to its high-quality sound and multi-microphone ability.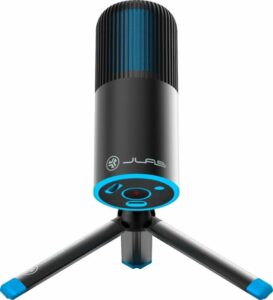 JLab is well known for their budget audio products, so to see them on this budget mic list, or any budget list, is unsurprising. While it competes with the likes of HyperX and Razer in the budget mic space, the Talk Go finds a way to throw a worthy punch with its $50 price point.
The Talk Go is the budget model of JLab's Talk mic series that features a high-end $150 Talk Pro, a $100 Talk and the Go that we'll talk about here. The Talk Go features two condensers with a higher 96kHz sample rate at 24-bit depth, both of which are pretty impressive for a mic well below the $100 mark. It features the standard cardioid mic, but also an omnidirectional mic as well which is a pleasant and useful surprise. The Go's downfall, however, is in the audio quality. While it features a surprisingly higher audio sample rate and depth, the Go's sound tends to come out a bit tinny and it doesn't filter out your "P's" as much as most would like.
The JLab Talk Go's biggest problem is that there are other mics out there that provide cleaner, crisper sound even at the $50 price point. Considering that the Blue Snowball, HyperX SoloCast and the Razer Seiren Mini simply exist, it may be easy to forget about JLab. However, the Talk Go could surprise you as an underdog budget mic, especially for those just starting out who don't want to shell out the extra cash.
For more Hardware Guides, check out 2021's Best Budget Wireless Gaming Mouse | 5 Budget Wireless Mice on Pro Game Guides!