Despite the continual march toward wireless peripherals and technology, gaming PCs and TVs are still just a mess of wires. You can get a wireless mouse, keyboard, and speakers but you're still forced to run video cables, power cables, Ethernet, webcams, and more with good, old-fashioned cables. And there's nothing more frustrating than putting tons of time and money into a very clean, attractive gaming PC setup and then having to cover your space in cables. Thankfully cable management boxes are cheap, effective, and don't require you to bolt anything to the underside of your desk or behind your entertainment center.
This box from D-Line isn't going to win any awards for style, but that doesn't mean it doesn't have a lot going for it. The rounded and vented design means that it should dissipate heat well if you're planning to plug in AC adapters that get warm. And all three of its openings are on the backside of the box, which means that if you're really strategic with your cable placement you can potentially hide most cables from view.
This cable management box from Bligo has openings for cable pass-through on three of its sides, with the port on the long side being extra-wide for thicker bundles of cables. This design is nice for running cables under a desk since some of them can come out the wider back opening and direct upward the desktop. It also has a lip around the lid, which Bligo advertises as a functional stand for smaller gadgets (like smartphones) to rest in while charging. It's also an overall attractive design for those of you wanting a cable management box to sit on top of a desk for charging cables and the like. As a bonus, Bligo also includes some adhesive snap-together mounts for wall-mounting smaller power strips.
Related: 2021's 5 Best Open Air PC Cases | Best Open Air Computer Cases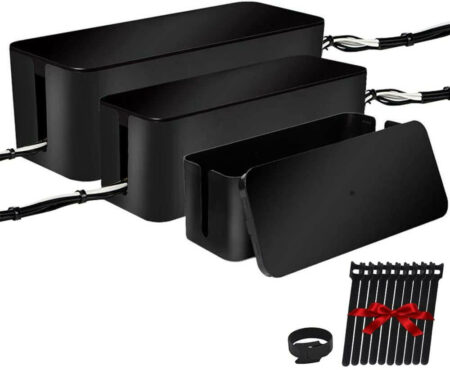 On the more traditional end of the spectrum is this set of three cable management boxes from Davidsons Collection. The three included boxes are three different sizes and each of them sports the same no-frills two opening design that you've likely seen in cable management boxes before. They're not going to blow anyone away with their innovation, but they're relatively cheap and being a three-pack of various sizes means that you can likely find uses for each in a different area of your home. The largest box would likely work well to contain the cable nest behind a gaming PC, while the smallest would do well on a nightstand to contain smaller chargers. This set also includes a bonus back of velcro cable ties, which are always a welcome addition.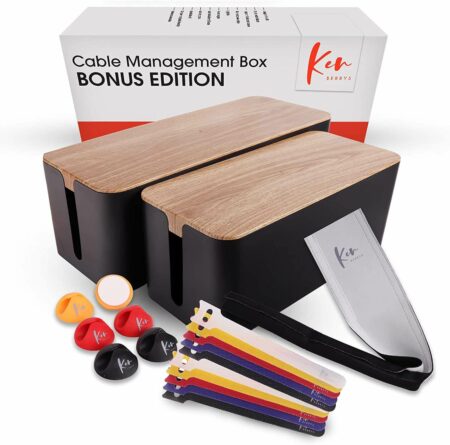 This set from Kenberrys comes in two variations: a two-or-three-box set, both featuring differing sizes. These boxes all have the standard two-opening design and feature a nice faux wood top that makes them a little more attractive for sitting on the desk top or kitchen counter—or wherever your ball of charger cables resides. However, the big selling point for this set lies in the bonuses. It comes with ten multi-colored cable ties, six cable clips, and a large cable sleeve. It might sound frivolous, but having all these bonuses in different colors makes it easier to organize, color-code, and otherwise hide frustrating bundles of cables.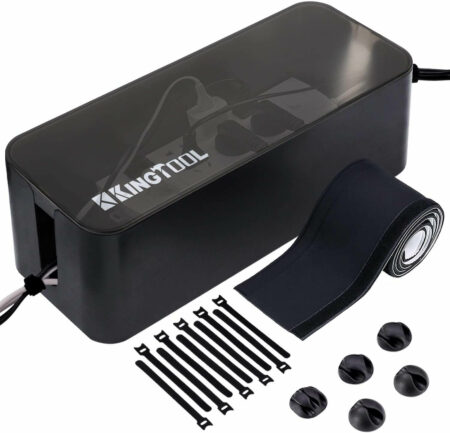 This box from KingTool is pretty in line with standard cable management boxes, but the clear top means that you're able to quickly check for things like disconnected cables or surge protection lights without having to crawl under or behind furniture to remove the lid. It also includes five cable clips, ten cable ties, and a velcro cable sleeve to further help you wrestle your cables where you want them to be.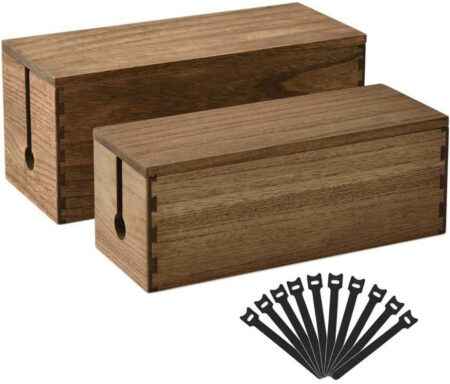 Kirigen offers something that's a bit different from the previous entries in that it's definitely focused on aesthetics a bit more than the competition. Although this set of two boxes doesn't give up functionality to do so, with two large openings in addition to a small rear slot for smaller cables to be routed elsewhere. That beautiful wood-grain look isn't just a sticker, this box is made out of solid wood. No particle board or flimsy plastic here. Kirigen also includes a back of velcro cable ties as an added bonus. This set costs a good bit more than the other boxes featured here, but if you're after a rock-solid cable management box that's as good looking as it is useful then it's an easy pick.
Related: 2021's 5 Best Modems for Gaming
Sometimes the most difficult part of getting your cables managed is just getting them all going the same direction and bundled together so you can even fit them properly in the openings provided by your cable management box. Moxita addresses this with their box by offering the standard two openings on the ends but also three smaller openings along the long edge. This is useful if you're using this box on a desktop for multiple chargers, which seems to be the advertised use case, but it could also easily work behind a TV or PC for routing smaller errant cables where they need to be without having to force them out of the main openings.
In addition to being just very nice to have, cable management boxes are relatively cheap and universally useful in nearly every home. And they don't require much in the way of cable management skills since you can basically just cram your extra cable length into the box, seal the lid shut, and call it a job well done. So stop kicking that ball of wires under your desk or behind your TV!
For more hardware guides check out 2021's 5 Best Microphones for Streaming | Best Streaming Mics and 2021's 5 Best RGB Gaming Headsets on Pro Game Guides.
This article includes affiliate links, which may provide small compensation to Pro Game Guides.