It's frustrating getting all of your PC components to fit neatly on your desk. You want a large mousepad, mouse, keyboard, probably speakers, a headphone stand, maybe even a USB hub so you don't have to reach under the desk. And where does that leave your poor monitor? Slammed against the very back edge of the desk if you're lucky, and if you have dual monitors? Forget about it.
Thankfully you can always fall back on a nice dual monitor stand. They're widely available in many different configurations so you can get one that works for your desk setup. Take a look below to see our picks, and clear up some desk space.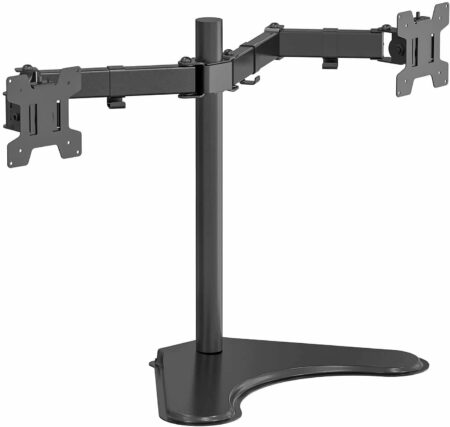 This dual monitor stand from WALI is free standing, which means it doesn't need to be mounted to the side of your desk. This can be great for those of you with limited space who have your desk flush up against a wall or some other furniture and don't have the space required for a mounting bracket to be installed. It does include a mounting bracket for drilling through your desktop and securing it, which might be a smart move if you're not using your monitors centered over the stand. But it's a small price to pay to avoid having large brackets hanging off the back of your desk. It's rated for monitors up to 27 inches and 22 pounds per arm.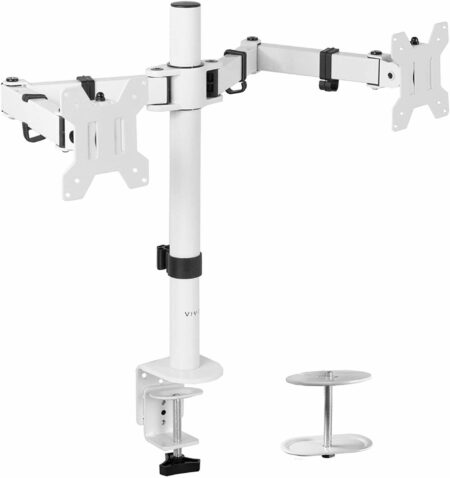 On the more traditional side of things is the VIVO stand, with a clamp style mount for attaching to the side of your desk. It has the same restrictions as the WALI mounts at 27 inches and 22 pounds per arm, along with height and tilt adjustment (with height being adjusted up and down the vertical pole). Notably, it also comes in white for those of you wanting to color-coordinate your desk setup, and it also offers grommet installation for those of you who don't mind drilling through your desk to secure your monitors.
Another from VIVO, this time in a vertical orientation. That more stable setup does allow for up to 30-inch screens, but reduces the weight limit to 17.6 pounds per mount. It also offers some limited tilt and height adjust, but the stacked orientation introduces some limits in how adjustable this stand is. Thankfully this vertical design means that it's much less likely that your screens tip over, since the removal of extending arms keeps the weight centered.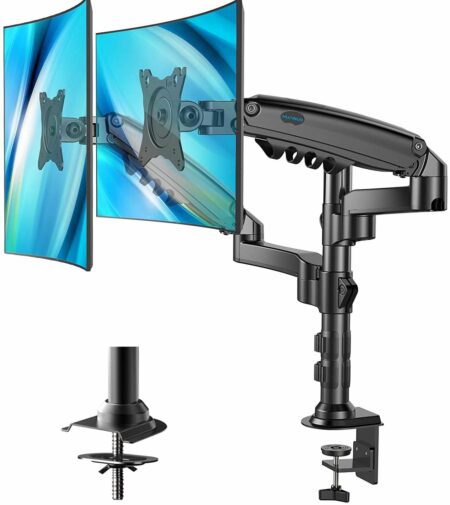 This stand uses the same center-pole setup that the previous two do but opts for much more adjustable gas spring arms over fixed arms. It's still a bit more space-efficient than true dual arm designs, and height adjustment is easier. Those arms can handle up to 32 inches and 19.8 pounds per arm, and offer cable runners under each arm. The whole setup attaches via clamp mount and includes adjustable tension for the gas spring mechanism.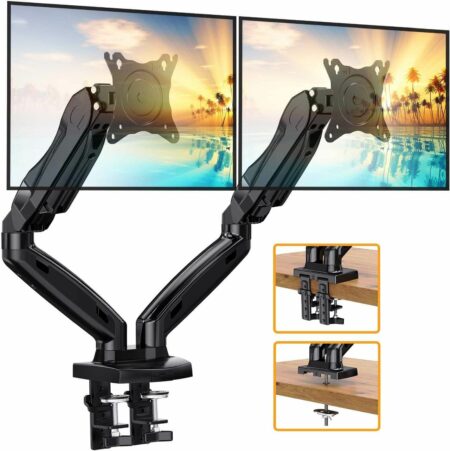 ErGear's offering also uses dual gas spring arms, but opts for a more separated arm design. Instead of sharing a single pole, both arms operate independently, which is nice for those who position monitors at very different angles, or different orientations for various tasks. It uses a dual clamp design that's bulkier than the previous desk clamps, but that's a necessity for arms that allow for the wide distance. Theoretically, it's even possible to position these arms such that they're facing opposite directions. For example, if you share a desk space with someone and want a single mount point for both of your monitors. Although to mount in the middle of a desk you'd have to use the included grommet mounting, which necessitates a mounting hole.
MagicHold 4 Arm Stand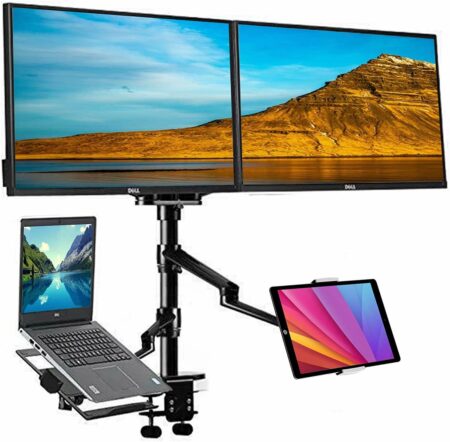 What's overkill for some is just business as usual for others. If you're the type of person that just needs to multi-task to get through the day, then this stand from MagicHold should have everything you need. It sports a standard dual monitor arm on a single pole with a mounting bracket, but throws in a laptop stand arm and table holder so you can truly have everything in one place. The monitor arms can accommodate up to 27-inch monitors at 19.8 pounds, up to a 13-inch tablet via universal mount, and up to a whopping 17.3-inch laptop with the included stand bracket. Yes, it looks a bit silly. But who's going to be laughing when you're twice as productive as the next person?
Related: 2021's 6 Most Stylish Computer Cases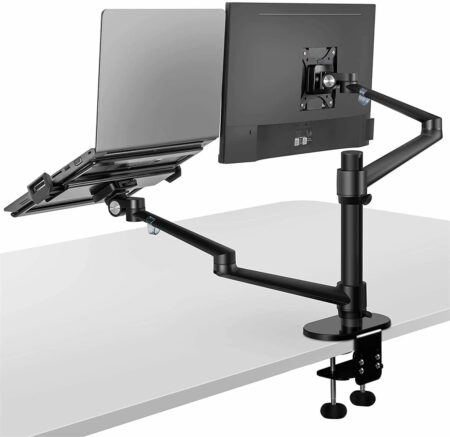 Gaming laptops are more available, affordable, and functional than ever. But sometimes it's a pain to be tied to a single screen with your gaming laptop, no matter how large. The Viozon seeks to solve that problem while also letting you keep your laptop screen real estate with its combination laptop monitor mount. One arm is fitted with your standard VESA bracket (with the ability to handle up to a 32-inch 19.8 pound monitor) while the second arm is a dedicated laptop bracket (that can handle up to a 17-inch laptop.) So if you're looking to do some dual monitor gaming with your laptop then you don't have to sacrifice ergonomics to do so. And the entire setup attaches using a standard dual-pole desk clamp.
If you're the kind of person that likes having dual monitors but hates missing out on all the desk space covered by the second screen, then dual monitor stands are an easy solution. When choosing one, do be aware of the size and weight limitations of the respective stand you're considering, because over-loading one could lead to disastrous results. But the feeling of having a nice, clean desktop and monitors that you can finally adjust to your liking really does make for a wonderful experience.
For more hardware recommendations, check out 2021's 5 Best Budget Microphones for Streaming | Budget Streaming Mics and 2021's 5 Best Gaming TV's for Playstation 5 on Pro Game Guides.