When choosing your gaming chair, you will see a lot of leather on the market. Sometimes leather isn't always the best option though. If you can't pull off leather or prefer a softer material then a fabric gaming chair is the perfect choice for you. These chairs offer the same features and quality that you can find in leather gaming chairs but come with breathable and stylish fabric. But just like leather gaming chairs, there are a lot of fabric gaming chairs out there as well much can make it hard to choose the best seat for you. For those who have trouble deciding which is the best choice, you can find some of the best fabric gaming chairs below.
When it comes to gaming chairs, AKRacing is a household name and they excel at crafting stylish-looking and comfortable chairs. The AKRacing Core Series is no exception. It features 100% breathable polyester fabric and high-density mold shaping foam to provide maximum comfort and comes in a few options as far as color. The metal frame and anti-corrosive black paint ensure that it is durable and will last for quite some time. To provide further comfort, the backrest is adjustable and can be locked into place. It also has an adjustable headrest as well as cushions for the headrest and lumbar support that can be removed when not needed. IT has 3D adjustable armrest so you can find the perfect position. One thing that makes AKRacing's chairs stand out is their wide seat which keeps you from feeling cramped while playing. The AKRacing Core Series EX Gaming Chair is available for $399.00.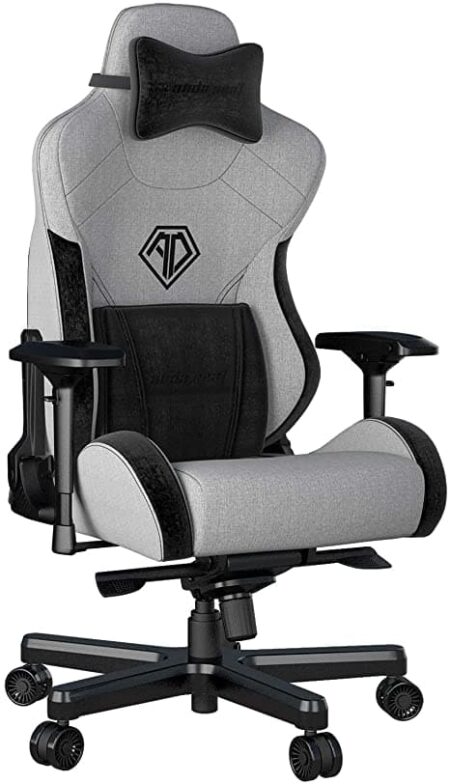 The Anda Seat T-Pro Linen Fabric Edition is an excellent chair that competes for the spot of best fabric gaming chair. What makes it special compared to other fabric gaming chairs is the material the fabric is made from. It is a synthetic linen fabric that offers a smooth, airy feel that enhances the ergonomic design that comes in grey, blue, or black. Underneath this is high-density padding that you can just sink into. The backrest can recline and lock anywhere in its 90 to 160-degree angle. To provide further back support, it includes a lumbar pillow as well as a headrest pillow. The armrests are capable of 4D adjustment so you can further customize your comfort. The Anda Seat T-Pro Linen Fabric Edition is crafted with a mix of steel and aluminum to ensure its durability. The main downside of this chairs is its price tag of $499.00 which is on the high end.
The Arozzi Torretta XL is a great gaming chair for those who spend extended amounts of time gaming and need a comfortable seat. The XL version offers a wider space for those who need it but also comes in a smaller size. Its backrest is capable of reclining between 90 and 145 degrees as well as rocking. The armrests offer 3D adjustable movement for further comfort. The Arozzi Torretta XL is crafted with a soft fabric, cold-cured foam, and includes a head cushion as well as a lumbar pillow. Its frame and base are made of metal and ensure the chair will last a long time. For those who prefer a lot of space, the chair's height can be adjusted so that you are free to spread out as much as you want. The major downside of this chair is its price tag of $571.00 but it does go on sale for those who can wait.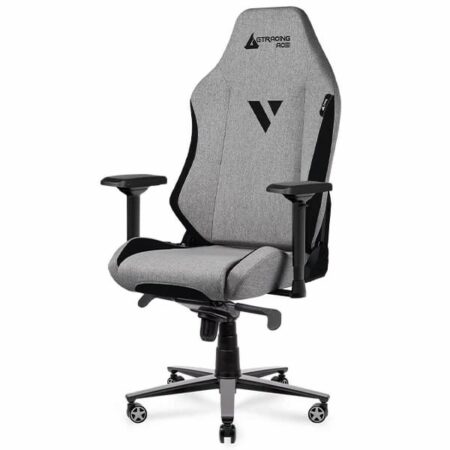 Those on a budget will be delighted with GTRacing Ace M1 Beige Fabric as it offers a lot of great features for a great price. This chair was designed to eliminate fatigue from long sessions and improve posture. To offset this price though, the chair has something of a basic look and only comes in the beige color. Where it excels are its features such as being able to recline up to 170 degrees and lock at any angle. It also has 4D adjustable armrests to pair with the reclining backrest. For comfort, the GTRacing Ace M1 Beige Fabric Gaming Chair has high-density foam padding as well as a neck and lumbar support cushion. The steel frame and aluminum base will ensure that this chair remains intact for a long time. The aforementioned budget shopper will be very happy with its price tag of $359.00 which goes on sale frequently for much less.
Related: 2021's 7 Most Unique PC Cases
Secretlab Titan / Omega
The Secretlab Titan and Omega chairs are top-of-the-line chairs that they continually improve upon by putting out a new series each year. Secretlab has every gamer in mind and offers multiple sizes in their chairs hence the Titan series and the Omega series. Both models come with a unique soft weave fabric that is extremely high-quality. Combine this with its high-density cold-cured foam and you won't want to get out of your seat. The backrest is capable of rocking and reclining between 90 and 165 degrees. Paired with the 4D armrests and you can customize your sitting position however you want. What's more, is the lumbar support will adapt to your spine to personalize your comfort. The Secretlab Titan and Omega chairs also offer some of the most expansive options for customizing the look of your chair varying between colors and designs lifted from games and Esports teams. This chair starts at $449.99 and can be more depending on what options you select.
When it comes to choosing the right chair for you, there is a lot to consider and you need to ensure that your seat is comfortable. After all, nobody wants to sit for long periods in an uncomfortable chair. Comfort comes at a cost though and some of these chairs can become expensive quickly. That being said, your best bet is to go with the Secretlab Titan or Omega depending on your size. If budget is a concern, the GTRacing Ace M1 Beige Fabric Gaming Chair is also an excellent choice.
For more information on hardware, check out 60Hz vs. 144Hz: What's the Difference, and Why Does it Matter? and 2021's 6 Best 4K Gaming Monitors on Pro Game Guides.