When it comes to gaming comfortable the most important aspect is where you park your body and so you'll want to make sure you pick the right gaming chair for you. That doesn't mean you have to settle on some plain Jane-looking hardware. Most gaming chairs now are built comfortably without sacrificing their stylish looks. Gaming chairs even come with RGB lights now like mice, keyboards, and other gaming accessories to truly stand out. With many manufacturers producing RGB gaming chairs, it can be overwhelming trying to decide the best option for you. However, you're in luck because we have compiled some of the best options out there so you can just take a seat and relax.
Asus ROG Chariot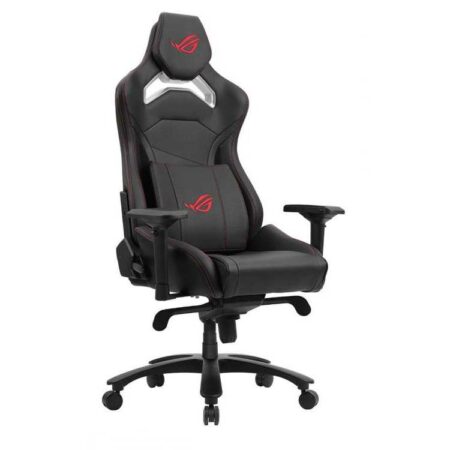 The Asus ROG Chariot is a vessel fit for the ancient Egyptians, you know if they had video games back then. Regardless, you will find this chair to be quite comfortable and enjoy its stylish and sleek look. The RGB lights are located beneath the headrest and on the rear of the chair. Unfortunately, this means that you can't the lights yourself unless you have an intricate series of mirrors positioned. On the plus side this means you won't get distracted by the lights and if you stream, they can produce a subtle glow coming from your back. To provide comfort and support, Asus has made nearly everything on this chair adjustable. The headrest and armrests can be moved up or down, the back can be adjusted from 90 to 145 degrees, and the chair itself can be raised or lowered for your preferred height. Additionally, the Asus ROG Chariot has two straps on the back that function as a great place to hang your gear provided it doesn't weigh more than 5 lbs. This chair also has built-in lumbar support to prevent backache during long sessions. One more downside is that this chair requires a power bank that isn't included but does come with a pouch to store it once purchased. The Asus ROG Chariot is available for $599.99 through Asus' website and can be paid off in installments.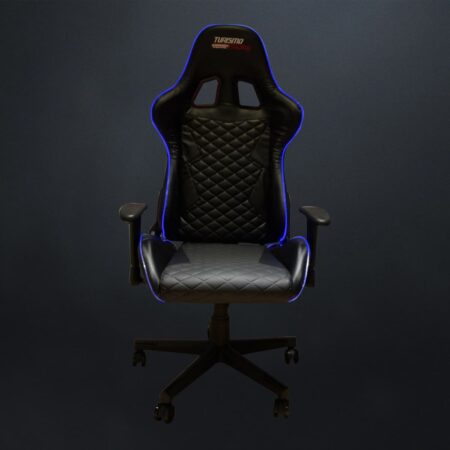 affThe Crotone RGB LED Gaming Chair is not only intended for fans of racing games as the name might imply but gamers of any kind will love this chair. It comes jam-packed with features seen in most gaming chairs and sports an incredibly stylish design. The RGB lights line the edge of the chair, running from the top of the headrest to the bottom of the seat. For comfort, the backrest is adjustable up to 180 degrees so you can sit however you'd like. Both the height of the chair is adjustable as well as the armrests which can move in any direction for maximum comfort. Where this chair shines is the perforated leather and memory foam of the seat. For even more comfort it comes with two pillows made of Japanese bamboo charcoal fiber for the headrest and lumbar support. With all these features you might expect a large price tag, but the Crotone RGB LED Gaming Chair is available for $349.95. With this chair, you'll find yourself racing home to take and seat and play your favorite games.
This is the gaming chair that will become your new best friend due to all the features included. The Ershy Gaming LED Lights Chair stands out from the crowd thanks to the added massage capabilities. That's right, you can get a massage while playing video games. This comes in handy during long sessions when your back may begin to ache. Combine this with the adjustable backrest, high-density sponge cushion, and retractable footrest and you will be comfortable you'll feel like you are sitting on a cloud. This chair even comes with RGB lights that have color-changing modes and line the sides of the chair. Additionally, the Ershy Gaming LED Lights Chair has an adjustable height, 360-degree swivel, and sliding handrail armrests. All of this comes at the price of $399.00 which isn't bad at all for the included features.
The Homall Gaming Chair with RGB LED Lighting is quite a nifty seat that comes packed with excellent features. First and foremost the RGB lighting on this chair is on the sides and looks really nice, almost forming an outline of you as you sit. The lights themself can be set to four different modes: static, rolling, breathing, and stacking. They also come in 7 different solid colors or can take on the classic rainbow look. The backrest of the chair can be adjusted from 90 degrees up to 150 degrees. The backrest also has an ergonomic design as well as a head cushion that can be removed. The armrests can be adjusted up, down, left, and right so you can find the most comfortable position. It comes with the expected adjustable height and can swivel as well. Taking care of your backside is the memory cushion built into the seat that won' deform easily. Not to worry, all this comfort does not come at the sacrifice of looking stylish as Homall has designed a chair that excels at both.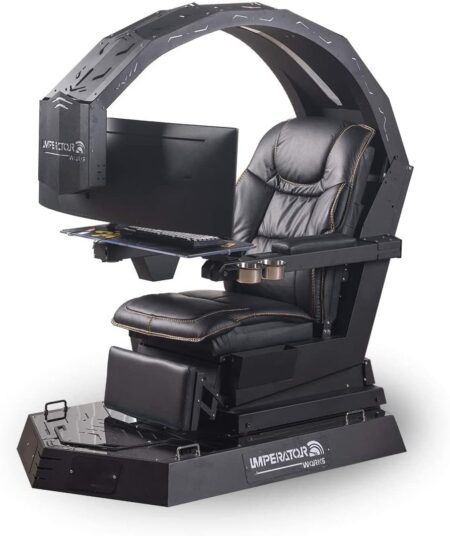 The Imperitorworks IWR1 truly stands out from the competition mainly due to its unique design, almost looking like a giant scorpion. Before purchasing this behemoth of a chair you should first make sure you have adequate space as it does take up quite a bit. Secondly, you should make sure your wallet can take the hit because this baby has a price tag of $3999. With that bit of business over we can dive into the fun stuff: features. The Imperitorworks IWR1 comes with a built-in monitor and workspace, thus eliminating the need for a desk. The monitor is built into the arching tail portion of this chair and can be moved out of the way and can have additional monitors attached. The chair is quite comfortable to sit as it has genuine leather and nearly all of its components can be adjusted for your personal preference. Some nice details are built-in cup holders and multiple USB ports. Finally, the RGB lights line the backside, top of the frame, sides, near the logo, and on the base which can be activated via buttons on the frame. These RGB colors come in various presets which can be changed with the included remote control.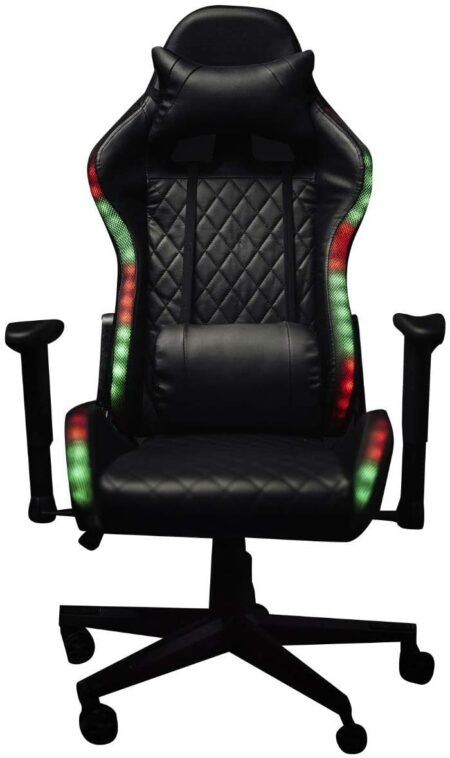 Not everyone has $3999 in order to purchase the Imperitorworks IWR1 and if you find yourself in this category, then the JDL Gaming Chair is the perfect place to park. Coming in at $159, this budget-friendly chair still has many features you wouldn't expect with its low price. Even at this low price, the JDL Gaming Chair has an ergonomic design that provides great back support and comes with an additional pillow for more lumbar support. The backrest is adjustable from 90 degrees to 180 degrees and the chair has swivel and height adjustment. Additionally, the armrests are also adjustable to round out your preference of comfort. The JDL Gaming Chair also has RGB lights along the sides which can be set to multiple lighting modes such as continuous or intermittent. It can also be set to cycle automatically for those who the chair to do the work.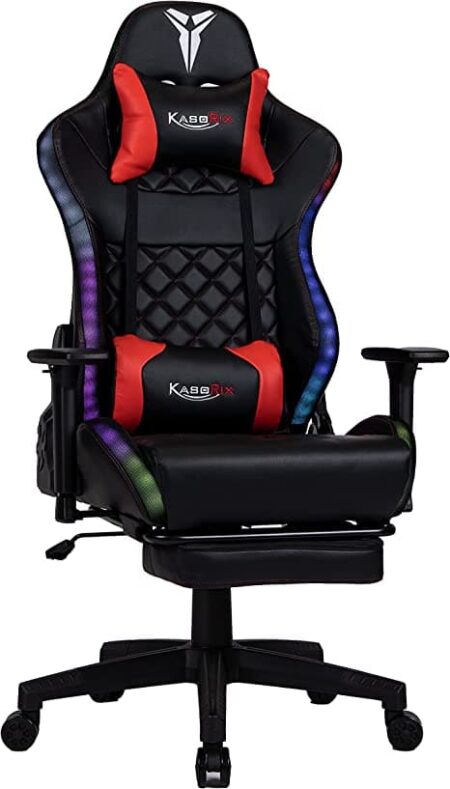 Another fantastic budget option is the Kasorix RGB Gaming Chair at only $219.99. Despite its low price, this chair has many features you'd expect in a high-end gaming chair. The RGB lights on this chair come in multiple colors as well as combinations and both a static and dynamic mode. These lights can be controlled via remote control. The Kasorix RGB Gaming Chair also excels at comfort, featuring a backrest that can be adjusted to multiple angles from 90 degrees to 170 degrees. One feature that isn't common is the built-in retractable footrest that allows you to game comfortably or take a nap. The armrests themselves are also adjustable and the chair has a 360-degree swivel for all angles. Finally, the Kaosirx RGB Gaming Chair has multiple ports for you to connect other devices to the chair.
Riotoro Spitfire X1S Plus
The Riotoro Spitfire X1S Plus is a lovely chair that comes in the middle of budget and high-end gaming chairs. One key feature that isn't seen often is the built-in speakers which are Bluetooth capable. While it is a nice feature, the sound likely won't match a pair of headsets or dedicated speakers. Comfort is adjustable on this chair as you can adjust the angle of the backrest as well as the height of the chair and armrests. For RGB lights this chair is lined on the edges of the seat and backrest making them visible while you play. They can be changed as far as color, brightness, and mode all through the included remote control. The main downside to this chair is that no power supply is included, but at $300 you should be able to find a suitable power supply.
Related: 2021's 5 Best Mini PCs for Gaming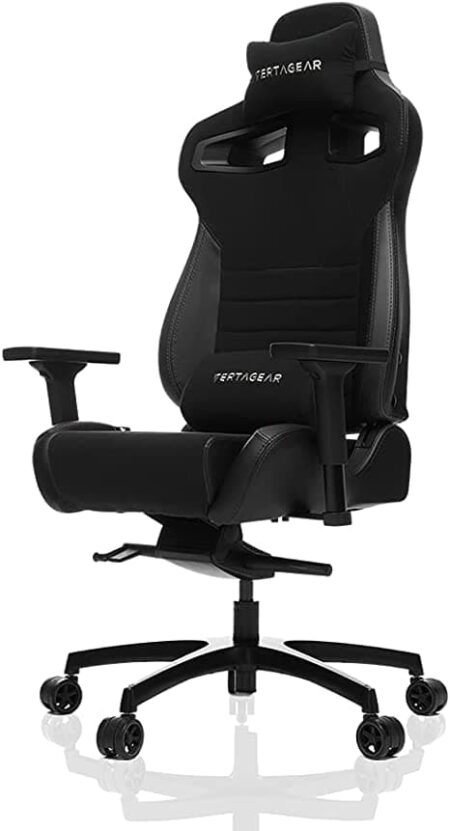 The Vertagear PL4500 stands out from other gaming chairs due to the fact that its RGB lights can be removed at any time. The RGB light upgrade kit is sold separately and a bottom light kit is also available. The upgrade kit places lights surrounding the vents located at the headrest and the bottom kit will line the base of the chair. Both lights can be controlled via a remote and feature different colors and modes. Another unique feature of this chair is the fact that it is made from HygennX Technology which is a fusion of Coffee Fiber Padding and Silver Lining Embroidery. The coffee-infused fiber is designed to limit odor, increase breathability, and maintain bacteria control. For comfort, the Vertagear PL4500 offers full lumbar support, adjustable 3D armrests, adjustable seat height, and adjustable backrest recline. At a price of $489.99, the idea of purchasing a separate kit in order to have RGB lights is unfortunate, but once installed you will soon come to love this chair and look forward to sinking into it to play your favorite games.
The X Rocker Torque 2.1 is a budget-friendly gaming chair that is aimed more at console players due to the design of its base. Without having wheels, PC players may have some trouble stepping away from their desks so this chair suits console players a bit more. The RGB lights are designed to be subtle, only lining the headrest, but are able to be set to 30 different settings. A great option for console gamers are the built-in speakers, including a subwoofer, that can be connected via Bluetooth or wired. These elements the need for a headset as the speakers are built into the headrest and back of the chair for surround sound. The base itself is capable of swivel and the armrests and backrest can be folded down when not in use or getting out of the chair. Additionally, it has an ergonomic design to provide lumbar support and deeply padded cushions. For the gamer looking to save some cash, this chair is available for only $229.99.
When it comes to comfort everyone is different, but luckily most chairs come with some degree of adjustment. When it comes to comfort and the best RGB lights, you can't go wrong with the Asus ROG Chariot or Crotone RGB Lights Gaming Chair for the best of both worlds. Console players will also find that the X Rocker Torque 2.1 is a fantastic choice.
For more information on gaming and hardware, check out How to play Tom Clancy's XDefiant Closed Test? and 2021's 5 Best TKL keyboards on Pro Game Guides.