So you finally found a way to get your hands on the ever-so elusive Playstation 5. First off, congratulations on getting one, because we all know how hard that must have been. The question now is whether or not your TV at home is ready for what the PS5 has to offer.
Most 4K TVs in the market now are starting to focus on framerate and not just image quality compared to those of years past, especially with the recent uptick in the last few years of everyone getting into gaming. While they are still not as fast as most standard 144Hz gaming monitors out there, for those looking for an incredible experience and looking to make the most out of their new PS5, getting a bigger, 4K 120Hz TV is not just a great match for the Playstation 5, but actually approachable price-wise. Although the PS5 is capable of producing high-frame 4K imaging at 120fps, you should expect to play most of the current next-gen games at 4K 60fps which is still just as crisp and smooth. But with more and more upcoming titles supporting 120 fps, these TVs will futureproof you for what's to come in the next few years.
Then there's the price of the 4K TVs. There's no going around it, gaming-quality 4K televisions are still relatively expensive, although they are starting to drop in price. While prices most likely will fall come Black Friday, the standard prices of higher quality TVs can scare some people away, running anywhere between $800-$2,000. We will list the top five TVs for your new Playstation 5 that combine price with quality to help you get the most out of your money.
Related: How to use two monitors on PC | How to set up dual PC monitors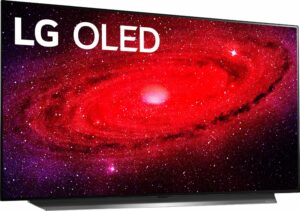 If budget is no issue, then it only makes sense to go for the best 4K TV possible to get the most out of your new Playstation 5. LG's 4K OLED CX series TVs may just be the best match for the PS5, period.
Regardless of whichever size you get (the CX comes in 48, 55, 65, and 77-inch models with the 55-inch being a perfect size), LG's OLEDCX series TV features an incredible 4K image quality with a 120Hz refresh rate making it perfect for today's fast-paced games, especially FPS games. It also features Dolby Vision HDR, four HDMI 2.1 ports that support the full 4K 120Hz display as advertised. One of the best highlights of the CX is its black levels. As minute as it may seem, the CX actually shuts off any LED pixel when the darkest scenes are required, making for a true black and not just a really dark shade of grey. This screen literally does it all and checks all of the boxes necessary for the Playstation 5 and next-gen gaming in general.
Then there's the price. The CX starts at around $1,400, but with its falling price tag, this is the best TV for next-gen consoles you can get in every way possible.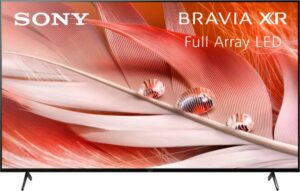 For those looking to match their new PS5 with a Sony-branded 4K TV, the X90J is just as perfect a fit as the LG OLEDCX mentioned above. Also, the X90J comes in at around $100 less than the CX at its bigger sizes as well.
The X90J comes in 50, 55, 65, and 75-inch models and features 4K resolution with a 120Hz refresh rate, again perfect for today's fast-paced games. It showcases a bright, incredibly colorful image thanks to Sony's XR Triluminos Pro technology and full-array backlighting. It may not have the same black levels as the CX mentioned above, but it comes really, really close. It also includes a pair of HDMI 2.1 ports and two HDMI 2.0 ports which is just about the standard for most 4K TVs. It also has features like Auto Low Latency mode, eARC, Variable Refresh Rate, and Google TV included allowing you to forgo a separate Chromecast for your streaming content. The pre-uploaded Google TV is a nice quality of life feature that keeps an extra HDMI port open while allowing for 4K streaming.
The 50-inch model comes in at just over $1,000, with the 65-inch sweet spot model costing just $500 more and the max 75-inch running at just over $2,000. The $1,500, 65-inch model undercuts LG's CX by $500 and is more feature-rich than the LG—if that happens to be your thing. But for those looking for an all-in-one for their new PS5, the X90J is really worth considering.
Related: 2021's 5 Best Budget Gaming Laptops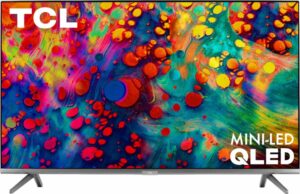 There are many that look at TCL TVs as if they're just your basic budget HDTV that gets the job done, but aren't really anything special when compared to the big names like Sony, Samsung, Vizio, and LG. Truth is, TCL is probably the underdog in the fight for the best HDTV in the market, and its pricing is so approachable that sometimes the TCL HDTVs are a better value in the end. The 6-series TVs are no exception to that and make for a great pairing with your new PS5 while saving you some money as well.
The 6-series features Mini LEDs behind its QLED panel, giving it an insane boost to brightness and allowing for much finer control of the contrast on the screen. It is a 4K 120Hz TV perfect for next-gen gaming and supports every feature that high-end TVs provide like VRR and ALLM, Dolby Vision, and HDR10+, the first two of which prevent latency and screen tearing to keep your visual experience smooth while the latter two give you the sharpest graphics that the PS5 has. It comes with the standard pair of HDMI 2.1 ports for the max 4K experience and your regular HDMI 2.0 ports and includes Google TV pre-loaded for your streaming apps.
The best part about the 6-series is its price. With the 55-inch model coming in at about $900 and the 65-inch running you not much more at around $1,200, TCL has another banger of a TV that is perfect for your new PS5 and your bank account.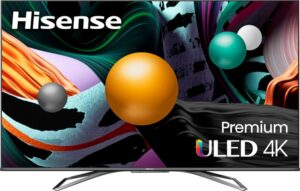 Hisense HDTVs are also another line of budget HDTVs that many see as "cheap," especially since it isn't a big name nor connected to a bigger line. However, for those who are looking for a high-quality 4K TV for their new PS5 while trying not to break the bank, it could be worth looking towards the Hisense 55U8G.
The 55U8G, like the rest of the TVs on this list, is a 4K 120Hz HDTV that also features Dolby Vision, HDR10+ along with Freesync technology that helps cut down on input lag. It may be the most affordable TV on this list along with the previously mentioned TCL 6-series that provides almost the same quality imagery as the more expensive LG and Sony we talked about earlier. The 55U8G is really designed toward next-gen gaming with HDR that supports 1,500 nits of brightness with 132 dimming zones as part of the Dolby Vision and HDR10+. As standard, it comes with a pair of HDMI 2.1 ports for the 4K experience and 2 HDMI 2.0 ports. It is smart TV capable but doesn't feature an operating service of the sort like Google TV, although apps like Netflix and Disney+ are included.
Once again the price is probably the most important or second-most important factor of this TV. With the 55-inch model coming in at about $900 and the 65-inch model running you about $1,250, this kind of straddles the line between budget and low-premium, making it an extremely affordable 4K TV considering what it provides. However, again, for those looking to save a few bucks on a high-quality, next-gen ready 4K TV, this is worth taking a look at.
Vizio OLED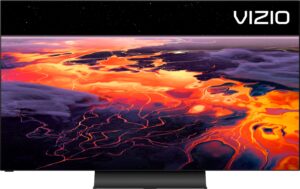 Vizio needs no introduction. In fact, it is very possible that your first flat-screen HDTV was in fact a Vizio based on one factor: high quality at an approachable price. Starting at $1,200 for the 55-inch model, the OLED series is a perfect fit for your new PS5.
The Vizio OLED features many of the same features as the TVs listed above: Dolby Vision, HDR10 and HDR10+, and 4K at 120Hz thanks to a pair of HDMI 2.1 ports with another pair of HDMI 2.0 ports for your streaming devices. Like most other Vizio TVs out in the market now, the OLED series looks great with games looking fast and smooth thanks to its 4K OLED display. It also has Vizio's ProGaming EngineTM software that optimizes the HDTV for next-gen gaming's smoother graphics and high response rates.
For just $1,200 for the 55-inch model and $1,800 for the 65-inch model, the Vizio OLED is as close to a perfect alternative to the LG and Sony 4K TVs on this list, undercutting the prices by around $100 for the 55-inch models and a bit more for the bigger 65-inch. By now, Vizio has proven that while they may be a bit cheaper than the big brands of the market, they can hold their own easily by providing the same high-quality imagery at an approachable, reasonable cost.
For more Hardware Guides, check out 2021's 7 Best Cable Management Boxes | Best Cable Organizer Boxes on Pro Game Guides!