The Xbox Series X and even the more affordable Xbox Series S may be two of the best consoles that Microsoft has ever developed, both featuring incredibly high-end graphics, faster and smooth framerates, and quicker load times than ever before. With the Series X reaching 4K and 120Hz and the more next-gen entry-level Series S hitting 1440p (2K) at 120Hz, both consoles deserve the best new 4K TVs to match their speed and power.
Pairing your new Xbox with the right TV will only help you experience what Microsoft is bringing to the living room in this next generation of gaming (or bedroom, or gaming room, whichever). If you still have the standard 1080p flat-screen HDTV, you are probably missing out on all of the graphical achievements that Microsoft has made—along with playing today's games at a much slower pace—since most regular TVs today only go as fast as 60 frames per second. Once you go 120fps and beyond, you never want to go back to the standard 60fps.
We've listed five of the best TVs to pair with your new Xbox Series X or Series S that pair their own performance with that of the new consoles and will leave your jaw on the floor, regardless of whichever console you picked up.
Related: 2021's 5 Best Modems for Gaming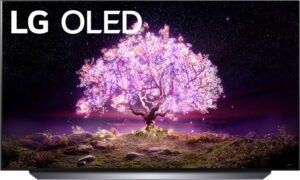 You are going to see an LG 4K TV twice on this list because, if money is no object, LG's are probably the best TVs you can get for next-gen gaming, regardless of whether you have either of the two new Xbox consoles or a Playstation 5. The C1 doesn't just match power for power with the Series X and S, it brings a bevy of features as well.
The LG C1 Series 4K TVs come in a 48, 55, 65, 77, and 83-inch models and deliver 4K resolution at 120Hz with Dolby Vision HDR, HDR10 and HLG providing incredible clarity and fluidity. It also features four HDMI 2.1 ports for a full 4K experience throughout all of your supported devices as well. But one of the best parts about the C1 series is its gaming-specific features, all of which add to your new Xbox experience. It features auto low latency mode (ALLM) and variable refresh rate (VRR) to keep games running silky smooth at 120Hz and the C1 also features both Nvidia G-Sync and Freesync to support PC gaming on the big screen.
So here's the catch. The C1 is quite expensive, starting at around $1,500 and more for the larger models. The pricing for a high-quality TV like this is not surprising and you do get your money's worth in the end, however, for a lot of people out there, it is expensive, especially when bigger-sized gaming monitors out there will give you the same features and even a faster framerate at just half the cost. But for those who need the TV in their main gaming room, this is the one to get.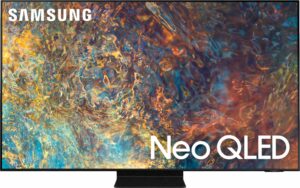 For those looking for a high-quality alternative to the LG 4K TVs, Samsung is right there with LG, running neck-and-neck with them in the race to have the best gaming TV for the next generation. The QN90A is the literal rival to the LG C1 class, bringing all of the features you are looking for and more at a lower price.
The QN90A provides a strong foundation for the Xbox Series X and S. It features the 4K, 120Hz resolution and framerate we are looking for with HDR10 for Xbox gaming alongside its own HDR10+ and HLG, but it doesn't come with Dolby Vision. Its screen is a bit different too as Samsung features its own "Neo QLED" quantum dot technology on the QN90A. The "Neo QLED" is an upgrade from previous QLED models, and features brighter, more detailed, and contrasted pictures—brighter than the LG OLED TVs out there. The QN90A features just one HDMI 2.1 port, three HDMI 2.0 ports, and includes both ALLM and VRR to keep your games looking smooth.
With prices starting at $1,500 for the 55-inch model, it almost matches that of the LG C1 TVs, although you're getting a bigger sized TV in comparison. The lack of Dolby Vision and extra HDMI 2.1 ports allows for a somewhat lower cost, but at the sacrifice of a few features that people looking to futureproof may want. But if all you need is a new TV for your Xbox and you don't care too much about your streaming devices running 4K at 60Hz, then the Samsung QN90A is definitely a worthy pickup.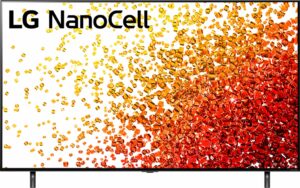 The second LG 4K TV to make this list delivers just as high-quality imagery as the C1 class listed at the top of this list, but comes in at a significantly lower price. Considering that not everyone out there needs all of the top-end features and would like to save a few bucks after buying their new Xbox, the LG Nano90 series is worth considering.
The Nano90 series is a top-end LED alternative to the LG OLEDs out in the market now. The Nano90 features the same 4K 120fps resolution that we all are looking for in a new gaming TV, along with HDR VRR and ALLM, and Dolby Vision to keep your gaming looking sharp and smooth. It also has two HDMI 2.1 ports and two HDMI 2.0 ports to allow you enjoy your streaming devices with the same 4K resolution as well.
The best part about the Nano90 is its price. Starting at under $1,000 for the 55-inch model, this TV does everything we're looking for for the new Xbox consoles and next-gen gaming altogether, while not breaking as bank as much as we think it will.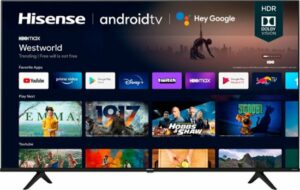 If you are really, really not looking to spend much on a new gaming TV, the Hisense A6G brings most of the features we're looking for in a new gaming TV while running you less than $500. Yes, you read that right, this gaming TV makes our list of best gaming TV's for the new Xbox, and costs just as much as the Series X. Although, that part comes with a catch.
The A6G comes in about five sizes starting at a base 43-inch model and growing as big as 75-inches. It features 4K resolution, however at 60Hz and not 120Hz, but the A6G makes up for the lack of framerate with both ALLM and VRR to keep up with the need for high graphics shown at a smooth framerate. While 60fps seems slow compared to 120fps and above, it is still the standard for today's games, so you're not fully behind the curb, so to say. Despite its lack of high-end features, the A6G produces surprisingly top-quality imagery with Dolby Vision helping a lot with that, making it work well with next-gen gaming and today's television in general.
The Hisense A6G may not be the sexiest or feature-rich TV out there. But considering that this is technically the top-budget 4K TV out there that's designed with next-gen gaming in mind, and it starts at just $500, this is easily the top budget contender on the market now.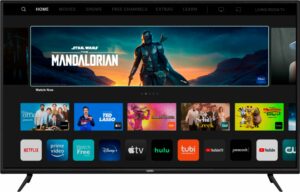 If you're on a tight budget, and want a top-name for your new gaming TV, Vizio is certainly the way to go. While Vizio TVs aren't necessarily made for next-gen gamers specifically, or gamers in general, the V Class brings the bare minimum of everything you'll need for your new console without making another big dent in your wallet.
The V-Class series of 4K TV's is aimed specifically at those on a tight budget and only those on a tight budget. If you have the money to spend on a new gaming TV, you can look elsewhere. It doesn't have a ton of gaming-centric features like some of the other TVs out there have, the screen isn't as bright as some would like, although it is still as bright as it needs to be and it is more HDR-compatible than HDR-featured. However, where this TV shines is in its speed and for a TV that will run you no more than $600 (you read that right… "no more than $600), the Vizio V-Series has an incredibly low input lag which allows for smooth gameplay at 4K 60fps.
For the college or even high school kids out there who want to spend some money on a new gaming TV, but not a lot, this really is worth considering solely on its speed alone. With the price starting at just over $450 for the 50-inch model and just over $600 for the 70-inch, you are getting size and speed at a really, really good price. Easy budget bargain pickup or as good as any stop-gap TV can get.
For more Hardware Guides, check out 2021's 6 Best Budget Gaming CPUs | Best Value CPUs on Pro Game Guides!