Buying a mouse pad is more complicated than you might think. Gaming mouse pads are divided into two categories: hard surface and soft surface. The different surfaces will provide different kinds of movement for your mouse and as a result, are intended for different kinds of games. Hard surface mouse pads are typically made from hard plastic or metal and offer a flat surface with little to no friction. This allows you to make sweeping movements much easier, but it is also harder to stop. These kinds of mouse pads are also much easier to clean than soft mouse pads which are typically made of cloth. Even amongst hard surface mouse pads, there is plenty to consider and choose from. For that reason, we have compiled a list of the best choices out there which you can find below.
Corsair mm1000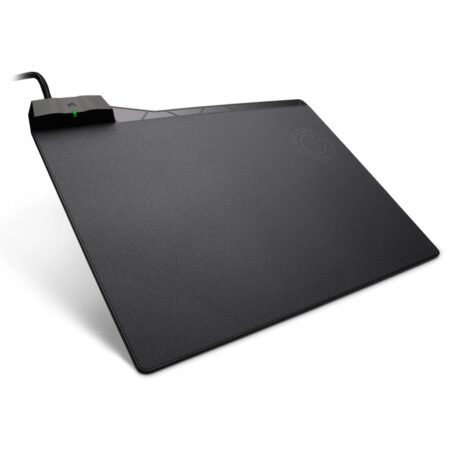 The Corsair mm1000 is a feature-filled hard surface mouse pad that works great for those who have multiple devices. The primary appeal of this mouse pad is the Qi wireless charging spot built into it. This allows you to charge any device that is compatible with Qi charging. For other devices, you can use the included USB Micro-B, Type-C, and Lightning Qi charging adapters which allow you to charge almost any device. The charging status LED indicator allows you to monitor the charge of your device as you play. Its micro-textured hard surface allows you to use optical or laser mice with fine-tuned precision. The Corsair mm1000 is a good size at 260mm by 350mm which puts it in a large category without being too big. For stability, it has a non-slip rubber base so you can control your mouse without having to worry about shifting your mouse pad. The Corsair mm1000 is available for $79.99.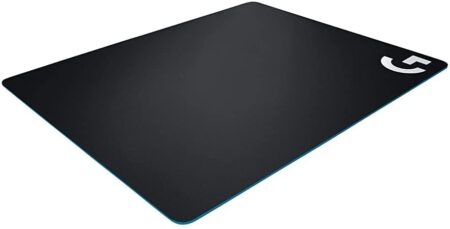 Logitech has crafted an outstanding hard surface mouse pad with the Logitech G440. It was specifically designed to offer low surface friction and ensure high DPI gaming. Its consistent smooth surface will give you a smooth glide when you move your mouse even when using little to no pressure. The Logitech G sensors provide greater tracking for increased performance and precision. The rubber base keeps the Logitech G440 mouse pad in place and stable to prevent mishaps while playing. It is comprised of multilayers with a hard tracking surface on top and a strong polymer core. This provides enhanced durability that can withstand the most intense games. The Logitech G440 hard surface mouse pad is also budget-friendly. It is $29.99 but regularly goes on sale.
Related: The Best Ambidextrous Gaming Mouse: 2021's Best Ambidextrous Mice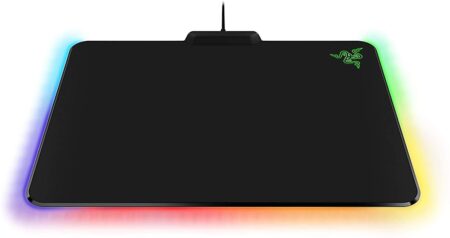 The Razer Firefly Chroma takes advantage of all that Razer has to offer. It stands out especially with Razer's sharp and stylish RGB lights. They line the outside of the hard surface mouse pad and highlight its look. Razer's Chroma allows you to personalize this mouse pad with 16.8 million colors and lighting effects. You can match it with Razer Synapse and have all your gear in sync. The Razer Firefly Chroma also has a precise and consistent surface that gives precision and complete control of your mouse movements. Its micro-textured surface is also calibrated for all optical mice for greater accuracy. It even has a built-in cable catching to keep your mouse wire out of the way while playing. Finally, the anti-slip base will ensure it stays in place. The Razer Firefly Chroma is available for $49.99.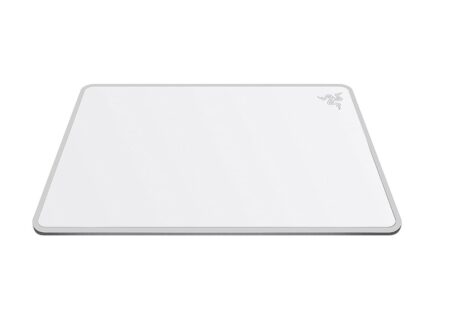 When it comes to needing options, the Razer Invicta is an excellent choice. The reason for this is that it features two surfaces designated for different games. This new coating allows you to play at your best regardless of what you are playing. The slick speed surface allows your mouse to glide freely and quickly due to its smooth hard surface. The rough-textured Razer control surface has the optimum level of resistance for measured movements and a tactile feel. Regardless of which surface you use, it is encased in an aircraft-grade aluminum base for enhanced durability. So while the Razer Invicta is a fantastic hard surface mouse pad, it can change into a soft surface mouse pad when you need it. This means you can purchase one pad and be set for whatever game you play. Swapping the surface is also quick and easy meaning you can be ready to play at any time. The Razer Invicta is no longer available on Razer's website so its price depends on where you purchase it. Still, it is a fantastic option for those who want flexibility in their mouse pad.
Related: 2021's 8 Best Long Gaming Mousepads
The SteelSeries Qck has a micro woven surface that is optimized for both low and high DPI gaming. Its smooth hard surface eliminates unwanted movements and allows you to freely move your mouse. It offers pinpoint accuracy for both optical and laser mice meaning you can pair it with almost any mouse. Its non-slip rubber base keeps it stationary so you don't have to worry about it sliding while playing. Despite its hard surface, this mouse pad can be rolled up easily, making it quite portable. The SteelSeries Qck comes in a variety of sizes, ranging from small to a 5Xl that can cover your entire desk. The price of this mouse pad will vary depending on what size you select, but it ranges from $7.99 for the smallest size to $99.99 for the largest size. With so many options, the SteelSeries Qck is the perfect hard surface mouse pad for any budget.
It can be difficult to choose which hard surface mouse pad is best for you. You need to weigh your budget, the size of your desk, and what kind of features you want. This decision is also influenced by what kind of mouse you use as some mouse pads are better optimized for either optical mice or laser mice. The best bang for your buck will be the Logitech G440 or the SteelSeries Qck. If you want additional features such as wireless charging, RGB, or the ability to switch your mouse pads surface, then the Razer Firefly Chroma, Razer Invicta, or Corsair mm1000 would be the better option for you.
For more information on hardware, check out 2021's 5 Best White Gaming Keyboards and Mechanical vs. Membrane Keyboards: What's the Difference? on Pro Game Guides.