Any gamer worth their salt knows that gaming can get hot and that one of the most dangerous things for electronics is heat. So you will want to keep your gaming device cool. Rather than buying a series of box fans and turning your home into a winter wonderland, you should look for accessories specific to what you need to cool. For laptops, you will want a laptop cooling pad. These typically run off the laptop's power through USB and use one or more fans to cool your laptop and disperse airflow. There are a vast number of laptops out there and even more cooling pads out there. Which cooling pad works best for you depends on how big your laptop is, is it for gaming, and how you use it. Below you will find some of the best options when it comes to laptop cooling pads.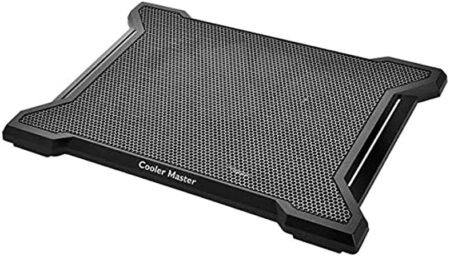 Chances are, if you are gaming on a laptop then space or mobility is a concern for you. If that is the case, then the Cooler Master Notepad X-Slim Laptop Cooling Pad is the perfect choice due to its slim yet heavy-duty profile. This cooling pad features a mesh surface and one 160mm fan capable of 1,500RPM. A bonus of the Cooler Master Notepad X-Slim Laptop Cooling Pad is the cable groove that makes cable management a breeze. Additionally, this cooling pad is powered by a pass-through USB cable so you don't have to sacrifice a USB port on your laptop. It comes in two different sizes that can accommodate 15" and 17" laptops with two height settings. An added perk is the LED lighting stripe that will fit right in with RGB gaming accessories. The Cooler Master Notepad X-Slim Laptop Cooling Pad is also a great budget-friendly option as it only costs $19.99.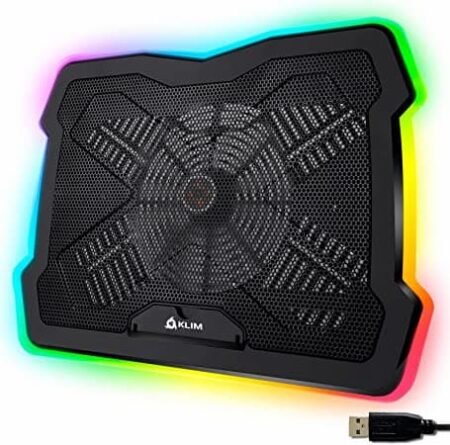 You can cool off in style with the Klim Ultimate RGB Laptop Cooling Pad! That's right, this cooling pad features an RGB rim that has five different effects and seven colors to match your other gaming accessories. The 200mm fan has a speed of 750RPM to keep your laptop cool while you game. Klim has also designed this cooling pad to be as quiet as possible so it won't distract you from your game. It was designed for laptops up to 19" and has four incline settings to offer multiple angles. It was crafted with a metal grid surface as well as a collapsible stopper on the front to prevent your laptop from sliding off. The Klim Ultimate RGB Laptop Cooling Pad is powered through a USB cable. This cooling pad is available for $72.97 but typically goes on sale for much cheaper making it quite a steal.
Related: 2021's Best Mouse for Gaming: 5 of the Best Gaming Mice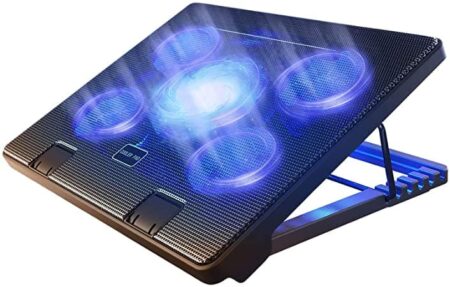 The Kootek Cooling Pad offers five built-in fans to keep your laptop cool. It has one big fan in the center of the cooling pad surrounded by four smaller fans. Two switches allow you to use one, four, or five of the fans depending on how much cooling you need. The fans come equipped with a blue LED light that will let you know which fans are running. The Kootek Cooling Pad features a dual USB hub and an ergonomic design that is capable of six different height settings. On the front are two stoppers that can be folded down when not needed. The USB power cable can be removed when you need to store the cooling pad or don't need to run the fans. This cooling pad is capable of holding and cooling laptops ranging from 12" to 17" and is available for $32.99 but does go on sale often.
The Targus Chill Mat features dual cooling fans capable of 2,500RPM that will keep both you and your laptop chill. The ergonomic tilt and soft neoprene bottom will also provide comfort and an excellent angle to game at. Its slim design also makes it easy to take on the go or store when not needed. The open space of the cooling pad prevents your laptop from getting too hot and disperses the airflow evenly. When you need to use the fans, simply grab the USB cable from its hideaway location and plug it in. Additional cables can be managed by the built-in Velcro strap which keeps them neat and out of the way. It also has four built-in USB ports for those who need extra connectivity. The Targus Chill Mat is adjustable at four different height levels which can accommodate an external keyboard if needed. This laptop cooling pad is available for $39.99 but often goes on sale.
Related: 2021's 6 Best White Gaming Desks
Thermaltake Massive Laptop Cooling Pad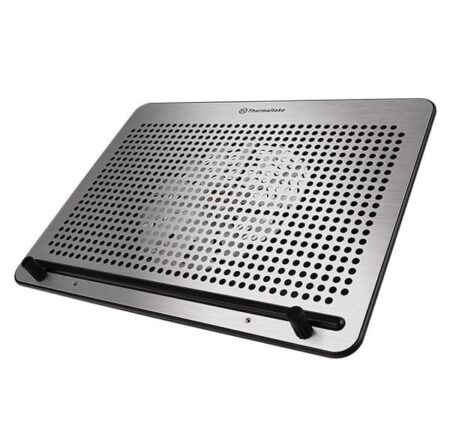 The Thermaltake Massive Laptop Cooling Pad earns its name from the very massive fan directly in the center of this cooling pad. The 200mm fan is capable of 800RPM and both enhances airflow and disperses heat to protect your laptop. It features a fan speed controller as well as a power switch so you can adjust how much cooling you need. The ergonomic design features four adjustable angles. The brushed aluminum surface provides a simple and clean look to this cooling pad and aids in dispersing heat. The Thermaltake Massive Laptop Cooling Pad has an additional model that features dual 120mm fans capable of 1,300RPM and more importantly a temperature sensor with an LED display. You'll have to pay extra for the dual fan model which costs $69.99 instead of the standard model's price tag of $44.
With so many options to consider, it can be hard to know which laptop cooling pad is best. We recommend taking a look at the Klim Ultimate RGB Laptop Cooling Pad as it offers the most features and if you are patient enough to wait for a sale, its an excellent deal. Those who need a laptop cooling pad now should look at the Kootek Cooling Pad or the Cooler Master Notepad X-Slim Laptop Cooling Pad as they are both great cooling pads and budget-friendly.
For more information on hardware, check out 2021's 5 Best RGB Mousepads | The Best LED Mousepads and The 5 Best Lightweight Gaming Mice of 2021 on Pro Game Guides.