The eports universe demanded companies to make lighter mice for easier movement, and they got straight to work and designed mice that not only perform at a championship-level standard, but feel as light as a feather in the hand.
Lightweight mice aren't necessarily new to gaming, however lightweight gaming mice have really come into their own and found a way to combine high performance with low weight. Typically over time all lightweight gaming mice featured a honeycomb type of shell to enable mice to be very light. While that continues to be a trend more major peripheral brands are ditching the holes and designing their mice whole and solid, all the while keeping them under the 80 gram threshold that was considered to be a lightweight gaming mouse.
All the mice listed here are all under 70 grams, compared to the 90-110+ grams on average for a gaming mouse. All these mice are well under that threshold and are the best gaming mice you could look for, both for casual and competitive gamers alike.
Probably the best lightweight mouse to come out, the Glorious Model O gives users premium quality, design and precision, weighing in at just 67 grams and under $50. It's light, performs flawlessly and it's glorious.
The Model O may be one of the best lightweight gaming mice for those with larger hands. It features a featherlight, flexible cable, is built extremely solid despite its ambidextrous honeycomb design, comes with solid software and performs like a beast, and, of course, features RGB lighting.
The Model O, is PERFECT for first-person shooters and those quick hack-and-slash games, allowing for quick flicks almost too easily. It features a Pixart PMW-2260 optical sensor that has a maximum polling rate of 1,000Hz that can be dropped as far down as 125Hz if necessary in addition to a click latency of just 13ms that feels just as responsive.
Although wired mice aren't the big trend at the moment, the wire on the Model O is so light that during normal use you don't even realize that it's even there.
The Model O checks all of the boxes when it comes to lightweight gaming mice. It performs near perfectly, it is built with a very strong enclosure for a honeycomb designed mouse and it is extremely affordable at just $50. If you are looking for a strong, lightweight gaming mouse this one is too hard to pass on.
Related: The 5 Best Silent Gaming Mouse: 2021's Best Silent Gaming Mice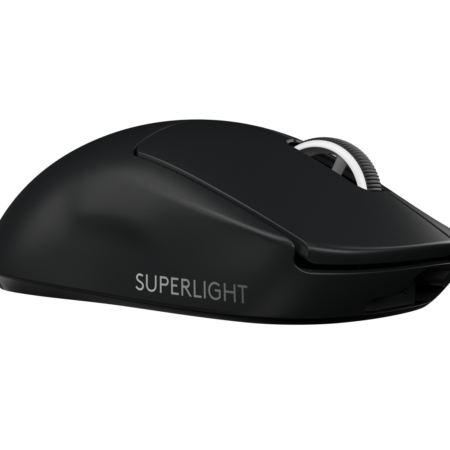 Not to be outdone, the Logitech G Pro Superlight took everything that everyone from casual gamers to esports pros loved about the G Pro Wireless, and cut about 20 grams off its weight. In short, the G Pro Wireless went on a forced diet and we now have the Superlight.
The G Pro X Superlight weighs in at just 61 grams, six grams lighter than the Glorious Model O mentioned above, and it performs just as strong and fast as its heavier G Pro Wireless older brother once again featuring Logitech's Hero 25K sensor. The biggest changes between the two are the lack of RGB lighting on the G Pro Wireless Superlight and that the Superlight uses a different scroll wheel compared to the G Pro Wireless.
The wild part is that Logitech designed a honeycomb weighted type of mouse without the honeycomb design, sacrificing just the original scroll wheel and the RGB lighting from its big brother. It also features 70 hours of battery life which while average for most wireless gaming mice is still impressive for this particular mouse considering that it achieves this feat at its current weight. Again, if you've used the G Pro Wireless, it's pretty much the same exact mouse, just 20 grams-or-so lighter.
The biggest gripe that Logitech still hasn't changed is its USB charging. The GPX Superlight still charges via micro-USB and not USB-C, which is disappointing for a mouse that'll run your pockets for about $150. Still, this is the best, and most expensive, wireless gaming mouse out in the market and you do get the premium quality and performance that not only you pay for, but expect from Logitech.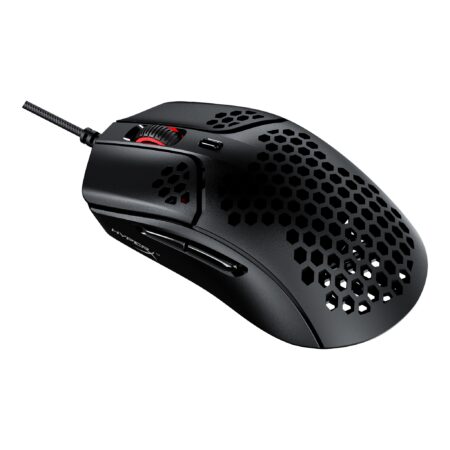 This mouse surprised everyone when it came out and its accessibility is unmatched. It was also a matter of time until HyperX got into the lightweight gaming mouse market.
The Pulsefire Haste brings all of the quality and performance that we've come to expect from any HyperX mouse and puts it all in a relatively medium-sized mouse that only costs $50 and is readily available at your local Best Buy to pick up immediately.
It rivals the Glorious Model O listed above here as far as weight, price, and performance, along with its featherweight, nearly non-existent wire. While it doesn't feature much as far as RGB lighting is concerned, the Pulsefire Haste features a trendy honeycomb design that feels comfortable in the hand and while it did everything possible to cut the weight down to just 60 grams, it did so without sacrificing performance.
The Pulsefire Haste features a Pixart 3335 sensor that tracks up to 16,000 DPI, remaining accurate at 450 inches per second. While these numbers are becoming the standard for mid-to-high level gaming mice, seeing this performance coming in at the "budget" level is pretty impressive and allows those who are either new or on a very low budget a chance at owning a high-quality, high-performance product (something HyperX has done an impeccable job of doing).
Weighing in at just 60 grams, costing just $50 and available easily anywhere, this is an esports-ready mouse that is too easy to recommend.
Related: 2021's 5 Best TKL keyboards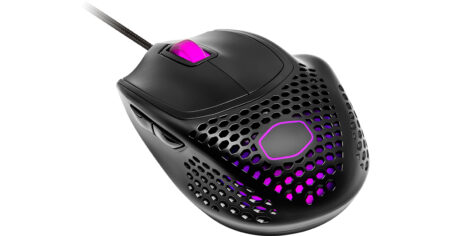 Cooler Master is more known for their PC cooling accessories. However, their peripherals have started to slowly make their way into the market and on everyone's radars, and their MM720 mouse is no exception. When compared to the other mice listed here this may be the weirdest one.
It is the best ergonomic lightweight gaming mouse out there, weighing in at just 54 grams, easily leaping over the three mice listed ahead of this when it comes to weight. It's not ambidextrous though, made more for right-handed users with a pinky rest on the right side. It also features a different, wider type of shape compared to the other mice on this list and is meant more for those who use claw grips on their mice.
The MM720 features a honeycomb design, common amongst lightweight gaming mice not named the Logitech G Pro X Superlight, and performs like a beast with its Pixart PMW 3389 sensor featuring 16K DPI, reading 400 inches per second with a 1000Hz polling rate. It may not be the fastest gaming mouse on this list, but it does manage to hang with all of them.
It's paracord-like cable doesn't hold it back from any movement and the virgin-grade PFTE feet underneath allow it to glide smoothly on the mousepad. Coming in at just $45 on Amazon, if you're a claw grip type of player, this is the mouse for you.
The Razer Viper Mini is living proof that size doesn't matter. At least not when it comes to gaming mice. The Razer Viper Mini has a few drawbacks of its own, but at just $40 and just $30 on Amazon, it's a solid, yet small, lightweight gaming mouse that should not be overlooked. Again, it's not the size of the mouse that matters, but its performance.
The Viper Mini is the Razer Viper's kid brother, literally. It's smaller and has a few different yet better features than its bigger brothers in the market. It features the same design as the first Viper or Viper Ultimate, but also features Razer's optical switches for instantaneous clicks, speedflex cable for way less drag, and 100 percent PFTE feet for smooth gliding. Unfortunately, it's not ambidextrous like a good amount of other lightweight gaming mice, featuring side buttons on its left for right-handed players.
It comes in at just 61 grams but its light weight and smaller size comes with its share of caveats compared to its big brothers Viper and Viper Ultimate,—just eight grams and 13 grams heavier, respectively. The Viper Mini only features a sensor that is limited to 8,500 DPI that reads only up to 300 inches per second. The sensor does tend to overshoot, but its click latency kind of balances that out.
Although smaller in size, and maybe a bit slower, the optical switches allow for instantaneous clicks. Razer's optical switches in both their mice and keyboards are the most innovative and fastest in the industry. Despite a smaller DPI than many would want its smaller size is better for those with small-to-medium-sized hands, and it's the cheapest mouse on this list.
For more Hardware Guides, check out The 5 Best Silent Gaming Mouse: 2021's Best Silent Gaming Mice on Pro Game Guides!