Building a new PC is always a great feeling. Getting all your components in, assembling them all together, and then benchmarking your favorite games to measure just how much better your games are running on all that shiny new hardware. But sometimes it's less about increasing performance and more about increasing flexibility. Maybe you only play older esports titles, you're trying to fit everything in a miniscule mini-ITX build, or you're just putting together a decent-enough media center PC for in-home game streaming. If that's the case then you probably don't need the most powerful graphics card on the market, but you do need something that's going to come in under budget and, more importantly, under your case size. We've tracked down the best low-profile graphics cards available for you to get your latest limited-space build off to a running start. Please keep in mind that nothing we show here today is going to be capable of doing 4K HDR or VR gaming, but it will likely give you better performance than your integrated graphics (if you have any at all). So take a look below to find out which low-profile card is right for your next build.
Please note: we discuss potential FPS (frames per second) for each card to give you a baseline for how you can expect the card to perform, but performance can vary wildly depending on your exact build. So please use these numbers as general ballpark figures only! Also please note that FPS estimations are shown at 1080p with the highest reasonably stable settings available for that title.
For passively cooled gaming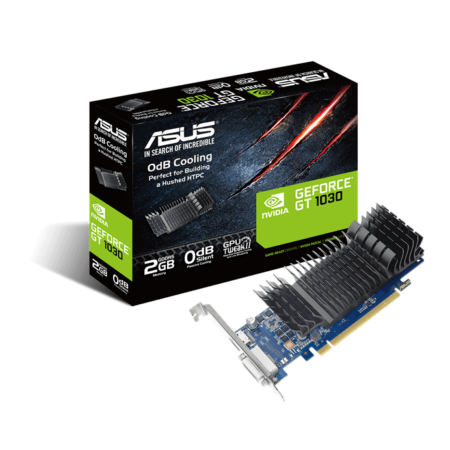 This GeForce GT 1030 from ASUS features 2GB of GDDR5 memory and a 1266 MHz base clock speed with a boost up to 1506 MHz. With this card you can expect around an average of 87 FPS in Counter-Strike GO, 44 FPS in Fortnite, and a usable 35 FPS in Grand Theft Auto V. While its gaming performance is what we would call serviceable, where this card really shines is the cooling: it uses a completely passively cooled heatsink design. That's right, no active cooling whatsoever means that this card is going to be dead silent, just be sure that you have enough airflow to keep the surrounding area decently cooled.
For the stylish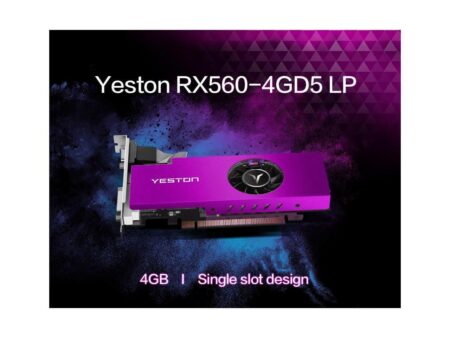 This RX 560 from Yeston features 4 GB GDDR5 memory and a 1200 MHz base clock with a boost up to 6000 MHz. Performance-wise it will net you an average of 110 FPS in CSGO, 52 FPS in Fortnite, and a very nice 50 FPS in GTAV. This means you could get some serious gaming done on this card while keeping your low-profile build goals in mind, and it's FreeSync ready in case you have a monitor that supports it. The shroud on this card is also a vibrant magenta color, so if you're looking to inject a little color into your mini build then look no further.
For the non-gamer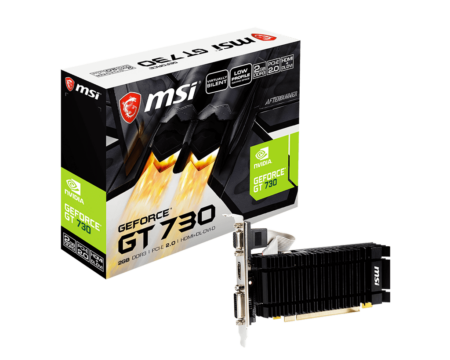 Here we have another passively cooled card with the MSI GeForce GT 730, which has 2 GB DDR3 memory and a boost clock up to 902 MHz. While this is definitely a serviceable card for those looking for a simple workstation, you're going to struggle a bit to squeeze much out of it in the way of gaming. If you're willing to drop all settings in games like CSGO and Fortnite down to the absolute lowest and lower the resolution down to 720p then you might be able to get a playable experience, but it's pretty much the absolute bare minimum of what we would consider an acceptable way to experience those games. But the reason we listed it here today is because it's still a fine card if you're only playing retro games or just need a basic workstation graphics card to drive a 1080p monitor and need it to be absolutely quiet and passively cooled.
For those looking to do some serious gaming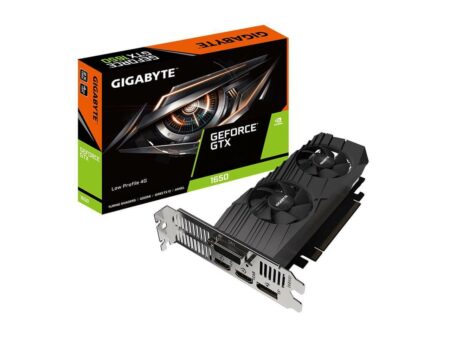 The GIGABYTE GeForce GTX 1650 features 4 GB of GDDR6 memory with a core clock of 1620 MHz. Keep in mind that this is not the later 1650 Super variant of the card, but will still net you 188 FPS in CSGO, 69 FPS in Fortnite, and 49 in GTAV. This is a serious gaming card at 1080p, and you can really put it to work in a variety of other titles. It's worth noting that this does come at a small cost: while this card is still low-profile in height it sits two PCI lanes wide, so if you only have space for a single-width card then you're going to run into issues with this one. It also features two fans, so it will be a bit louder than most of the other cards we have listed here today.
For moderate gaming with active cooling
Another 1030 card, this time from MSI, offers 2 GB DDR4 memory with a core clock of 1189 MHz and a boost up to 1430 MHz. This is a slightly low spec version of the passively cooled ASUS card that we mentioned before, but it should offer similar performance along with active cooling. Passively cooled cards are great, but many times smaller builds simply get too hot and have such restricted airflow that passive cooling just isn't a viable option. If you suspect that might be the case for your build then this card should have you covered with a single fan to provide active cooling as needed.
So there you have it, a litany of lovely low-profile cards for you to cram into even the smallest of cases. Again, be sure to double check performance for your full hardware setup before diving into things, as the numbers we quoted here today are meant as a general guideline only. If your build is small enough to thermal throttle or you bottleneck your performance then you likely won't experience exactly the performance listed here. Always be sure in smaller, low-profile builds to take cooling into account and be ready to adapt to problems that may arise. Smaller builds are often much more challenging that full-sized ones!
For more hardware recommendations, check out The 5 Best Budget Gaming Motherboards | Gaming Motherboards on a Budget and 2021's 5 Best Low Input Lag Projectors for Gaming on Pro Game Guides.